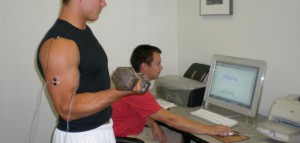 An interest in healthcare may have you wondering about jobs available in kinesiology. Simply put, kinesiology is the study of human movement. You will sometimes hear it referred to as human kinetics. It is a science that addresses a broad range of issues related to human movement, and as such, the study of kinesiology can be practically applied to a number of jobs and healthcare areas.
Studying Kinesiology
When you study kinesiology, you will likely study many other related subjects, such as anatomy, biomechnics, neuroscience and physiology. Psychology is another important related topic. Preparing for a career in kinesiology will likely mean studying for a bachelor or master's degree. Sometimes the degree will be called kinesiology, but you might see other names for the degrees such as "health and human performance" or "exercise science." Depending on what kind of job you are preparing for, your classes will vary. But you will probably take classes some if not all of the following subjects: anatomy, nutrition, exercise physiology, the development of motor skills, the affects of aging on movement, fitness and weight training and the treatment of injuries related to movement. These kinds of studies can help you prepare for the wide range of jobs available in kinesiology.
Many Career Options
The American Kinesiology Association (AKA), which exists to provide information and professional development resources for trained kinesiologists, provides a long list of career opportunities in the field. Here are several of the opportunities you might explore further: aquatics director, athletic trainer, biomechanist, chiropractor, college athletic administrator, coach, fitness instructor, massage therapist or personal trainer. In addition, some students of kinesiology end up moving into medical careers such as registered nurse, physical therapist, physician's assistant or physician.
You can find more information about all of those careers and more at the career resources page of the American Kinesiology Association. In addition, they provide further information on some featured careers. This can be especially helpful if you are wanting to learn more about specific jobs available within a given field, such as biomechanics. You might be interested to learn that studying biomechanics could qualify you for jobs involving various types of design and research. This research could help labs and sports companies develop testing facilities and athletic equipment.
Within biomechanics and other sub-specialties in kinesiology, there are all kinds of jobs you could pursue involving fitness, sports and exercise. Kinesiologists may work for labs, fitness centers, professional sports teams and trainers, clinics and rehabilitation centers and industries. When researching job opportunities and job outlooks in the field, you may want to use some of the terms regarding more specific specialties within the wider field to help you narrow your focus.
Related Resource: Exercise Science
With such a wide range of job options, you'll need to choose career tracks and classes carefully as you study and prepare. It's a good idea to talk with mentors who have experience in the field who can help guide you in your training decisions. Knowing your aspirations and specific areas of interest will help them to guide you to jobs available in kinesiology that will be a good fit for you.