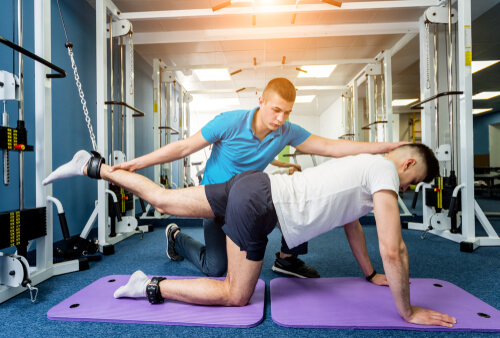 Anyone with an interest in studying human movement, performance, and function may want to look at training in kinesiology and the kinesiology jobs that are available to those trained in biomechanics, physiology, and neuroscience. The study of kinesiology can lead to a wealth of jobs related to human health in the areas of strength & conditioning, biomechanics, physical rehabilitation, sport, exercise, and more.
Working as a kinesiologist generally requires formal schooling, and employment opportunities may be bolstered by memberships in professional organizations. Kinesiology is a dynamic area where employment opportunities range from those in academia and research to government organizations and private health care organizations.
An interest in healthcare may have you wondering about jobs available in kinesiology. Simply put, kinesiology is the study of human movement. You will sometimes hear it referred to as human kinetics. It is a science that addresses a broad range of issues related to human movement, and as such, the study of kinesiology can be practically applied to several jobs and healthcare areas.
Related Resource: What Types of Jobs Are There In Sports Medicine?
What is Kinesiology?
Kinesiology is a word with Greek etymology and is a combination of words that mean "movement" and "study" or "science." In the modern sense, kinesiology is the study of human movement, as well as the movement of non-human bodies. Many kinesiologists enroll in degree programs to work with athletes, as well as in clinical settings for rehabilitation.
For example, a kinesiologist may work with an athlete on his or her aerobic exercise program to increase the athlete's cardiovascular endurance. A kinesiologist may also work on anaerobic strength training to build a client's strength and lean body mass with the expectation that the exercise program will improve the athlete's performance.
Other programs a kinesiologist may administer include flexibility programs to increase range of motion and balance programs for improving neuromuscular control. A concept known as exercise physiology is a popular area of focus for kinesiologists and is the study of therapeutic applications for exercise and the body's physiological response to physical exercise.
Another principle that a future kinesiologist might study in a degree program is neuroplasticity, which is a scientific principle that describes the relationship between the brain and physical movement. There have been some fascinating studies on how physical activity has been shown to improve cognitive function in older adults.
The history of modern kinesiology began with a Swedish scientist named Carl August Georgii, who was a professor at the Royal Gymnastic Central Institute. He was the first person to use the word kinesiology in the mid-1850s. Initially, the concept of kinesiology was a group of 2,000 physical movements and 50 massage therapy techniques.
The application of these movements and therapies was supposed to help cure illnesses and problems of the body. Interestingly, the earliest practitioners of kinesiology were often engaged in trying to cure diseases rather than solely trying to improve the motor function of their patients. The concept of kinesiology was brought to the United States in the 1880s when a Swedish scientist working at the Royal Gymnastic Central Institute founded a facility in Boston, Massachusetts.
Related Articles: How Much Do Kinesiologists Make?
Studying Kinesiology in College
When you study kinesiology, you will likely study many other related subjects, such as anatomy, biomechanics, neuroscience and physiology. Psychology is another important related topic. Preparing for a career in kinesiology will likely mean studying for a bachelor's or master's degree. Sometimes the degree will be called kinesiology, but you might see other names for the degrees such as "health and human performance" or "exercise science." Depending on what kind of job you are preparing for, your classes will vary. But you will probably take classes some if not all of the following subjects: anatomy, nutrition, exercise physiology, the development of motor skills, the effects of aging on movement, fitness and weight training and the treatment of injuries related to movement. These kinds of studies can help you prepare for the wide range of jobs available in kinesiology.
Working as a kinesiologist usually requires a bachelor's degree, and a student may pursue a Bachelor of Science in Kinesiology, a Bachelor of Arts in Kinesiology, or a Bachelor of Applied Exercise Science in Kinesiology. Other degrees that may lead to opportunities in kinesiology jobs include the Bachelor of Science in Exercise Science or the Bachelor of Science in Health Promotion.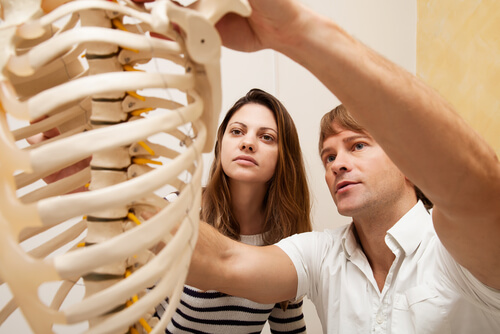 In most circumstances, a bachelor's degree program in kinesiology will take about four years to finish when a student elects to enroll in full-time study. The program may require an internship or experience in a clinical setting or a work environment related to exercise science. It may benefit a future kinesiologist to adopt a minor in an area like exercise physiology, disability studies, or coaching.
Students who have already earned a bachelor's degree in kinesiology may elect to pursue a graduate degree in kinesiology, which may offer opportunities for higher salaries and increased job responsibilities beyond what might be afforded those who only have a bachelor's degree. Degrees offered at the graduate level may include the Master of Kinesiology or the Master of Exercise Science.
While enrolled in a kinesiology program, students may focus on any one of a dozen areas. The concentration a student chooses will usually depend on the types of kinesiology jobs the student wants to pursue after graduation. One popular area of study is in health promotion, which is where the kinesiologist will work in health & fitness environments like personal training facilities, gyms and fitness buildings, and corporate wellness facilities.
Another popular area of focus for kinesiologists is in rehabilitation and clinical environments where the kinesiologist will work with a person who has experienced a disabling condition. The kinesiologist will help the patient or client regain their physical functions through an exercise program. Rehabilitation kinesiologists may work in rehabilitation clinics or fitness facilities, as well as work as assistants to occupational therapists and physiotherapists.
The study of kinesiology may also focus on ergonomics, which is a popular facet of workstation design for businesses, as well as a discipline that helps design assistive devices. Kinesiologists may also choose to focus on disability management while in their program, which is where a kinesiologist will create a plan to bring an injured person back to optimal function through various rehabilitation and exercise techniques.
Related Resource: What is an Exercise Physiologist?
Kinesiology Program Accreditation & Licensing
It may be easier to find kinesiology jobs as someone who has graduated from an accredited program, so it may benefit a prospective kinesiology student to enroll in a program that has been accredited by the Commission on Accreditation of Allied Health Programs (CAAHEP) or the Commission on Accreditation of Athletic Training Education (CAATE).
Some of the organizations and groups that have helped create the standards and guidelines used by the CAAHEP include the American College of Sports Medicine, the American Kinesiotherapy Association, and the National Council on Strength & Fitness. Other groups that have lent their expertise include the National Academy of Sports Medicine and the American Council on Exercise.
To meet the standards of accreditation, administrators of a program in kinesiology must meet several benchmarks like regularly assessing current goals and updating the program to meet current industry standards. Programs must also have an advisory committee that meets at least once a year to discuss the program and revisit goals, learning domains, and program expectations.
Accreditation may also come from the Committee on Accreditation for the Exercise Sciences, as well as one of the major regional accrediting agencies around the United States. Regional accreditation should come from an organization like the Higher Learning Commission (HLC), the New England Commission of Higher Education (NECHE), or the Northwest Commission on Colleges and Universities (NWCCU).
In the United States, there is no official licensing required for a working kinesiologist, but there are some professional organizations available to graduates. Anyone who chooses to find kinesiology jobs in Canada will find that there is a professional designation for the job, so Canadian kinesiologists need to make sure their training is adequate for professional work.
Although there is no official licensing standard for kinesiologists in the United States, there are some certificates and certification programs available that may help a future kinesiologist find a job in a specific area of the industry. Certificates are available from various universities and colleges on topics like applied nutrition, human aging, cardiopulmonary physiology, and athletic training.
Publications and Research Materials for Working Kinesiologists
One of the most important facets of working effectively as a kinesiologist is remaining aware of industry changes, updates, and research. Reading industry publications may even allow a recent graduate to find kinesiology jobs and locate organizations for valuable industry memberships. Some of the valuable publications that the American Kinesiology Association suggests that professionals may want to read include the following:
Adapted Physical Activity Quarterly
American Journal of Physical Medicine & Rehabilitation
Archives of Physical Medicine and Rehabilitation
Clinical Journal of Sport Medicine
International Journal of Sport Psychology
Journal of Physiotherapy
Journal of Sport and Social Issues
In addition to reading the dozens of sport and kinesiology publications from around the world, students may also find it beneficial to read about kinesiology studies, articles on the subject, and current research in areas like musculoskeletal rehabilitation, motor behavior, sport management, applied physiology, movement disorders, and exercise science.
The International College of Applied Kinesiology has compiled a lengthy document with details on hundreds of research articles on kinesiology that have been published in peer-reviewed journals. Topics researched include manual muscle testing, management of post-surgical urinary incontinence, chiropractic adjustments, and applied kinesiology methods for restless leg syndrome.
Other studies have examined issues like idiopathic inflammatory myopathies in adults and juveniles, applied kinesiology methods for sciatica, management of candidiasis and chronic ear infections through applied kinesiology, and comparisons of manual muscle testing. Additional research has been conducted in developmental delay syndromes, manual biofeedback, the use of traditional Chinese medicine, and neuro-emotional techniques used to treat attention deficit hyperactivity disorder.
The U.S. National Library of Medicine and its National Institutes of Health is another vital resource for recent graduates looking for kinesiology jobs. In particular, the NIH offers some valuable advice on finding advanced study opportunities and pursuing clinical careers in research settings as a recent undergraduate student or graduate of a kinesiology program.
In What Environments Will Kinesiologists Work?
The work environment of a kinesiologist or professional in a related area may impact a person's decision to study kinesiology in college and eventually pursue work in that area. Kinesiologists who pursue jobs as exercise physiologists will work as self-employed individuals, but others are employed by hospitals, medical offices, government departments, and the offices of physicians.
Kinesiologist graduates who decide to become athletic trainers will commonly work in educational settings, as well as hospitals at the state, local, and private levels. Athletic trainers also commonly work in the offices of physical therapists, as well as for fitness and recreation centers. A small percentage of athletic trainers are also self-employed or run their small businesses.
One popular option for kinesiologist graduates is to pursue work as physical therapists. The caveat to working as a physical therapist is that a student must usually complete a doctoral or professional program to find work. However, a bachelor's degree in kinesiology is a popular starting point for the education of a physical therapist. Physical therapists will usually work in office environments for physical, occupational, or speech therapy companies, as well as for hospitals or within home healthcare services.
The American Kinesiology Association is an ideal place to start in researching potential careers in kinesiology, and the organization offers an exhaustive list of different job titles, focuses, and employment options for working in kinesiology-related environments. Some of the careers available include those as an exercise physiologist, aquatics director, sports journalist, or professor of kinesiology.
Students may also be able to work as recreational therapists, sports information directors, registered nurses, and personal trainers. Kinesiologists may even find work in sports officiating, as strength and conditioning coaches, respiration therapists, or sports marketing professionals. Some kinesiologists even move into advanced professions in epidemiology or cardiac rehabilitation with further educational study.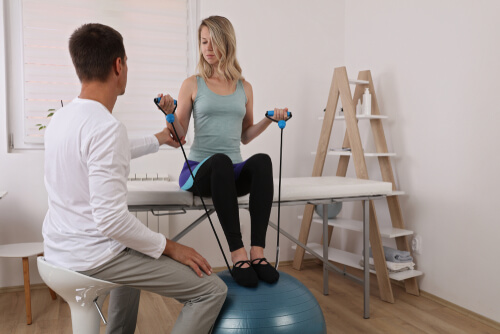 One of the job titles that a graduate may see when they conduct a job search for kinesiology jobs is a clinical exercise physiologist, which is a professional who may work for a hospital or other health care organization. Job responsibilities might include the examination of a new patient before, during, and after exercise, the creation of an exercise training program, and the maintenance of accurate and complete documentation regarding the patient's treatment.
Another job available to a graduate of a kinesiology program might be that of Certified Athletic Trainer, where responsibilities will mirror those of an exercise physiologist. Kinesiologists who want to become Certified Athletic Trainers will need to have an accredited bachelor's or graduate degree, as well as pass an exam administered by the National Athletic Trainers Association.
Kinesiologists who are interested in working in Canada may find a job like a Registered Kinesiologist, which may require that a graduate of a college in the United States pursue additional certification once moving to Canada. A Registered Kinesiologist may work for a hospital or other health care organization where they will perform assessments of biomechanical, physical, and functional movement, as well as design and implement graded exercise programs.
There are also many opportunities to teach kinesiology at various schools around the country. There are kinesiology programs at virtually every type of school, from community colleges and four-year universities to vocational schools and online universities. Students may pursue work as a physical education instructor, an adjunct kinesiology professor, or a clinical instructor of physical therapy.
Related Resource: What is Kinesiology?
Salary & Employment Details for Kinesiology Jobs
The average salary for a job in kinesiology will vary based on the industry in which a kinesiologist works, as well as whether he or she has any certifications. Graduates with a master's degree will typically earn more than graduates with a bachelor's degree, but the amount of income a kinesiologist can expect may also depend on the area of the country where he or she works.
For exercise physiologists, which is one of the main job titles for graduates with a bachelor's degree in kinesiology, the Bureau of Labor Statistics (BLS) suggests that median pay is $49,170 per year, which works out to $23.64 per hour. The highest earners in the profession usually boast an annual wage of $78,410 per year, and individuals who are new to the profession will usually start with a salary of $34,250.
The highest wages for kinesiologists are usually in jobs with the federal government, where mean hourly wages reach $34.66. Meanwhile, kinesiologists in environments like the offices of health practitioners, the offices of physicians, and various hospitals will usually earn between $21.55 and $26.54 per hour. Finding the highest wage opportunities as a kinesiologist may also come down to working in a state where kinesiologists are in high demand.
According to the Occupational Employment Statistics page on kinesiologists from the Bureau of Labor Statistics, kinesiologists earn the most when they work in California, New York, Connecticut, Minnesota, or Arizona. Annual mean wages range from $57,250 for exercise physiologists in Arizona to $103,280 for exercise physiologists in California.
Students who earn a bachelor's degree in kinesiology and then proceed to earn an advanced degree to become a physical therapist may enjoy even higher wages with the BLS revealing that the top earners in the profession earn more than $124,000 per year, which is an hourly wage of more than $59.00. Excellent wages may be earned in industries like spectator sports, residential care facilities, child daycare centers, outpatient care centers, and home health care services.
Many Career Options
The American Kinesiology Association (AKA), which exists to provide information and professional development resources for trained kinesiologists, provides a long list of career opportunities in the field. Here are several of the opportunities you might explore further: aquatics director, athletic trainer, biomechanist, chiropractor, college athletic administrator, coach, fitness instructor, massage therapist or personal trainer. Also, some students of kinesiology end up moving into medical careers such as a registered nurse, physical therapist, physician's assistant or physician.
You can find more information about all of those careers and more on the career resources page of the American Kinesiology Association. Also, they provide further information on some featured careers. This can be especially helpful if you are wanting to learn more about specific jobs available within a given field, such as biomechanics. You might be interested to learn that studying biomechanics could qualify you for jobs involving various types of design and research. This research could help labs and sports companies develop testing facilities and athletic equipment.
Within biomechanics and other sub-specialties in kinesiology, there are all kinds of jobs you could pursue involving fitness, sports and exercise. Kinesiologists may work for labs, fitness centers, professional sports teams and trainers, clinics and rehabilitation centers and industries. When researching job opportunities and job outlooks in the field, you may want to use some of the terms regarding more specific specialties within the wider field to help you narrow your focus.
Kinesiology is a profession with a long and lauded history in health care, and there is an amazing array of different specialties and focuses available for graduates of kinesiology programs. One of the benefits of the profession is that a degree allows graduates to work in traditional environments like hospitals and health care facilities, as well as in clinical settings with cutting-edge research organizations. Another benefit of studying kinesiology is that there are jobs available at virtually every level of education.
A recent graduate with a Bachelor of Science in Kinesiology might find work as an exercise physiologist while a graduate of a graduate program may find employment as a high school teacher or college professor. Anyone who wants to find kinesiology jobs and enter the profession should begin with an investigation of different specialties and then consider a college degree program with an appropriate curriculum for that specialty.
With such a wide range of job options, you'll need to choose career tracks and classes carefully as you study and prepare. It's a good idea to talk with mentors who have experience in the field who can help guide you in your training decisions. Knowing your aspirations and specific areas of interest will help them to guide you to kinesiology jobs that will be a good fit for you.
Related Resources: