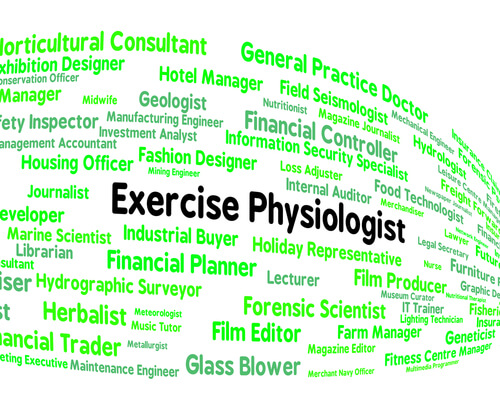 If you are interested in making your passion for sport work for you as a career, a career in exercise or sport physiology might be for you!  You may be asking, "What is exercise physiology?" or "What is a sports physiologist?"
Exercise physiology is a specialization within the field of kinesiology.  By definition exercise physiologist is a medical professional who studies the body's responses to physical activity.  They also study how the body adapts to physical activity over time. Exercise physiologists are responsible for:
conditioning clients to higher levels of physical fitness and improved health
staying tuned into safety issues with single session exercise
helping clients recover from various diseases
improving their clients' health and well-being
Exercise physiology is a small occupation in terms of employment numbers.  With the emphasis today on improving health and reducing healthcare costs, exercise physiologists have very important roles in the lives of many people.  Their skill set is in-demand.  Here is an overview of exercise physiologists and what their career entails.
What is an Exercise Physiologist?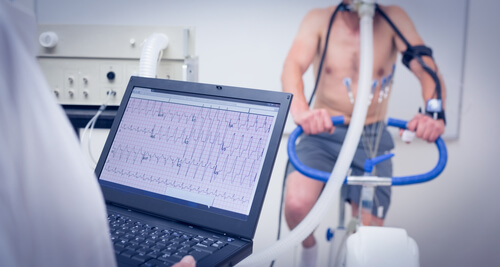 An exercise physiologist is a trained professional who helps others improve their health. Exercise physiologists work in both clinical and non-clinical settings.  We'll discuss the differences.
Clinical Physiologist
Exercise physiologists working in clinical settings provide their clients with supervised exercise programs.  They might develop exercise programs to help patients suffering from chronic diseases.  A clinical exercise physiologist uses exercise to improve:
flexibility
body composition
cardiovascular functions
Many patients who use the services of exercise physiologists suffer from lung problems or heart diseases.  A clinical exercise physiologist works alongside primary care physicians.  They offer help in developing an exercise regimen. Their duties include:
Taking and monitoring patient vital signs
Measuring heart rhythm and oxygen usage
Performing stress tests
Developing exercise programs to improve or maintain good health
Applied Exercise Physiologist
Exercise physiologists in non-clinical settings work with healthy and moderately healthy individuals to improve physical fitness.  They might help someone develop an activity program to promote weight loss.  Elite athletes use a sports exercise physiologist to get into peak physical condition.  Colleges and universities use a sports physiologist to help keep their athletes in top shape and:
improve performance
overcome challenges
achieve their goals
What Kind of Degree Will I Need to Become an Exercise Physiologist?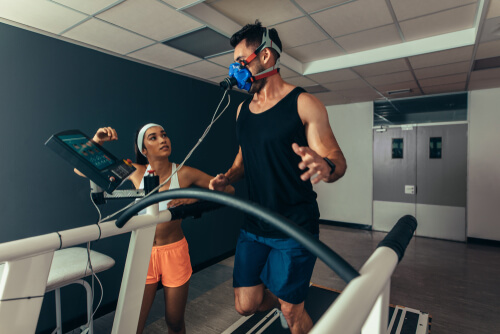 Although some exercise physiologists have master's degrees, a bachelor's degree from an accredited school is all that's required for an entry level position. We'll discuss the benefits of each degree type.
Bachelor's Degree
Future exercise physiology professionals can earn their bachelor's degree in several different areas.  A bachelor's degree is typically a four-year degree.  Courses may be taken on-campus or online.  Candidates may choose degrees in areas like:
exercise physiology
kinesiology
exercise science
Students in the program will complete courses in:
kinesiology
biology
nutrition
anatomy
statistics
science
similar health-based subjects
Students will learn how the body responds and adapts to exercise.  They'll learn how exercise can help people lose weight and prevent disease.
Most programs require students to complete clinical work for hands-on training.  Some schools have on-site laboratories that allow students to assess cardiovascular and pulmonary responses.
Master's Degree 
Professionals with a master's degree in exercise physiology have advanced training and skills.  A master's degree is typically a two-year program.  Courses are completed online or on-campus.  Master's degree programs allow students to take a deeper dive into specific areas of their field.  Graduates are often prepared for leadership roles and advanced certifications.
Some programs hold field specific accreditation.  There are 15 exercise physiology master's degree programs accredited by the Commission on Accreditation of Allied Health Education Programs as of 2022. Students who choose an accredited program can feel confident that their program is relevant and meets the needs of the field.
What Kind of Certification can I Earn as an Exercise Physiologist?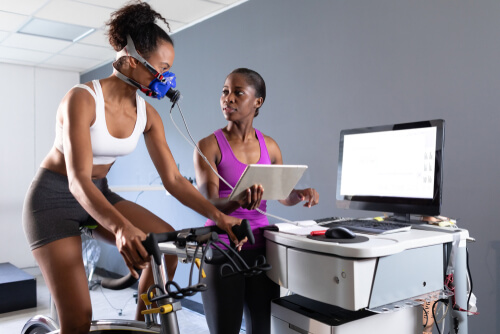 Candidates who wish to voluntarily become certified can earn certification from the American College of Sports Medicine (ACSM) and the National Strength and Conditioning Association. We'll explore their different certification options.
American College of Sports Medicine Certifications
ACSM offers two distinct certification options for exercise physiologists.  They include:
ACSM Certified Exercise Physiologist (ACSM-EP)
ACSM Certified Clinical Exercise Physiologist (ACSM-CEP)
ACSM-EP Certification
The ACSM-EP certification is for professionals who want to conduct and interpret fitness assessments or develop exercise prescriptions.  They work with individuals who are healthy as well as those with medically controlled diseases.  Requirements include:
A bachelor's degree in exercise science, exercise physiology, or kinesiology
Adult CPR/AED certification
Candidates must take a certification exam online or in-person to earn their credential.
ACSM-CEP Certification
The ACSM-CEP credential is a great choice for professionals who want to provide their patients with individualized education and behavior change strategies.  They work to increase the likelihood of long-term independence of their patients.  Requirements include:
A bachelor's degree in exercise science, exercise physiology, or equivalent and 1,200 clock hours of hands-on clinical experience OR
A master's degree in clinical exercise physiology or equivalent and 600 clock hours of hands-on clinical experience
Basic Life Support Provider or CPR for the Professional Rescuer certification
Candidates must also pass a certification exam.
National Strength and Conditioning Association Certifications
The NSCA offers many different certification options.  Some of the most popular with exercise physiologists include:
Certified Strength and Conditioning Specialist (CSCS)
Certified Performance and Sport Specialist
Certified Special Populations Specialist
Certified Strength and Conditioning Specialist (CSCS)
The CSCS certification is for professionals who want to train athletes and help them improve athletic performance.  They design strength training and conditioning programs.  They also provide the athlete with guidance related to nutrition and injury prevention.  Requirements include:
Bachelor's degree or higher
CPR/AED Certification
Candidates must pass an exam
Certified Performance and Sport Specialist (CPSS)
CPSS professionals specialize in applying scientific processes to improve athletic performance and reduce injury risk.  They can be either a generalist or a specialist.  The CPSS:
Collects and analyzes data
Makes informed training recommendations based on that data
Instills best practices on performance technology
This certification is a great choice for exercise physiologists who want to advance into a professional role working as a:
Director of Sport Performance and Analytics
Senior Research Scientist in Physiology
Sport Science Manager
Requirements to sit for the exam to earn this certification include:
Bachelor's degree or higher in sport science or a related area
full-time professional experience
current CPR/AED certification
Certified Special Populations Specialist
The CSPS certification is for professionals who use an individualized approach to work with special population clients of all ages.  They use their skills to:
assess
motivate
educate
train
They often work in collaboration with healthcare providers. to develop safe and effective exercise programs to help their clients reach their goals.
Requirements include:
Bachelor's degree in exercise science or a related field OR
NCCA-accredited personal trainer certification
CPR/AED Certification
What is the Career Outlook for an Exercise Physiologist?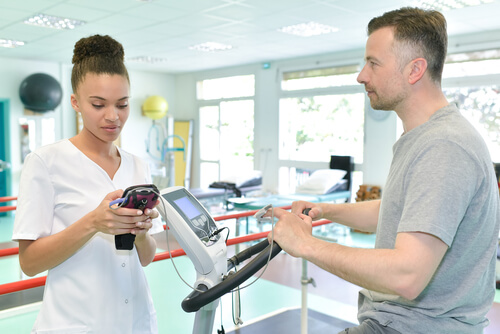 Exercise physiologists are predicted by the U.S. Bureau of Labor Statistics to have job growth of 13% between 2020-2030. Because there are so few in this occupation, they are very much in demand. There should be about 2,400 new jobs created in this field by 2030. The Bureau of Labor Statistics reported that exercise physiologists earned a median annual wage of $50,280 with wages ranging from $36,070 to $78,170.
Related Resource: Top 30 Bachelor's in Sport Management Degree Programs
Many factors play into salary including:
experience
certifications
degrees
geographic location
Geographic location probably plays the biggest role in wages. Here are the five top-paying states for exercise physiologists and their annual mean wages.
California – $76,040
New York – $65,450
Connecticut – $63,350
Minnesota – $62,350
Massachusetts – $62,230
Where Do Exercise Physiologists Work?
As of 2020, about 58% of exercise physiologists are self-employed according to the Bureau of Labor Statistics.  Most exercise physiologists work in general medical and surgical hospitals.  According to the BLS, other industries that employ these professionals include:
Offices of Other Health Practitioners
Offices of Physicians
The Federal Executive Branch
Other Ambulatory Health Care Services
While exercise physiologists are in demand across the country, the states with the highest employment levels include:
Texas
Michigan
Florida
Illinois
Colorado
Putting it All Into Perspective
Seeing someone struggling to recover and improve their physical health is difficult.  It's often why someone might choose to become an exercise physiologist. Exercise physiologists are not required to attend as many years of college as doctors, yet they have a very important role.  They often find work to be both challenging and rewarding.
Related Articles: