Share this infographic on your site!
Biggest Sports Management Blunders in History
We tend to think of sports mistakes as a game-sealing interception or a last-second shot that bounces off the rim. But these sports mistakes happened long before the players stepped onto the field, court or rink. Here is a look at some of the worst mistakes made by management in sports history.
What's In a Name?
When the Hornets moved from Charlotte to New Orleans in 2002, they took the name along with them. Two years later, Charlotte got an expansion franchise and the city hoped the name would return. But the name stayed in New Orleans and instead the new team became the Bobcats.
Winning percentage
Charlotte Hornets (1988-2002): .486
Charlotte Bobcats (2004-14): .359
Playoff appearances
Charlotte Hornets (1988-2002): 7
Charlotte Bobcats (2004-14): 2
All-Star Game selections
Charlotte Hornets (1988-2002): 9
Charlotte Bobcats (2004-14): 1
The Hornets name once again is in Charlotte as the New Orleans team changed its name to the Pelicans.
Bad Trades
James Harden heads to Houston, 2012
With three young stars on the roster (Kevin Durant, Russell Westbrook and James Harden), the Oklahoma City Thunder were poised to dominate the league. Only problem was, they said, they couldn't afford to give Harden the max deal he sought. So they traded him to Houston for guards Kevin Martin and Jeremy Lamb and a couple of second-round draft picks (the Rockets also got a center and two forwards).
The Rockets have made the playoffs all three years Harden has been on their roster and have improved their winning percentage all three years.
Player stats (2012-15)
Player; GS; PPG; FG%;
Harden; 232; 26.3; .444
Durant; 189; 29.4; .507
Westbrook; 195; 24.6; .433
Harden was the runner-up in MVP voting in the 2014-15 season, and Durant won the award last season. This year, the Rockets fell to the Warriors in the Western Conference Finals, while the Thunder didn't make the playoffs.
Dodgers send Martinez to Montreal, 1993
In a deal that didn't quite seem ridiculous at the time, the L.A. Dodgers traded pitcher Pedro Martinez to the Montreal Expos for second baseman Delino DeShields. At the time, DeShields was coming off a few good seasons, including one in which he was in the top 20 in National League MVP voting. But he never did much for the Dodgers, hitting a meager .241, and spent several seasons bouncing around the league. Martinez, on the other hand, became a Hall of Famer.
Martinez career stats
Team; W-L; ERA; SO
L.A. Dodgers (1992-93); 10-6; 2.58; 127
Montreal Expos (1994-97); 55-33; 3.06; 843
Boston Red Sox (1998-2004); 117-37; 2.52; 1,683
N.Y. Mets (2005-2008); 32-23; 3.88; 464
Philadelphia Phillies (2009); 5-1; 3.63; 37
Draft Day trade sends Kobe to L.A., 1996
It would be hard to imagine Kobe Bryant in a uniform other than purple and gold, as he's become so synonymous with the Los Angeles Lakers. But it didn't start out that way. The Charlotte Hornets selected Bryant, then straight out of high school, with the 13th overall pick in the draft and then promptly traded him to the Los Angeles Lakers for center Vlade Divac in a deal that actually was decided before the Hornets knew which player they'd be drafting.
Bryant vs. Divac
Points scored
Bryant: 46,774
Divac: 13,398
All-Star selections
Bryant: 17
Divac: 1
MVP awards
Bryant: 1
Divac: 0
Championships
Bryant: 5
Divac: 0
The two played on the same Lakers team in Divac's last NBA season in 2005.
Favre the Falcon
As a rookie for the Atlanta Falcons in 1991, Brett Favre was less than stellar. He attempted only four passes, none of them for a completion (except for two completed to the wrong team, with one being returned for a touchdown). Favre was traded to the Green Bay Packers during the following offseason in 1992, and he went on to become one of the best quarterbacks in NFL history. The Falcons, meanwhile, had 18 starting quarterbacks between 1991 and 2010, the year Favre retired for good.
Favre career stats
Cmp.-att.; Yds.; TD
6,300*-10,169*; 71,838*; 508
* NFL career leader
3: Favre's NFL MVP awards
1: Packer's Super Bowl championships with Favre
11: Times Favre was named to the Pro Bowl
Really, Really Bad Trades
The Great Bambino
In a move many people believe cursed the Red Sox with decades of heartbreak, Boston agreed to send Babe Ruth to the New York Yankees in exchange for $125,000 (technically selling him rather than trading him).
Ruth wasn't exactly a slouch during his tenure with the Red Sox, winning 89 games as a pitcher in six seasons and leading Boston to World Series titles in 1915 and 1916. As the American League had no designated hitter at that time, Ruth was also a power at the plate, and team management played him in the outfield on days when he didn't pitch. In his first season playing mostly in the outfield, the Sox won another World Series title.
His record of 29 2/3 scoreless World Series innings pitched stood for 43 years, and by the 1919 season, Ruth had surpassed Ty Cobb as baseball's most popular player.
But Boston's fortunes changed — for what seemed like forever — in 1920, when Sox owner Harry Frazee dealt his star to the Yankees.
Thanks in part to his dominance at the plate for New York (he hit 54 and 59 home runs in the 1920 and 1921 seasons, respectively), the Yankees were able to build Yankee Stadium, dubbed "the house that Ruth built."
After the Ruth deal …
… the Yankees won 39 American League pennants and 26 World Series titles.
… the Red Sox went 86 years without a World Series win before finally shaking the Curse of the Bambino in 2004.
Ruth career stats
HR; RBI; ERA; SO
714; 2,214; 2.28; 488
Redskins say, "Everything must go!"
After their efforts to land free agent quarterback Peyton Manning failed, the Washington Redskins went all in, trading three first-round picks and a second-rounder to the St. Louis Rams in exchange for the Rams' No. 2 overall pick in the 2012 NFL Draft, selecting quarterback Robert Griffin III. When Griffin went on to have a standout first season, being named the NFL's offensive rookie of the year, the deal seemed a good one for Washington. But Griffin's performance since then has called that into serious question.
7
Redskins wins over past two seasons
Griffin career stats
Season; GS; Cmp.-att.; Yds.; TD; Int.
2012; 15; 258-393; 3,200; 20; 5
2013; 13; 274-456; 3,203; 16; 12
2014; 7; 147-214; 1,694; 4; 6
Knicks, Nets pass on Dr. J
With the NBA and ABA merging in 1976, the New York Nets were set to enter the league, but the NBA's New York Knicks demanded a penalty payment from their new NBA neighbors. Fresh off an ABA championship, the Nets' star, Julius Erving held out for a better contract. With financial pressure mounting, Nets ownership offered Erving to the Knicks to cover their penalty payment; when the Knicks passed, the other NBA teams pounced, with the Philadelphia 76ers making the best offer. In 1977-78, the Nets became the New Jersey Nets, and the Knicks won just one playoff series over the next six years.
4
76ers' NBA Finals appearances during Erving's tenure
1
NBA titles (1983)
11
Dr. J's NBA All-Star selections
Personnel Mistakes
Jaguars fire Tom Coughlin
Now a two-time Super Bowl-winning coach, in 2002, Tom Coughlin was looking for a job after being sacked by the Jacksonville Jaguars. As the team's first coach when they joined the league in 1995, Coughlin helped make the Jags one of the most successful expansion teams in NFL history. They made the playoffs in four of his seven seasons, twice reaching the AFC Championship Game.
Since letting Coughlin go, the Jags have made the playoffs twice in 10 seasons, and they've had four head coaches in the span. Coughlin took the head coaching job with the New York Giants in 2004 and has won a pair of NFL titles.
Giants vs. Jags since 2004
Winning percentage
Giants: .545
Jags: .420
Super Bowl championships
Giants: 2
Jags: 0
Seasons making playoffs
Giants: 5
Jags: 2
Milbury's maddening moves
A tough defenseman during his playing days, Mike Milbury helped the Boston Bruins twice reach the Stanley Cup Final. But as general manager of the New York Islanders from 1995 to 2006, he made some baffling decisions, to say the least.
Forced by ownership to operate on a shoestring budget, he traded star scorer Zigmund Palffy because his contract was too high and traded away several prospects who went on to have successful careers for other teams. Here are a few examples of Milbury's moves:
Traded Zdeno Chara (7-time All-Star, 1 Stanley Cup)
Traded Wade Redden (1-time All-Star)
Traded Roberto Luongo (4-time All-Star)
Traded Todd Bertuzzi (2-time All-Star)
Drafted Rick DiPietro first overall and later signed him to a 15-year contract (60+ games in NHL only 3 times in 11 seasons with Islanders; 1-time All-Star)
Knicks gamble and lose with Thomas
From 2003 to 2008, Hall of Fame NBA player Isiah Thomas presided over some of the worst decisions in New York Knicks history. The year Thomas took over, the Knicks had a losing record at 39-43, but that was good enough for a playoff spot. They never again made the playoffs in Thomas' tenure and by 2006 had the highest total salary burden — $126 million, more than twice the salary cap — and the NBA's second-worst record.
Thomas' blunders include trading away what turned out to be a pair of lottery picks for fifth-year center Eddy Curry, who never managed to average more than 20 points per game throughout his career. He further dug the Knicks into a hole with other bad trades and big contracts to ineffective players — not to mention costing the Knicks' ownership $11.5 million due to a sexual harassment allegation by a female Knicks executive.
But perhaps Thomas will have the last laugh, as he was recently named president of the WNBA's New York Liberty.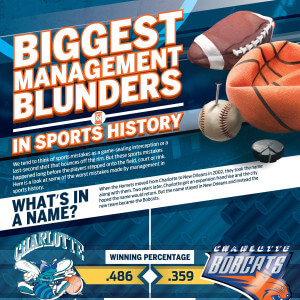 Sources:
http://www.nytimes.com/2007/10/02/sports/basketball/03garden-cnd.html
http://www.basketball-reference.com/
http://www.pro-football-reference.com/
http://www.baseball-reference.com/
http://www.hockey-reference.com/