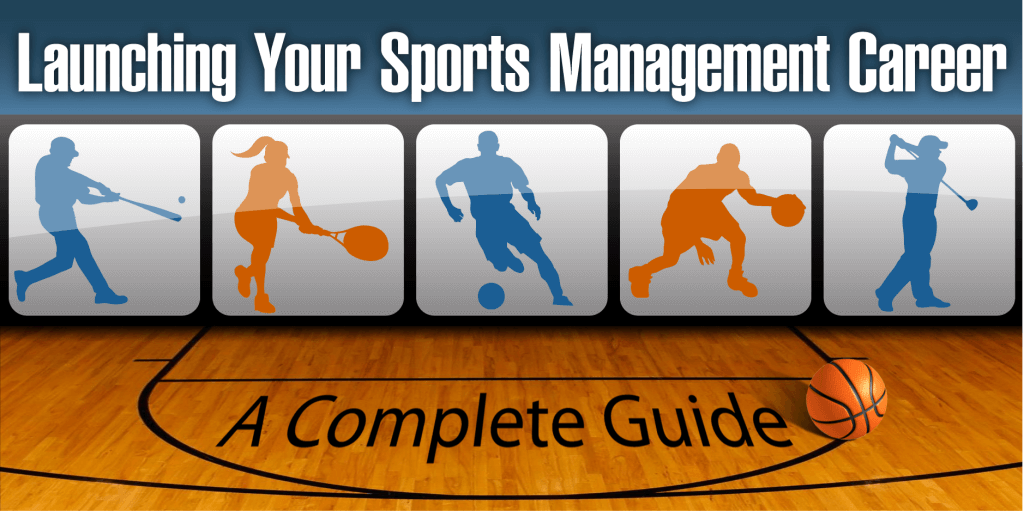 By Ashley Hunn
With the value of the sports industry estimated between $500-600 billion and growing faster than the gross domestic product (GDP) in many nations, it's no surprise that sports management is a highly competitive – and thriving – business. The growing popularity of sports management in academic programs and the field of sports as a career goal have resulted in greater competition for jobs in the workforce. This guide is intended to be a roadmap for those contemplating a career in sports management.
Table of Contents:
Introduction
Chapter 1: High School Programs
Chapter 2: Colleges
Chapter 3: Internships
Chapter 4: Sports Conferences
Chapter 5: Professional Development Courses/Specialized Training
Chapter 6: Scholarships
Chapter 7: Careers
Chapter 8: News & Trends
You don't need to be a former athlete or have family ties to break into sports management. The bottom line is that sports is a business, and companies are looking for employees with knowledge and experience to go along with their passion for sports. While there's no magic formula for breaking into the industry, there are definitely certain steps you should take on your path to a sports management career.
Step 1. Knowledge of the industry. First things first, gain knowledge of the industry through education. Make yourself a player by getting started with a sports management degree. Typical courses will likely include sports marketing, law, finance, and business. Give yourself an edge with an advanced degree, which will also give you more time to gain valuable internship experience (see step 2). The learning doesn't stop after graduation. Look for relevant professional courses and/or training programs to provide continuing education beyond your degree(s).
Related Resource: What Are the Best Classes for Sports Management Majors?
Step 2. Experience. It's important to develop your sports business skills outside the classroom. Apply for jobs and internships in the field. Getting your foot in the door is key. Whether you're getting coffee or making copies, do the best job you can. Hard work pays off. Plus, you'll connect with individuals in the business and sports community. To help build your career, have an open mind when it comes to employment. While your dream sports management job may be working for a professional sports team, seek out those teams that may need your help now, including minor league and college teams. Don't overlook opportunities with high school athletic departments or community recreation programs. Every job will help you gain valuable experience and build your resume.
Step 3. Networking. Start now! Use social media to your advantage. Join student and professional organizations, attend industry conferences, and build relationships along the way. The more connections you have, the better. If you have a passion for sports but you're not sure exactly where you fit in, talk to people in the field about what they do and how they got there. Someone else's experiences may give you insight into what you want (or don't want) to do.

Thinking about pursuing a sports management career? It's never too early to start setting the groundwork for your future in sports management. Many colleges offer summer programs to help prepare high school students for future careers in the industry. This is not an all-inclusive list. Be sure to check out schools near you that may offer similar programs.
National Student Leadership Conference (NSLC)
The NSLC provides select high school students with the opportunity to experience life on a college campus, develop essential leadership skills, and explore a future career through exciting simulations, exclusive site visits, and interactive meetings with renowned leaders in their chosen field, including sports management.
The Center for Hospitality and Sport Management's Summer Institute
Drexel University offers a one-week, non-residential program to expose talented and motivated high school students to a range of career possibilities in the fields of culinary arts, culinary science, hospitality management, and sports management.
Wharton Sports Business Academy (WSBA)
The Wharton Sports Business Academy (WSBA) is a summer institute that provides an opportunity for talented rising high school juniors and seniors to study sports business leadership at the Wharton School. This four-week program will teach students about ownership, sports agents, marketing, media, and labor as they meet and learn from leaders in the sports business world.
Saint Louis University Sports Business Summer Academy
SLU Sports Business Summer Academy at the John Cook School of Business is a special program developed to introduce rising high school juniors and seniors to the business of sports. During the four-day program, students are introduced to basic business concepts related to sports through presentations by faculty and industry professionals.
Syracuse University Sport Management Program
This two-week program for high school students examines the scope of the sports industry and introduces students to the wide range of career opportunities in the field of sports management. Students examine the managerial process, including the functions of management, and the roles, skills, and attributes required of sports managers. Students are introduced to problems/issues faced by sports managers by analyzing and discussing actual case studies in sports management.
Managing Enterprise in Media, Entertainment, and Sports Summer Institute
This six-week intensive summer institute at UCLA's Anderson School of Management offers undergraduate students and young professionals a multi-disciplinary approach to dive into the world of innovating, marketing, and managing within the multi-billion dollar business of arts, entertainment, media, and sports. Field experience days allow students to further develop and influence their experience, as they visit companies, speak to executives, and learn about these businesses.
Sports Industry Management Institute
The Sports Industry Management Institute at Georgetown University offers high school students an eight-day immersion into the sports industry. Students go behind the scenes to learn how events on the field, in the front office, and behind the camera are intricately linked to boardrooms, retail locations, and homes around the country.

From 1980-2010, the number of undergraduate sports management programs in the U.S. grew from 20 to more than 300. While that number may seem overwhelming, there are several resources available to help you find the right program that fits your needs.
The North American Society for Sport Management (NASSM) lists all colleges and universities offering sports management programs in the U.S. You can filter your search by bachelor's, master's, and doctoral degrees.
Check out this database of all U.S. sports management programs on SportsBusinessDaily.com.
The Commission on Sport Management Accreditation (COSMA) is a specialized accrediting body that promotes and recognizes excellence in sports management education in colleges and universities at the baccalaureate and graduate levels worldwide. To find a list of schools with COSMA accreditation, visit their website.
Sports-management-degrees.com has compiled a list of the top 24 sports management degree programs in the U.S. See the article for the methodology and full list of schools. Here are the top 12 sports management degree programs:

For anyone seeking a sports management career, internships are a must. A sports-related internship will give you valuable career experience and expertise that will set you apart from others in the industry. Internships also give you the opportunity to see and be seen by possible future employers and begin building your contacts through networking. Remember, there are a limited number of internships out there (currently 420 sports internships listed on WorkInSports.com), so be proactive. Set yourself up for success, and begin building your resume early. The following links may be helpful in searching for available sports internships:

Continue to learn as much as you can about the industry outside the classroom. Attend industry conferences and network with top sports executives. Conferences offer unique opportunities to meet professionals and build relationship with industry insiders. You can also explore internships and job opportunities.
North American Society for Sport Management Annual Conference
NASSM is a membership organization designed to support professionals in the sports industry. Membership is open to current sports professionals and sports management students. Attendees at the annual conference have the opportunity to learn new trends in the industry.
The National Sports Forum
The National Sports Forum is the largest annual cross gathering of the top team sports marketing, sales, promotions, and event entertainment executives from throughout the broad spectrum of teams and leagues in North America. This three-day event includes numerous breakout sessions, panel discussions, networking events, and keynote speeches.
Sports Industry Networking and Career Conference (SINC)
The SINC Conference is a two-day event dedicated to educating students, young professionals, and career changers on the business of sports through on-site interviews, keynote speakers, panelists, and presentations. Those in attendance have unique access to the top sports executives in the industry today.
MIT Sloan Sports Analytics Conference
The conference goal is to provide a forum for industry professionals and students to discuss the increasing role of analytics in the global sports industry. The conference explores different industry topics each year and is open to anyone interested in sports.
Ivy Sports Symposium
The Ivy Sports Symposium and Global Sports Symposium are annual student-run conferences that rotate among Ivy League institutions. Intimate conference settings with dynamic speakers support information sharing and relationship building among the industry's top leaders and their potential successors.
Michigan Sports Business Conference
The Michigan Sport Business Conference was developed by a group of undergraduate students affiliated with both the Stephen M. Ross School of Business and School of Kinesiology. The MSBC attracts top sport executives to educate and develop the future sport business leaders of the world.
Sports Events Marketing Experience (SEME)
SEME's two-day event brings career seekers and advanced students together with the leaders in the sports industry. Participation in this unique industry experience allows attendees to gain first-hand knowledge and real-world career insight, interact with global leaders in the sports and event fields, participate in one-on-one interviews and explore internship and job opportunities.
TEAMS (Travel, Events and Management in Sports)
TEAMS is the world's leading conference and expo for the sports-event industry. Launched in 1998, TEAMS attracts CEOs, executive directors, and event managers from sports organizations as well as representatives from sports commissions and convention bureaus, corporate sponsors, event suppliers, and other hospitality industry opinion leaders.
Sports Career Conferences
For anyone looking to work in sports or advance their career in sports, Sports Career Conferences provide an opportunity to learn about numerous careers in sports and network with professionals currently working at the highest level of sports. These events are held during major sporting events so you can experience the heart of the action.

Always be on the lookout for relevant professional courses you can take to keep you at the top of your game. Here are a few continuing education programs offered to college students, young professionals, and even top executives.
Manhattan Sports Business Academy (MSBA)
MSBA is an eight-week summer immersion program designed for college students and young professionals seeking career acceleration in the sports industry. Following a competitive selection process, MSBA delivers a unique and comprehensive learning experience through internship placement, a weekly speaker series, office field trips, mentorship, career workshops, weekend group outings, and professional development curriculum.
Sports Management Institute
Founded by the Universities of Southern California, Notre Dame, and North Carolina, the Sports Management Institute provides a specialized executive program for sports management professionals. The Executive Program is a seven-month course, which includes 10 total days in residence at two of the sponsoring institutions. The program is tailored to meet the needs of athletic administrators in mid- to top-level management positions who are or aspire to be athletic directors, executive directors, or general managers in collegiate, amateur, or professional sports.
Game Face
Game Face is an executive training firm specializing in sports. The company offers original sales training programs, activities in search and recruitment, and Sports Career Training Camp for job seekers.
Sports Management Worldwide (SMWW)
SMWW offers numerous sports job career training programs specially designed for individuals wanting to gain job placement in professional sports management. The eight-week sports-business online training programs can be taken from anywhere in the world. Each course offers participants the skill set they need to advance their sports careers. All courses are taught and mentored by well-known sports executives in that field.

Whether pursuing an undergraduate or graduate degree in sports management, search for scholarships that may be available to help you finance your education. Several colleges offer program-specific scholarships to qualified students, so be sure to apply for any that your school offers. In many cases, you only have to fill out one application for multiple scholarships, so check with the school's financial aid office.
School-specific scholarships:
University of Massachusetts – Amherst
The Isenberg School of Management at UMass Amherst lists 12 scholarships for sports management. Among these is the Joan E. Barr Memorial Scholarship, awarded for great academic performance in pursuit of higher education as a sports management major. Students apply to the Isenberg Scholarship Program, not individual scholarships.
West Virginia University
WVU offers a number of scholarships for sport management majors, including the Fred M. Coombs Scholarship, Roger Alford Memorial Scholarship, and Sport Management Scholarship for a full-time sports management major with at least a 3.0 overall GPA.
Ithaca College
Awarded to a student pursuing a degree in sports management or sports media, the Professor Wayne Blann Scholarship for Summer Internships provides financial assistance to a student who has a summer internship in either field. The internship must be credit bearing. The recipient must be in good academic standing, with a cumulative grade point average of 3.0 or higher.
Columbia College Chicago
The Make a Dent Scholarship was established to recognize an outstanding intended or declared sports management student who has demonstrated academic and/or athletic excellence, and has demonstrated financial need.
Indiana State University
There are several scholarships available for recreation and sport management majors at Indiana State University, including the Kenneth R. Badertscher Memorial Scholarship, Robert H. Meyne Memorial Scholarship, and Brenda Murray Scholarship.
Texas Tech University
The Jeannine McHaney Endowed Scholarship is awarded to a female graduate student in good standing in the Sport Management graduate program.
Minnesota State University – Mankato
The Glen Taylor Sport Business Leader Scholarship was created to recognize a Sport Management student at Minnesota State University – Mankato who demonstrates a high level of leadership and excellence in many facets of student life, including academics and extracurricular activities relative to the field of sports management. It offers a scholarship to a declared/accepted sports management student of either the undergraduate or graduate level.
University of Colorado – Colorado Springs
The Sky Sox Sports Management Scholarship is awarded to a rising sophomore, junior, or senior at UCCS. Eligible undergraduate students may apply for the $2,500 yearly scholarship. In order to qualify, students must demonstrate financial need according to the Free Application for Federal Student Aid (FAFSA), maintain a minimum of a 3.0 GPA, and submit a resume (or similar list of accomplishments), statement of future goals, and an essay.
Other sports management scholarships:
David J. Stern Sports Scholarship
The Thurgood Marshall College Fund (TMCF) and the National Basketball Association (NBA) established the David J. Stern Sports Scholarship, to be awarded annually to a student who has successfully completed his/her freshman year of college and demonstrates talent and promise in furthering their study in sports management. Each recipient will receive $30,000 ($10,000 per each of the remaining three years) toward tuition as well as an NBA internship after his/her junior year, and direct mentorship from Stern. To qualify, candidates must have successfully completed their freshman year, be attending a publicly supported historically black college, have a minimum overall GPA of 3.0, and exhibit leadership qualities.
Dorothy Harris Endowed Scholarship
Awarded to female graduate students in Physical Education, Sport Management, Sport Psychology, or Sport Sociology. Applicants must be pursuing a full-time course of study at an accredited postgraduate institution during the academic year after the application deadline.
Stadium Managers Association Scholarship
The SMA Foundation was created to provide annual scholarships to undergraduate or graduate students currently enrolled in an accredited sport administration/management program. This scholarship program strives to provide an opportunity for outstanding students enrolled in sports administration programs with an emphasis on facility and/or event management to learn more about the profession through networking with leaders in the field, in an educational and informal setting.
The Foundation for Safer Athletic Field Environments Scholarship Program
SAFE annually awards scholarships to students who are planning a career in the sports turf industry. Since its inception, the SAFE Foundation has presented more than $225,000 in scholarships and travel to the STMA Conference and Exhibition to more than 120 students. Each year, SAFE awards three named scholarships: the Dr. James Watson Graduate Scholarship, the Dr. James Watson Undergraduate Scholarship, and the Dr. Fred Grau Scholarship.

There are a number of job paths you can take with a degree in sports management. Jobs are available in sports marketing and sponsorship, sports media (traditional and social media), sports facilities, event management, retail, and more. Narrowing down your interests may help you to find the right one. Are you interested in working with a community recreation program? Or do you aspire to be an athletic director? Maybe you see yourself working for a professional sports team, whether it's in marketing, health, or promotions.
Like any career, there are a wide range of salaries, from entry-level positions to top executives. Directors of marketing in the professional sports world can make over $100,000, while an entry-level position in the academic world may start at $25,000. According to the 2014-15 Occupational Outlook Handbook from the U.S. Bureau of Labor Statistics, the median national yearly salaries for some of the top careers within the sports management field are as follows:
Coaches and Scouts – $28,360
Sports Agents – $63,370
Sports Promoters – $88,590
Athletic Director, Higher Education – $99,585
Sports Marketing Manager – $119,480

Be informed. Stay up to date on the latest industry news and trends by reading sports journals and blogs. If you're not already on social media, create a Twitter account and learn about Twitter chats.
Sports Business Daily http://www.sportsbusinessdaily.com/Daily.aspx
Sports Executives Association http://sportsexec.net/
NCAA http://www.ncaa.org/
The Business of Sports http://www.thebusinessofsports.com/
Sports Networker http://www.sportsnetworker.com/
Work in Sports http://www.workinsports.com/sports-jobs.asp
Sports Careers http://www.sportscareers.com/
Other Articles of Interest: