Welcome to Sports Management Degree Guide, your #1 resource for obtaining the latest up-to-date information about pursuing the best bachelor's and master's degrees in sports management. Our mission is to share our expert knowledge on high-quality accredited degree programs in sports management at the nation's best universities to aid in your academic journey of building a successful career in the thriving sports industry.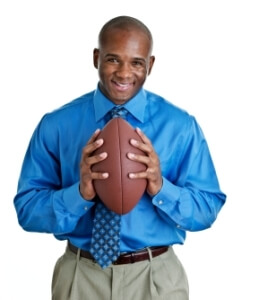 If you are looking for a degree that focuses on the business features that support the operation of athletic events and includes meaningful practical experiences related to managing sports organizations, then you have come to the right place! Within our website, we are committed to offering comprehensive rankings on the best online and on-campus sports management degree programs that have an outstanding reputation for producing sports marketers, sport scouts, athletic directors, sports agents, coaches, and other sports managers.
Beyond assisting you in the important decision of choosing a degree that will change your life and help you achieve your professional goals, we endeavor to deliver various featured articles discussing career opportunities that you can unlock with a degree in sports management. Here you will find online guides, mini courses, infographics, blogs, website links, and other helpful resources that will answer all of your questions about earning a sports management degree for a career in the world of athletics.
Did you know?
• According to the North American Society for Sport Management, there are more than 300 post-secondary institutions that now offer undergraduate and/or graduate degrees related to sports business and management throughout the continent.
• Graduates with a sports management degree are entering a massive growing sports industry that has estimated total revenue between $440 and $470 billion each year in the United States alone. In comparison, the restaurant industry derives $400 billion and the real estate industry makes $310 billion.
• Not only is job growth in sports management projected to grow faster than average due to these multi-billion dollar profits, but lucrative career options are opening up. For instance, athletic directors make an average of $99,585, sports managers earn an average $96,410, and sports promoters bring home an average $88,590 each year.
If you have any further questions or suggestions on content you would like see included in our website, please feel free to send us a message. We look forward to hearing from you!
Sources:
http://www.bls.gov/oes/current/oes131011.htm
http://www.workinsports.com/blog/why-a-sports-management-degree-will-separate-you-from-the-competition/
http://www.nytimes.com/2012/03/01/education/learning-sports-management-in-graduate-school.html?_r=0
Related Articles: