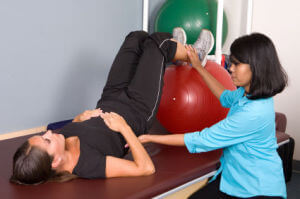 Thanks to the rising demand for therapy services among aging baby boomers and patients with chronic conditions, there is no better time than now to become a physical therapist. As physical therapy services are also becoming increasingly accessible due to federal health insurance reform, there is also a stronger need for medical professionals to executive rehabilitative programs for improving mobility and reducing pain. In fact, the Bureau of Labor Statistics predicts that the employment of physical therapists will skyrocket faster than other healthcare professions by 36%, thus creating 73,500 new jobs before 2022. If you are ready to use your expertise in treating injuries or conditions that limit a patient's ability to move, the following is a step-by-step guide on how you can become a physical therapist.
Complete a Relevant Undergraduate Program
Before being admitted into a graduate program, aspiring physical therapists will be required to complete an accredited bachelor's degree in a relevant field of study. While there are no specific undergraduate majors required, many physical therapists get their start with a degree in biology, physics, psychology, healthcare, chemistry, kinesiology, or exercise science. Since most doctoral programs will require a minimum GPA of 3.0 or higher, it is essential that you maintain a solid academic record throughout your studies. Outside of the classroom, you should also take every opportunity possible to build relevant first-hand work experience in physical therapy environments, including inpatient, outpatient, and rehabilitative healthcare settings.
Achieve a Doctoral Degree in Physical Therapy
In order to further develop as a knowledgeable practitioner, you will need to pursue professional education at the graduate level by achieving a Doctor of Physical Therapy (DPT) degree. In the United States, it is required that all physical therapists have successfully completed a program accredited through the Commission on Accreditation in Physical Therapy Education (CAPTE). Over the course of three to four years of advanced studies, doctoral students will acquire significant instruction in patient assessment, physical examination, prosthetics, orthopedics, medical screening, diagnostics, and treatment planning. Some physical therapists will choose to participate in a 1,500-hour clinical residency program after graduation to gain extra practice under the supervision of licensed physical therapists too.
3. Obtain Physical Therapy Licensure and Certification
Following the completion of an accredited physical therapy program, graduates in all states and U.S. territories will be required to receive licensure to practice. All physical therapy candidates must be able to pass the National Physical Therapy Examination (NPTE), which is a standardized exam that evaluates your competency in the theories and practices of the field. It is also recommended that physical therapists demonstrate their proficiency by obtaining certification through the American Board of Physical Therapy Specialties (ABPTS). After receiving at least 2,000 hours of practice in a chosen specialty area, the board enables physical therapists to become certified in cardiovascular and pulmonary health, clinical electrophysiology, geriatrics, neurology, orthopedics, pediatrics, sports, or women's health.
Related Resource: Biomechanics
If you are drawn to the healthcare field with a desire to help others, have the resourcefulness to customize individual treatment plans, and possess the physical stamina for providing therapeutic exercises, then physical therapy may be the ideal career path for you. When you follow these steps to become a physical therapist, you will earn the credentials needed to make a positive difference in improving the movement of injured and ill patients for eliminating pain.