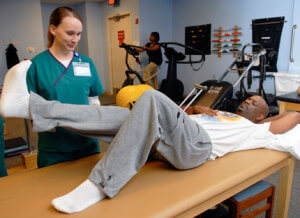 Do you know what a physical therapist does on a daily basis? If you would like to work in health care as a professional who is responsible for assisting in the rehabilitation process, you may be interested in becoming a physical therapist. These professionals can diagnose and treat patients without earning a doctorate, which makes the position highly competitive. While there is a lot of competition in the field, there is also an increasing demand for physical therapists who specialize in treating elderly patients as the population of Baby Boomers grows. If you would like to know exactly what you will do in this field, read on and learn about the role and daily duties of the physical therapist.
What is the Role of the Physical Therapist
Physical therapist must be very dynamic professionals who use their theoretical knowledge and scientific principles and apply them to diagnose and treat patients in a clinical setting, according to the American Physical Therapy Association. A physical therapist, who is commonly referred to as a PT, can treat patients of all ages who suffer from medical problems, injuries or health-related problems that affects their ability to move around and function in their daily lives. The purpose of the PT is to develop a plan following an examination using all of the most effective techniques so that they can reduce the patient's pain while restoring function and preventing long-term or permanent injuries.
Where Does a Physical Therapist Work?
There is a need for physical therapists in several different settings. It is common for PTs to be employed by hospitals, clinics, home health companies, private practice offices, insurance companies, public schools, universities, sports facilities, occupational therapy settings, and nursing homes. If you would like to work in a specific setting, it is important to choose the appropriate specialty so that you are prepared to treat a specific type of patient or condition. You should also review the licensure requirements in your state so that you complete all the right coursework while you are in school.
What Are the Daily Responsibilities of the PT
A day in the life of a PT depends on how many patients they treat and what stage of treatment the patient is in. One day, you may examine a new patient by reviewing their medical history and performing tests and measures so that you can identify the problem. The same day you may be involved in creating a plan of care for a different patient who has a condition that can be addressed in the scope of your practice. The best PTs will educate their clients on the cause of their problem in terms that they can understand.
After using therapy techniques for treatment, you can re-examine your patients and then modify the interventions where necessary. If your patient is approaching discharge, you may also give them tips on exercising so that they can live comfortably in the future and prevent injury.
Related Resource: Sports Nutritionist
If you would like to join a team of physical therapists or you would like to start your own practice, it is time to earn your degree. You will need a minimum of a four-year degree in almost any field before you can enter a physical therapy degree program. Once you have this degree, you will earn your Doctor of Physical Therapy and earn your degree so that you can test for state licensure and legally do what a physical therapist does.
Related Resources: