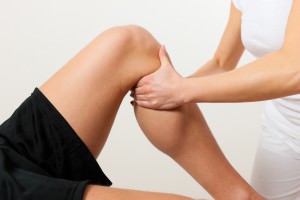 A sports massage therapist helps to condition the muscles of athletes of all skill levels. These trained health and wellness professionals identify the frequency and types of physical activities of their clients, and they use the information to apply the proper massage techniques to various muscle groups. Athletes employ sports massage therapists to condition their muscles prior to sporting events as well as to help their bodies to recover after particularly strenuous training and athletic performances. Sports massage therapists can work with professional sports figures, amateur college athletes or weekend warriors. The types of clients that sports massage therapists attract greatly affect their pay scale and is often dependent upon their level of education, experience and reputation for effectiveness within the industry. Here are some of the general requirements to enter the field of sports massage therapy as well as some ways that a few therapists position themselves to serve higher profile clients.
Education and Training Requirements
While the requirements to practice massage therapy varies by state, the typical career path begins with a degree from an accredited program. For example, an aspiring sports massage therapist can usually meet the education and training requirements to practice their chosen profession in most states by obtaining an associate degree in sports and rehabilitative therapy, sports medicine or physical therapist assistant. Some course topics that are presented to sports massage therapists within these academic programs are kinesiology, exercise physiology and rehabilitation procedures. Students who want to quickly enter the profession can opt to take intensive sports massage therapy certification programs that include all of the pertinent topics like pre- and post-sporting event massage techniques, timing of therapy, identification of common sports injuries and injury response. Sports massage therapists who want to have greater exposure to high profile clients often obtain massage therapy training while participating in an undergraduate sports management degree program. The choice of programs is important, because some schools have developed relationships with professional sports organizations, and their students have opportunities to network with important industry leaders during carefully selected internships that are required for degree completion.
Professional Certifications and Licenses
Many states require sports massage therapists to be certified by industry recognized organizations like the American Massage Therapy Association (AMTA). This organization provides comprehensive certification and training programs that combine extensive theory with valuable hands on learning opportunities. Almost all states require that sports massage therapists be licensed by the National Certification Board for Therapeutic Massage and Bodywork. Licensed massage therapists earned an annual median salary of $40,400 in 2012 according to the Bureau of Labor Statistics, but salaries improved depending on the organization supported and the job's geographic location.
Industry Association Membership
Savvy sports massage therapists broaden their career options by joining professional associations like AMTA even if they did not graduate from the organizations' specialized certification and training programs. AMTA members can find helpful resources relating to continuing education, trade journals, advice for small businesses and employment opportunities by participating in local chapter events or accessing the organization's website.
Related Resource: College Athletics Administrator
Conclusion
The services provided by sports massage therapists are used in healing protocols and as part of conditioning regimens that increase muscle strength, flexibility and range of motion. The work of a sports massage therapist can give an athlete a decided competitive edge which is why many professional sports organizations retain the services of experienced, skilled therapists.