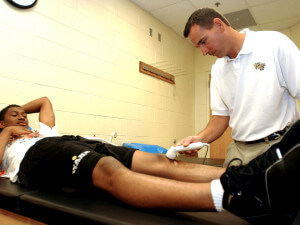 Are you wondering what types of jobs there are in sports medicine? Athletics isn't just about improving your moves so you can perform them flawlessly. It's also about honing the primary tool for achieving your goals, your body, and making sure it remains healthy and in tip-top shape. That's what sports medicine is all about. The following are just some of the jobs are involved with that discipline, according to the American College of Sports Medicine.
Athletic Trainer
Athletic trainers, who are medical professionals, shouldn't be confused with personal trainers or exercise instructors, who teach sports movements. Athletic trainers prevent and treats sports injuries by working with athletes, coaches, physical therapists, and doctors. The typical minimum education is a college degree and most states require licensing. The Bureau of Labor Statistics (BLS) sees jobs for this profession increasing by 21 percent from 2012 to 2022. This is higher than the 14 percent growth predicted for all jobs in the country. The growth will be due to the growing awareness of sports risk, particularly among children and teens.
Physical Therapist
Physical therapists improve movement in an individual who suffers from injuries or disease. They can use exercise, manual manipulation, stretching, and specialized equipment to relieve pain and increase physical abilities. A physical therapist needs at least a master's degree as well as state licensing. Employment for this career is predicted to jump by 36 percent. This is due to an aging American population. Older people experience more physical problems that can be improved by therapy.
Nutritionist
Because the human body needs food to survive, nutritionists advise individuals and teams on the best diets to consume. They take into account the goals of the individual and may plan one meal or an entire sports season of menus. Nutritionists, who are also called dietitians, need an undergraduate degree and certification from the American Dietetics Association. Jobs should grow by about 21 percent. This because of growing interest in how diet can improve health and prevent disease.
Biomechanist
Biomechanists research how physical activity and sport are affected by physics, and how the different systems of the body, such as the muscles and bones, are injured or can be improved. A master's degree is the usual minimal requirement. Employments is projected to rise by 27 percent due to an aging population that wants to stay active.'
Related Resource: Sports Marketing Specialist
Medical Doctor
Doctors diagnose disease and injury, and prescribe treatment that can involve medicine, physical therapy, hospitalization, or surgery. They may supervise sports medicine programs and work with other sports professionals. Their training is the most rigorous of any type of job in sport medicine, requiring at least four years of medical school beyond the undergraduate degrees. Those specializing in sports medicine may undergo three to five years of residency/internship, and possibly two more years of fellowship training. Job increases vary by specialty. However, the Bureau of Labor Statistics projects that all doctors will enjoy employment growth of 18 percent. The increase is because of an aging population that requires more medical attention.
If you enjoy participating in sports or exercise, like to help people improve their abilities through the use of medical science, and like to investigate problems and find solutions, then finding jobs in sports medicine may be for you.