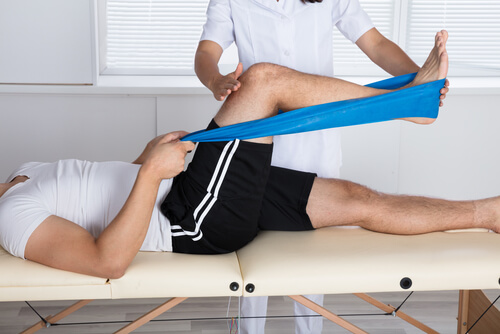 Sports Medicine Jobs
What Is Sports Medicine? What Degrees Can Help You Get a Career In Sports Medicine?
The field of sports medicine is fast-paced and exciting. A career in sports medicine gives you the satisfaction of helping athletes get back to the sports they love after a sports related injury. You can also help non-athletes enjoy better overall function. A bachelor's degree in sports medicine will prepare you for more than just a career as a medical doctor. If you choose this degree path, there's a bright future ahead.
Sports medicine is a specialized field of medicine. It focuses on rehabilitating injuries to help people restore optimal function. Some physicians and nurses in sports medicine work alongside sports related teams. Other sports medicine physicians work at hospitals. Some are part of a group or private practice.
If you want to study sports medicine, it is important to realize that many schools do not have bachelor's degrees that are specifically in sports medicine. However, you can often minor in sports medicine. If you intend to go to medical school, be sure to take a pre-medical course concentration as well.
If your school does not offer a bachelor's degree program in sports medicine, there are other options. You can effectively create your own sports medicine degree by combining a pre-medical course concentration (usually physics, biology, chemistry, biochemistry, and statistics) with a degree in exercise science or kinesiology.
Exercise science is best described as a field of study focusing on the application of kinesiology principles. It is a subset of the kinesiology field. Many programs offer bachelor's degrees in kinesiology with concentrations in exercise science. Depending on the program you choose, you may also be able to earn a degree specifically in exercise science.
Kinesiology focuses on a range of exercise-related topics such as:
performance
function
human movement
how movement and exercise shape overall health
Exercise science specifically focuses on how the human body responds to exercise. Most programs have a significant focus on how to design exercise programs to help individuals achieve their goals.
Related Resource: What is an Exercise Physiologist?
Why Is Sports Medicine Important?
Sports medicine is a vital field when it comes to the well-being of the population as a whole. Sports medicine is an important intermediary between a primary care doctor and an orthopedic surgeon. Most sports injuries do not require surgery. Injured people often need to see a doctor who is more familiar with rehabilitation than a primary care physician. However, they typically do not need to consult with a surgeon right away.
It is a common misconception that those with sports medicine jobs only work with athletes. Non-athletes suffer injuries regularly. They also need rehabilitation. Those with sports medicine jobs have an understanding of medicine, human movement, exercise science, and injury rehabilitation. Doctors, nurses, and other practitioners in the field of sports medicine can help people of all types heal and move on with their lives.
What Careers Are In the Field of Sports Medicine?
A degree in exercise science can prepare you for a career in any number of fields. There are many sports medicine jobs available. While a lot of sports medicine jobs are full time, there are also part time options available. Whether you want to go on to earn a master's or doctoral degree or intend to find a career with a bachelor's degree, you'll be poised to earn a living doing what you love.
Orthopedic Surgeon – Of all jobs on the list of jobs in sports medicine, becoming an orthopedic surgeon takes the most time and commitment. You will need to first get an undergraduate degree that includes courses in biology, chemistry, and other sciences. Most medical schools have a set of prerequisites you need to meet before being considered for admission. After obtaining an undergraduate degree, you'll need to obtain a medical doctorate. Specifically, you'll need an M.D. in Orthopedic Surgery.
Upon graduation from medical school, you'll also need to be accepted for and complete a residency in orthopedic surgery. A residency will give you the hands-on experience and mentorship you need to become a full-fledged orthopedic surgeon.
If you secure a job as an orthopedic surgeon, you can expect to earn over $300,000 per year on average. The future of the job is also bright. Jobs for physicians and surgeons of all types are predicted to grow 7% between 2018 and 2028. If you are intelligent, motivated, and work well under pressure, orthopedic surgery is a career worth looking into.
Sports Medicine Physician– If you have an interest in treating sports injuries and other musculoskeletal injuries but would rather not go into surgery, then you may be interested in becoming a sports medicine physician. These doctors have more specialized knowledge than primary care physicians when it comes to treating injuries. But if an injury is severe enough to need surgery, a sports medicine physician will usually make a referral to an orthopedic surgeon. Sports medicine physicians usually work with diverse populations. Many patients will be athletes who are looking to rehabilitate sports injuries. Some patients will also be non-athletes (often the elderly) who have suffered an orthopedic or musculoskeletal injury.
The path to becoming a sports medicine physician is somewhat similar to becoming an orthopedic surgeon. You will need to earn a bachelor's degree and ensure you take the right concentration of science courses to be accepted to medical school. Finally, you will need an M.D. in Sports Medicine. As noted above, the job growth for all types of physicians and surgeons is predicted to be 7% in the coming years. Sports medicine physicians earn over $200,000 on average. Pay will likely increase with experience.
Kinesiotherapist/Exercise Physiologist– If you have an ability to create specialized exercise programs and enjoy helping people achieve optimal health and fitness, you might want to pursue a career in kinesiotherapy (also called exercise physiology) as an exercise physiologist.
A kinesiotherapist works alongside a physician. They help patients use exercise to manage health conditions. These specialists may design programs to help patients manage chronic conditions and rehabilitate injuries. Along with more traditional exercise programs, they may use aquatic therapy, orthotics, or prosthetics if needed.
The outlook for jobs in kinesiotherapy is a good one. The Bureau of Labor Statistics predicts the field will grow 10% between 2018 and 2028. On average, a kinesiotherapist makes just over $50,000.
You can get a job as a kinesiotherapist with a bachelor's degree in kinesiology, sports medicine, or exercise science. You do need to take and pass the American Kinesiotherapy Association exam if you want to be a registered kinesiotherapist.
Orthopedic or Sports Medicine Nurse– If you have a strong interest in being a part of the field of sports medicine but don't want to work as a medical doctor, working as a nurse in sports medicine or orthopedics is a great career choice. These nurses work alongside physicians to assess and treat injured patients. The best nurses are detail-oriented, observant, and have a great bedside manner.
If you intend to become a registered nurse in the sports medicine or orthopedic fields, you will need to earn a bachelor's degree in nursing. If you minor in sports medicine or kinesiology, you may find that you're more prepared for on-the-job duties. Before practicing as a nurse, you will need to take and pass the National Council Licensure Examination for Registered Nurses (NCLEX-RN).
You may be able to work as a nurse in the orthopedic or sports medicine field without more specialized education. But some programs offer a master's degree in nursing that gives you the option to specialize in orthopedics. If you want to become certified as an orthopedic nurse, you can do so by taking and passing the exam offered by the Orthopedic Nursing Certification Board.
Just like with most jobs in healthcare, the outlook for registered nurses of all types is good. The Bureau of Labor Statistics predicts 12% job growth from 2018 to 2028. And on average, registered nurses earn just over $70,000 per year.
Sports Psychologist– Sports psychology might not be part of the sports medicine field in a technical sense, but sports psychologists can be instrumental when it comes to an injured athlete's rehabilitation. Sports psychologists can work in a wide range of settings. Major sports teams will sometimes have a sports psychologist on staff. These psychologists may also work at hospitals or in rehab centers. Some may set up a private practice or work on a consulting basis.
Because the field of sports psychology requires some medical and some psychological training, the degree path for this career is a little different from most. You will need at least a master's degree and preferably a Ph.D. in psychology. But for your undergraduate degree, the best course of action is often to double-major in psychology and kinesiology or exercise science. In rare cases, institutions offer a bachelor's or master's degree in sports psychology.
This is one of the fastest-growing fields on the list. The Bureau of Labor Statistics estimates that the field of sports psychology will grow by 14% between 2018 and 2028. On average, sports psychologists earn just under $80,000.
Physician Assistant– Working as a physician assistant is a great way to get into the field of sports medicine without going through the same extensive schooling as sports medicine physicians do. Physician assistants will typically work under the direction of a doctor. They can usually prescribe at least some classes of medication. Like physicians, they can assess, diagnose, and treat injuries and conditions.
In most cases, to become a physician assistant, you will need a bachelor's degree in a related field, or will at least need to have met the prerequisites for applying. These are usually similar to those needed for medical school They include many different courses in biological science. A bachelor's degree in sports medicine is a great choice, and a kinesiology or exercise science degree would also be helpful.
Once you get a bachelor's degree, you will need to attend a PA program. These programs typically last three years and award a master's degree. Almost every PA program requires you to have some pre-existing healthcare experience like working as a first responder, a CNA, or a surgical tech. Upon successfully completing a PA program, you will need to pass a certification exam and become licensed in your state.
This is a job that pays fairly well. The average annual salary for a PA is about $100,000. At an estimated growth of 31% predicted between 2019 and 2029, this is the fastest-growing job on the list by far.
Physical Therapist– Physical therapists are arguably one of the most crucial parts of the sports medicine field. Sports medicine doctors frequently prescribe physical therapy as part of a rehabilitation regimen. Physical therapists are the ones who take the patients through the exercises themselves. A physical therapist often works at hospitals and separate physical therapy practices.
To become a physical therapist, you will need to earn a doctorate in physical therapy. Before applying for doctoral programs, you will typically need a bachelor's degree. A bachelor's in exercise science, kinesiology, or sports medicine will prepare you well.
On average, physical therapists earn about $90,000 per year. This is an extraordinarily fast-growing field. The Bureau of Labor Statistics estimates a growth of 18% between 2019 and 2029 for physical therapists.
Athletic Trainer– Are you interested in sports related injury prevention? A bachelor's degree in exercise science is ideal for landing a job as an athletic trainer. But what sets it apart from sports medicine? Sports medicine tends to go into more depth when it comes to physiology and medical knowledge. Exercise science primarily focuses on the body's response to exercise. However, if your institution offers a bachelor's degree specifically in sports medicine, that degree also will adequately prepare you for a career in sports medicine.
That said, working as an athletic trainer is a lot like being a first responder for sports medicine. Athletic trainers attend games or meets with a sports team in case of an injury. They will typically stabilize the injury and can sometimes offer a tentative diagnosis. Some athletic trainers will also educate athletes on injury prevention and general wellness. Athletic trainers often work with:
professional sports teams
college and university athletics
high school athletics
They may sometimes work at gyms or rehabilitation centers.
If you'd like to work as an athletic trainer, you'll be happy to know that the Bureau of Labor Statistics predicts the field will grow 16% between 2019 and 2029. With an average pay of just under $50,000, it isn't the highest-paying job in the field. However, it is one that you can get without a master's degree or doctorate.
Related Resource: What is an Athletic Trainer?
Conclusion
If you have a passion for athletics, helping other people achieve a better quality of life, and injury prevention, be sure to consider the possibility of a career in the field of sports medicine or exercise science. Whether you plan to work part or full time, a sports medicine degree offers excellent preparation for many jobs. There are more medically-oriented jobs like orthopedic medicine or orthopedic nursing. A degree in exercise science (or kinesiology) is ideal for athletic training, exercise physiology, and similar fields.
Related Resources: