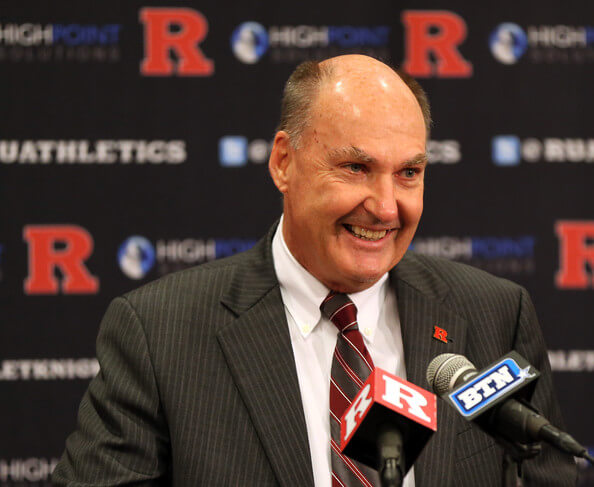 College sports have enjoyed explosive growth in recent years, not only in terms of game attendance but also in terms of television ratings, advertising dollars, the number of bowl games, and a whole host of other metrics. Of course, none of this has been an accident. The surging popularity of NCAA athletics over the past decade is undeniable.
Our editors tapped their go-to sources and got together and voted on a list of individuals they consider to be driving modern college sports. Some hold the purse strings; others make their mark as coaches; and still others influence viewers and listeners as prominent members of the sports media.
20. Paul Finebaum, Radio Host and Influential Twitter Commentator
Paul Finebaum got his start writing sports columns and hosting a regular college football radio show in Alabama, and his voice quickly became called the "voice of the Southeastern Conference." His popularity made him a target for ESPN, and the company eventually decided to bring Finebaum into the fold and make him a regular presence on the ESPN Radio Network. As an added bonus, his contract with the company got him at least 100 television appearances throughout the duration of his deal.
As his show transitioned between local broadcasting and national syndication, Finebaum took to Twitter where he turned his polarizing, but popular broadcasts into some of the most popular college sports tweets online. Today, he has amassed a very large Twitter following and is easily considered a driving force not only in college sports, but also in the ESPN family of famed broadcasters and sports personalities.
19. Mike Farrell, Head of Recruitment Analysis, Rivals.com
Want to know who next year's biggest stars are in virtually any NCAA collegiate sport? Make Farrell can probably tell you, and it's this power that has made him a driving force in college athletics. Farrell runs Rivals.com, a site that follows promising high school athletes that are primed for success in NCAA competition. The site then ranks those prospects and follows them intensely, showcasing their successful recruitment in any of the three NCAA divisions that currently characterize competition between schools.
With this site's focus on aspiring new athletes, many schools have a direct path from their current winning or losing record to their next attempt at a post-season appearance and a play-off victory. This has made even bigger business of recruiting, and it's a notable success within college sports.
18. Mark Emmert, President, National Collegiate Athletic Association
The NCAA seems to be perpetually controversial, either because fans feel the organization is overreaching or because they feel that the NCAA simply hasn't gone far enough to regulate everything from grades and athlete compensation to the conduct of coaches and school administrators. Leading the charge since 2010 is Mike Emmert, who has overseen everything from the scandals at Penn State to the shuffling of major conferences and changes to several playoff schedules.
Love or hate his efforts, one thing remains true: Until this former university official moves on, he's the driving force between how collegiate competition works and how it will proceed in the future. That's a major source of influence across the board.
17. Mike Golic and Mike Greenberg, ESPN Television Hosts
The power of an ESPN syndication deal cannot be understated, especially for fans of the network's popular Mike and Mike show. The show was originally a radio broadcast, distributed across the company's ESPN Radio Network agglomeration of AM and FM stations. Since 2004, the format has been adapted into a television show that has become among the highest-rated in ESPN's history.
The hosts, which are as often opposed as they are aligned, review collegiate and professional plays on the show. Their view of athletes, teams, and big plays, can make or break a team's public perception and drive the course of a typical season one way or the other. For humble former radio hosts, that's a big responsibility and one that college sports fans expect them to take seriously.
16. Dick Vitale, Sports Broadcaster
If you've watched a college basketball game lately, chances are good that the entire affair was narrated by Dick Vitale's legendary voice. Though he has never had a coaching position, Vitale offers insight into the players and the game in a way that virtually no other college broadcaster has yet managed to accomplish. Fans across the board cite his voice as one of authority during the entirety of college basketball season, even if they do loathe his very public support of his alma mater, Duke University.
15. Eric Shanks, COO and Co-President of Fox Sports
In order for college sports to succeed, they need to have exposure. Part of that comes from the fans that actually attend the game, but an even larger piece comes from the exposure of major-network broadcast rights. That's where Eric Shanks comes in. Shanks is the co-president of Fox Sports and serves as the organization's COO as well.
His role in the past few years has been a big one, restructuring the company's cable channels and finding new ways to bring both college teams and professional organizations to the Fox broadcast network. His tenure has seen more college games broadcast on Fox than in years past, and the overhaul of Fox's cable channels has given universities even more ways to be seen by fans across the country.
14. Donna Lopiano, Former Direct of Women's Athletics at the University of Texas
Though Donna Lopiano's title might be the former director of athletics as a major university in Texas, her legacy and influence far outreaches that role. During her time in college sports, Lopiano was responsible for advocating the necessity of women's athletics and staunchly defending Title IX regulation in college competition. Under her leadership in Texas, all of the university's women's programs experienced unprecedented success during both the regular season and post-season play. Her latest gambit is to serve as an executive-in-residence at UNH, working on studies that analyze the effect of athlete compensation on competition and Title IX requirements.
13. Mel Kiper, ESPN Broadcaster
While some people prefer to analyze how high school all-stars will compliment their new college team, people like Mel Kiper are dedicated to the NFL Draft. Since 1984, Kiper has been ESPN's number one source of news, information, and analysis regarding draft picks and how they'll affect each of the NFL teams that choose their talents over the competition.
His opinions are valued not only by fans, but also by those teams participating in the draft each year. If Kiper feels an athlete might be overhyped or under-appreciated, this opinion can make or break an athlete's career as they look to "go pro" and make the most of their time in Division I athletics.
12. John Calipari, University of Kentucky Basketball Coach
The University of Kentucky has always been an off-and-on powerhouse in college basketball and several other sports, but John Calipari is doing his part to make sure that the college's recent dominance in the NCAA tournament sticks around for quite a while longer. During his tenure at Kentucky, he has transformed recruiting and coaching alike, generating more successful NBA Draft recruits than virtually any other program in the country.
It's all thanks to Calipari's "revolving door" philosophy, which recognizes that some players might come and go, with many headed to the NBA, and that this should be used to the team's benefit. Look for his influence to grow even more as other teams adopt this 21st century philosophy.
11. Erin Andrews, FOX Sports
For virtually the entire televised career of college and professional sports, sideline reporters have been men. Perhaps the rule was unspoken, but there did seem to be a rule: Men were simply more able to handle the pressure of reporting on the field, and they were probably more relatable to the players answering the questions. That rule, which was perhaps never a good one even if it was unspoken, has been broken by Erin Andrews.
Now the most common face seen on sidelines at college games around the country, Erin Andrews' reporting is tough, sensible, and cuts right to the chase. It's a breath of fresh air that has revitalized college sports, kept athletes accountable, and broken all kinds of barriers for women in sports reporting.
10. William Wesley, NBA Power Broker and Marketer
When professional basketball teams enter the NBA Draft, they almost always do so with an existing agenda. Most teams know which names they want to recruit, and they've gone to great lengths to learn not only the player's stats, but also their character and how they might impact team performance and overall cohesion. The person setting the tone for that conversation, when professional teams learn about college players and their potential contributions, is William Wesley.
Wesley positions himself at the intersection of team officials, players, and their agents. His job is to ease the lines of communication and get players where they need to be, at least as long as he thinks they should be there. With his record of successes, including the likes of Jordan and LeBron, it's probably best to continue letting Wesley do his thing.
9. Bill Hancock, Executive Director, BCS, Former BCS Administrator
Remember how the BCS essentially came out of nowhere and suddenly became the absolute biggest thing ever to happen to college football? The man behind that incredible success story is Bill Hancock, who was the administrator of the Bowl Championship Series play-off program from 2005 to 2009. As most college fans should know, the BCS is now firmly a thing of the past, having been replaced by a new playoff system going forward. Bill Hancock, however, has not been replaced.
As college football continues to evolve, Bill Hancock will be overseeing the execution of a new playoff system. With his record of success in the past, look for this new system to be just as rousing a success as the BCS was in its own time.
8. Christine Driessen, Executive Vice-President and CFO, ESPN
ESPN has had a period of major growth in recent years after suffering from declining viewership about a decade ago. The reason for this? The company made Christine Driessen its executive vice-president and its CFO, putting her at the intersection of ESPN's finances and corporate survival. Her instincts were right on: Driessen landed not only the MLB and Monday Night Football, but also an exclusive broadcast deal with the NCAA's Atlantic Coast Conference and exclusive broadcast rights to the Rose Bowl.
The result has been a resurgent ESPN that is now more college-aware in its programming and, with viewership going up almost constantly, that means a great deal more exposure for some of the country's biggest and best teams.
7. Nick Saban, Coach, University of Alabama Football Program
Nick Saban has been a major hit with the fans of the University of Alabama. During the BCS playoff system's heyday, he managed to guide Alabama to three BCS titles in just four years. As an added bonus, Saban made a splash with a cameo in "The Blind Side," which itself won an Academy Award.
Saban has been promoting his "system" of college football coaching and promotion in recent years, and it's likely that his SEC counterparts will be closely emulating that system so that they have at least some hope of staving off yet another Alabama run for the post-season.
6. Sean McManus, Chairman, CBS Sports
Sean McManus has a pretty tough job in front of him, since he's in charge of maintaining CBS's sports leadership on television. He's done a good job, having maintained the network's college football ratings dominance and crafting some of the best NCAA Tournament coverage in recent years. With McManus' tenure likely to last a long time, college sports fans should get used to his influence on the two biggest NCAA sports.
5. DeLoss Dodds, Texas Athletic Director
In place since 1981, Dodds' influence on Texas is as outsized as the state of Texas itself. In fact, many people often say that DeLoss Dodds is more powerful than the head of the Big 12 conference, of which Texas is a member. Dodds oversees everything from recruitment to expansion, sponsorships to scheduling, and for this reason is often credited with Texas' success on the field and the school's popularity both within Texas' borders and with fans across the country who aspire to the success and dominance of Texas football and other teams.
4. Larry Scott, Commissioner, PAC-12 Athletic Conference
Guiding the PAC-12 toward success is no easy task, but Larry Scott has managed to do just that. His work has seen the PAC-12 develop into a far more prestigious athletic powerhouse over the past few years, and his advocacy for better broadcast rights, a PAC-12 cable network, and all kinds of sponsorship deals, has allowed the conference to have a better overall balance sheet than it has in recent years. For students of the PAC-12 schools and athletes from the PAC-12 conference, that's worth commending.
3. Jim Delany, Commissioner, Big Ten Athletic Conference
Recent changes to the NCAA conference layout have eliminated prior powerhouses like the Big East, but the Big Ten remains firmly in place as one of the country's most dominant football and basketball groupings. In large part, that's because Commissioner Jim Delany refused to let the Big Ten fall apart or be absorbed into another super-regional body. His influence on college sports virtually assures that this cohesive group of schools remains a force to be reckoned with throughout the regular season and into the playoffs.
2. Mike Slive, SEC commissioner
When it comes to college football, few conferences can stand up to the outstanding record of the Southeastern Conference, or SEC. That's because the conference has had a series of powerful leaders who have focused on great coaching, cohesion among teams, and the fostering of rivalries, sponsorships, and strong recruitment programs. Mile Slive is another great leader for the SEC, and he's largely responsible with the success of southern schools and the cohesion of the Southeastern Conference even during the recent conference shakeup that took many lesser groupings by surprise.
1. John Skipper, President, ESPN
Few sports networks command the attention and prestige that ESPN does, and that's thanks to the leadership of John Skipper. In recent years, Skipper has focused on making ESPN a central force in college sports. Thanks to his leadership and influence, the company now shows more college competition on ESPN, ESPN2, and ESPN3. He has also been a driving force behind the syndication and acquisition of major college broadcasters and commentators nationwide, creating a stable of college broadcasters that are guiding a new generation of fans toward the post-season and beyond.
Amazing People in a Growing Field
College sports continue to gain in popularity, sponsorship, and scholarship, and that's all due in large part to the 20 names mentioned here. Of course, hundreds of other people are responsible for guiding athletes, schools, and conferences toward success. But when it comes to televising the game, keeping conferences together, and advocating on behalf of college athletes, these 20 people are as remarkable as they are broadly influential.
Other Articles of Interest:
Sources
http://bunnsports.com/2013/02/11/college-footballs-10-most-influential-tweeters/
http://bleacherreport.com/articles/1716625-25-most-influential-men-and-women-in-college-football/
http://www.newhaven.edu/news-events/news-releases/642177/
http://sports.yahoo.com/news/kentuckys-john-calipari-built-21st-070000330–ncaab.html
http://en.wikipedia.org/wiki/William_Wesley
http://gamedayr.com/sports/sports-illustrated-50-most-powerful-people-in-sports/