Sports management is a field that focuses on the business attributes of sports. Many professionals in this industry have obtained a sports management degree. Sports management professionals are concerned with several aspects of a department or organization focused on sports or physical activity including: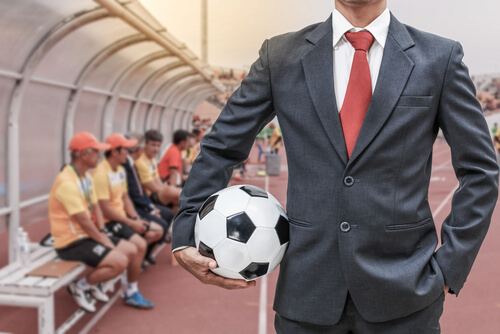 Sports management professionals handle behind the scenes features, such as:
Sports management is applied in nearly all types of levels of sports, including:
government athletic activities
college-level and professional athletics
Featured Bachelor's Degree Programs
Rankings
Sports Management Degree
Individuals interested in working on the business side of the sports industry should consider a degree in sports management. These degrees provide students with a solid understanding of sports, business and management and how these aspects work together. Students receive instruction directly related to business topics in sports. Most programs include meaningful practical experiences related to managing sports organizations and/or sporting events. Some degree programs enable students to specialize in a certain area of the sports management industry, such as:
sports tourism
golf management
sports communications and media
sports marketing
sports facility management
sports analytics
Related Resource: Do I Need a Degree in Sports Journalism to Become a Sports Journalist?
Benefits of a Degree in Sports Management
Sports management degrees provide individuals with an array of benefits. Graduates work with a wide range of people who share a common passion for sports. They become a vital part of a sports organization. The field also provides unforgettable experiences, and it is not limited to one specific geographic area since sports are prevalent in all locations.
Students in sports management programs complete courses that focus on the business aspects of sports, information about sports, and intercollegiate and professional athletics. They also learn about:
sport ethics
sport marketing
sport law
sport finance
facilities management
Sports management programs are offered at the bachelor's, master's, and doctoral degree levels. The bachelor's degree programs prepare students for entry-level careers in sports management and help graduates get their foot in the door.
Students might explore different aspects of sports management by taking sports medicine classes or courses in exercise physiology. A bachelor's in sports management can provide a great foundation for students thinking about working as a sports massage therapist or exercise physiologist.
Master's degree programs provide a more in-depth understanding of the field, and graduates are prepared to pursue upper-level positions and advance in their current careers. Some programs are offered online to accommodate the needs of working professionals. An online masters in kinesiology or an online masters sports psychology program are great options for students.
Sports management PhD programs enable students to become experts in the field. A PhD in sports management opens the door to professional opportunities, such as positions in research or academia.
Schools Offering Sports Management Degrees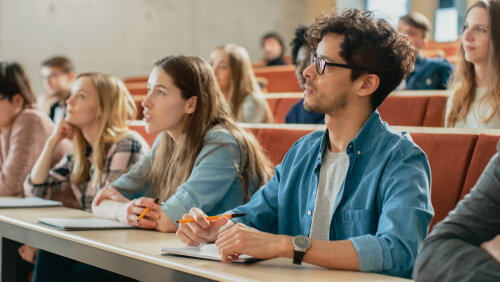 A variety of accredited institutions offer degrees in sports management. Among those that are generally well-regarded are programs at:
Georgetown University
University of Massachusetts
Bowling Green State University
The University of Kansas
Georgetown University offers a master's degree in sports industry management, and the program includes practical instruction by leaders in the industry. Students are also engaged in internships and other customized learning options.
The University of Massachusetts offers a bachelor's degree program that focuses on three levels of sports management including:
sports agencies
amateur sports
professional sports
Bowling Green State University has one of the biggest sports management programs in the U.S. Sports management students are required to choose a minor in:
international business
marketing
entrepreneurship
journalism
general business
Sports management degree students complete two field experiences before they graduate. 96% of sports management bachelor's degree students report that they're employed or in graduate school within six months of graduation.
The Department of Health, Sport and Exercise Sciences at The University of Kansas offers a PhD sport management program. Students can typically complete their degree in three years. It's a great choice for students planning an academic career in sports management.
Related Resource: What Are the Best Classes for Sports Management Majors?
Sports Management Careers
The increasing growth in the sporting industry in the U.S. has sparked a demand for sports management professionals. In fact, sports-related businesses are ranked in the top 15 industries in the country. Career opportunities for graduates of sports management and sports science degree programs vary from working for a local non-profit organization to pursuing positions with professional sports teams. For more information, see our article on Sports Management Careers and Jobs. Five popular types of careers include:
Sports Marketer
A sports marketing professional handles the process of buying or selling individual athletes, teams, sponsors, or brands in the sports field. Sport management companies use marketers to create awareness and advertisements for clients that promote them and make them look desirable. They use a wide range of mediums to get the word out about their clients, such as:
public relations
television interviews
public events
endorsement deals
social networking
Sports marketers work with their clients to determine the needs to implement campaigns in the most effective way possible. They often conduct surveys to identify the best markets to promote their clients. The average salary for sports marketers is around $76,000 per year.
Related Resource: Can I Earn a Specialized Sports Marketing Degree?
Sport Scout
A sport scout is responsible for assessing both amateur and professional athletes for skill and talent in a certain sport. Sport scouts commonly work for academic institutions that have amateur teams as well as professional sports organizations. They look for talent by:
consulting with high school or college coaches
reading local newspapers
watching the performance of players to evaluate skills
Many sport scouts meet with players and families to get a better understanding of the player's personality and background. After watching players, sports scouts report information back to organizations to provide an analysis of prospective value to the team. The average salary for sport scouts is around $44,000 per year.
Sports Facilities Manager
Sport facilities managers run the overall operations of sports facilities, from small gyms to large football stadiums. They manage the daily operations and organize maintenance and other activities needed for effective function. They maintain the quality and safety of playing surfaces and implement specific procedures to ensure all participants of sports activities are safe.
Facilities managers prepare yearly budgets and estimate the costs of operating the facilities. They also keep track of equipment and delegate maintenance and repair tasks. Many sports facilities managers are also responsible for making sure an effective security system is in place. The median yearly salary for sports facilities managers is around $80,000.
Sports Manager
A sports manager directs the overall organization and scheduling for sports organizations and individual athletes. Sports managers act as intermediaries between players and teams. They present a good public image for clients.
Sports managers focus on the business and organization aspects of sports to enable clients to concentrate on the game and trying their best to win. They make sure their clients are getting adequate attention and training to promote peak performance. They work for a wide variety of entities, including:
amateur and professional sports leagues
academic institutions
sports marketing companies
sporting goods organizations
The median annual salary for sports managers is around $56,000.
Athletic Director
An athletic director, or AD, provides leadership in all types of sports organizations from high schools to professional college sports teams. They oversee all aspects of an athletic management program, including:
facility management
budgets
hiring coaches and other staff members
These sports management professionals provide direction and work with staff to create schedules for practices and in some cases games and tournaments. They allocate funding for:
equipment
maintenance of facilities
travel
salaries of staff members
Athletic directors also work with leagues and conferences to schedule other activities. How much do athletic directors make? The median annual salary for athletic directors is around $101,000.
Related Articles: