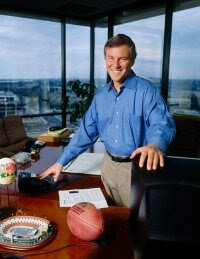 Identifying new talent is just one of the items on a list of what a sports agent does. Once dominated by men, the field now has a number of female agents working in the field. Agents find players in all types of sports, including ice skating, basketball, hockey, football and other sports. Amateur players cannot sign endorsement deals, and Olympic athletes cannot accept money for playing, but those playing at the professional level need an agent capable of getting them the best deals and helping them get exactly what they need.
Sign New Players
The Tom Cruise film "Jerry Maguire" showed the troubles that an agent went through when signing new players and retaining existing players. Sports agents must retain on top of the hottest news and keep an eye on the sports world to find new players who need help. They might fly across the country to meet with athletes living on both coasts and the Midwest, and they might spend hours meeting with those players and their families every day. Agents need to know how to present themselves and how to get athletes to sign with them.
Negotiate Salaries
Salary negotiations is another item on the list of what a sports agent does. LeBron James made history when he signed the largest rookie contract in NBA history, and while other players might not earn as much, they still need help starting out. An agent will look at what a player wants and what a team will offer and find a way to make both sides happy. During later contract negotiations, an agent might look at what other teams will offer a player. Agents also handle negotiations before a player signs an endorsement deal with a major company.
Form Relationships
According to Forbes author Leigh Steinberg, who is a sports lawyer, points out that forming a relationship is one of the most important things that an agent can do. This lets the agent learn more about where an athlete comes from and what that player thinks is important. After meeting a player's family, an agent might work harder at helping a player get a contract that will let that athlete remain close by. Steinberg also believes that agents should prepare players for what comes next and help them when they look for jobs as analysts and broadcasters after retiring from professional sports.
How to Become a Sports Agent
After looking at what a sport agent does, you might think about making it your career. Most agents have a degree in sports management, sports law or a similar field. Doing an internship at a sports agency lets you get the inside track on what agents do. You might find programs that claim you can complete a sports agent program in as little as eight to 12 weeks. These programs often offer a general look at what agents do without giving you any practical skills or helping you find a job. Going to college is more expensive, but it increases your chances of working as an agent later.
Related Resource: Jobs in Sports Law
Sports agents act in the best interests of their clients. They help them find endorsement deals, handle negative publicity and negotiate for a higher salary when first starting out and after playing for a few years. Look at what a sport agent does carefully before deciding if it's the right career choice for you.