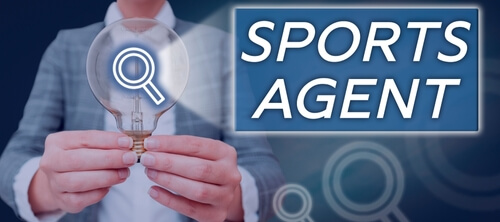 "How Much Do Sports Agents Make?" This is often the first question asked of individuals thinking about this career choice. Unlike careers that typically have base salaries, sports agents' wages are determined not so much on their performance but on the performance of the athletes that they represent. Sports agents typically earn a percent of the athlete's income. Learn more about sports agents, including what their work involves in this fast paced career and how their wages are determined.
What Does a Sports Agent Do?
Successful sports agents have many duties. Representing athletes is one of the many duties of a professional sports agent. They might sit behind a desk:
negotiating contracts
doing taxes
setting up product endorsements
They might also be traveling to meet with:
potential clients
athletes
league representatives
The sports agent's role is not a 9 to 5 job. Agents are required to work nights and weekends scouting and recruiting athletes. They work with athletes in setting up endorsements. They even help athletes manage their money.
Related Resource: Top 24 Best Sports Management Degree Programs
What Sports Agent's Wages Include
Several factors go into determining the sports agent fee.
• Commissions – The sports agent gets a commission off the athlete's earning. The earnings vary by sport and player. The average sports agents commissions is between four and ten percent of the player's contract. Some sports have a limit on the commission an agent can charge. The National Basketball Association has a commission limit of four percent. The National Football League has a commission limit of three percent. The National Hockey League and Major League Baseball do not have any limits on commissions.
• Salary variations – The commission an agent earns depends on player salaries for the sport they play. Salary caps can put a limit on the commission. For this reason, some of the highest-paid players may not have the highest-paid agents.
• Endorsement deals – Players might also get an endorsement from a product or company. This also contributes to the sports agents pay. The agent gets part of that endorsement money. Again, the amount the agent gets in endorsements depends on the type of contract it is and on the sport. They typically earn from ten to 20 percent of the athlete's endorsement contract.
• Location – Location plays a big part in determining a sports agent salary. An athlete's earnings vary by location and the team for which they play and therefore impact the sports agent salary. California, New York, and Florida are home to the industry's highest paid agents.
Related Resource: Sports Management Salary
How Much a Sports Agent Makes
How much do sport agents make a year? If you're interested in finding out the wage for a certain occupation, you could go to the U.S. Bureau of Labor Statistics site and see what the average annual wage is for this individual nationwide. The same can't be said for sports agent's salary because their salaries are entirely different. Who are the highest paid sports agents? The salary for a sports agent depends on the player or players' salaries. An experienced sports agent might have a higher chance of landing a well-paid athlete. They might represent one or multiple athletes. They might represent professional athletes or amateur athletes. Since most sports agents work off commissions, their salaries are going to be based on what the athlete's earn. What percentage do agents make? Here are some examples of an athlete's yearly salary and the possible sports agent's commission, according to Sports Management Worldwide.
•  How much do NFL agents make? National Football League – $375,000 (low) – $20,000,000 (high)- $11,250 – $600,000 (commission)
• What is the baseball agent percentage? Major League Baseball – $400,000 (low) – $32,000,000 (high)- $16,000 – $1,280,000 (commission)
• How much do NBA agents make? National Basketball Association – $473,000 (low) – $28,000,000 (high)- $9,460 – $1,120,000 (commission) Sports Management Worldwide (SMW)
How to Become a Sports Agent
Some sports agents might get into this career without earning a degree, but this is rare. The most common path is earning a bachelor's degree or graduate degree in sport management or business. Depending on the state, they might also need to be registered or licensed.
Conclusion
How much does a sports agent make? There is nothing like knowing another person's performance can affect your earnings to make a person suddenly have a love of the game. Individuals who are already interested in sports may find a sports agent career highly rewarding and exciting, particularly once they've learned how much a sports agent can make!
Related Resources: