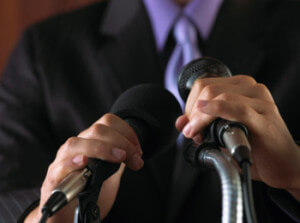 Sports marketing and management is one of the fastest growing career fields, and as more and more colleges introduce degrees in that field, more students will want to know what types of public relations jobs in sports are open to them. Though many think of public relations representatives, there are other jobs available in the sports PR field. Students who have the right skills and experience can find work after graduation working for individual athletes and sports organizations.
Event Marketing
Not everyone who studies sports marketing wants to work with athletes. Many find that they prefer working behind the scenes, which makes event marketing a good option for them. They often work for sports complexes, baseball fields, basketball arenas and other professional sports arenas and facilities. They are the ones responsible for advertising and marketing upcoming events and special promotions, including dollar night, bat day and other events designed to bring in more fans. According to the Bureau of Labor Statistics, event marketers make a median salary of more than $100,000 a year, but this figure often depends on the amount of experience a marketer has.
Sports Agent
Those looking at the types of public relations jobs in sports might find jobs as sports agents appealing. A sports agent is someone who looks out for the best interests of his or her clients. They usually work with professional athletes, but they may work with Olympians and former college athletes making the transition to professional play. Agents help clients sign contracts with teams, work out sponsorship agreements with major companies, release books based on their experience and even go on lecture and speaking tours. Sports agents usually receive 10 percent or more of what each client makes on a deal and every year.
Public Relations Rep
Working as a public relations representative is another good option for those who study sports, communications and similar fields. A public relations rep is someone who ensures a client has a good and strong reputation. They scour the web for references to clients, follow breaking news and generally keep an eye out for any potential problems or issues. PR reps also work with newspapers and others news outlets to release important stories about clients. They write press releases every time a client signs a new contract, works with a new sponsor or releases a product branded with his or her name.
Sports PR and Athletic Firms
Sports and athletic firms often offer a number of jobs suitable for those interested in public relations jobs in sports. These companies can include the manufacturers of sports equipment, running shoes, balls and anything else players need. The companies need people capable of writing press releases that inform others about new products or changes to existing products and press releases that encourage shoppers to buy those items. PR reps working for these companies may also be responsible for creating new advertising campaigns before a product lands in stores and creating television, radio and print ads.
Related Resource: Sports Nutritionist Degrees
Those who do best in PR jobs are often those who have strong communication skills and a strong creative side. They work with athletes, agents, writers and dozens of other people every week. Some of the best public relations jobs in sports now include jobs as agents, PR representatives for athletes and athletic firms and event marketers.