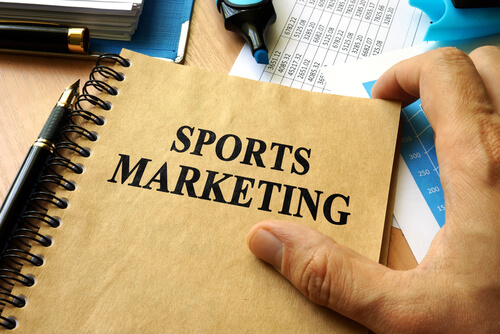 Sports marketing is a specialization within the realm of marketing.  Professionals work to promote:
sporting events
teams
players
They also promote a variety of services and products connected to those teams.
Brand loyalty plays a big role in sports marketing. Sports marketers often design campaigns based upon signature players and sports franchises that can inspire fans to use specific products or support sporting events.
Related Resource: What Types of Jobs Are There In Sports Medicine?
Average Salary
How much do sports marketers make?  As an exceptionally large and dynamic industry, marketing offers professionals the opportunity to enjoy high income after gaining several years of work experience. The Bureau of Labor Statistics (BLS) suggests median pay for advertising, promotions, and marketing managers is $133,380 per year, which works out to around $64 an hour.  
Further BLS data on the salaries for sports marketing managers connected to spectator sports suggest annual average salary range can vary from $119,000 to $128,000.  A sports marketing manager may earn an even higher income working in a leadership role.  Payscale reports that the average sports marketing manager salary is $68,750/year.  
Individuals lucky enough to score employment at the executive level may enjoy even higher salaries.  The salary for executive sports marketing jobs depends upon the popularity of the sport in which a person works. Deals with multimillion dollar sports stars may also result in lucrative bonuses and valuable professional relationships.
Entry Level Salary
A high starting sports marketing salary helps a graduate pay for student loans and reach milestones like buying a house or going on an expensive vacation. Marketing managers may start at a salary of $51,000 a year, according to a list compiled by CareerBuilder.
What's in the Sports Marketer Job Description?
The responsibilities of a sports marketing professional will vary depending upon the level of the position sought. Sports marketers may engage in many traditional promotional activities like:
direct marketing
product placement
advertising and branding
publicity
These promotional projects are supported by various media like:
merchandise
brand ambassadors
in-game advertising
For example, the banners hung around the walls of a baseball stadium are an example of in-game advertising. A NASCAR driver who promotes a brand through commercials is an example of a brand ambassador. In the last few years, mobile marketing has also infiltrated sports marketing through organizational applications like NLF.com Mobile and MLB.com At Bat.
Necessary Skills
General marketing knowledge is necessary to work in sports marketing, as well as specialized knowledge important to the sports world. Marketing professionals need exceptional writing and communication skills.  They communicate with individuals within sports industry.  They also communicate with the customers and clients who count themselves as sports fans.
In today's digitally obsessed world, skills in social media and internet marketing are also essential pieces of the sports marketer's toolkit. The personal nature of sports fandom means that personal customer engagement through social media is an exceptionally valuable method for building loyalty.
Sports marketers also need an in-depth level of knowledge about sports. It's not just a matter of knowing the rules of the sport, but understanding the history, attitudes, and environment of players and fans.
Degree and Education Requirements
The most common type of sports marketing degree is a bachelor's degree. Some generalized marketing degrees do exist at the certificate and associate's degree levels, but most employers prefer that applicants have a bachelor's degree. Some organizations encourage future sports marketing management professionals to go back to school to obtain a Master of Business Administration (MBA) that may or may not carry the specialty of sports marketing.
Sports marketing degrees are available under a variety of degree programs.  These range from specializations within a Bachelor of Business Administration program to a Bachelor of Science in Sports Marketing. The curriculum of a sports marketing program should include topics on:
economics
business
marketing
sales
Students also learn the way in which marketing impacts modern sports.
Rewards and Challenges of Sports Marketing
For anyone who loves sports, the job of sports marketing represents a dream role.  It's a marketer's responsibility to know everything about his or her favorite sport. The old quote from "Man and Superman" that says, "those who can, do; those who can't, teach," might be applied to sports marketing. Those who aren't talented enough to score a Major League Baseball contract can still work with players, teams, and fans by working in sports marketing.
One of the biggest challenges of sports marketing is that it's a profession that people love, so it's rare that high-level positions become available. On the one hand, it bodes well of a profession if people are inclined to remain working in the industry. However, it does make it difficult to move up through the ranks over time when openings aren't available on a routine basis. Sports marketing is also a male-dominated field. Female job seekers do have an uphill road in advancing their careers within the industry.
Getting Started
Anyone who wants to become a sports marketing professional will want to have a keen interest in sports.  They'll also need natural marketing talents in writing and communication. Anyone who has a degree in general marketing may want to think about returning to school for an advanced degree that specializes in sports marketing.
An internship in sports marketing can be great for students pursuing their bachelor's degree.  An internship or practicum experience is an exceptionally valuable part of the resume of an entry-level sports marketing graduate. A sports marketing program may not offer specific information on a particular sport, and an internship can help provide those necessary specifics.
What is the Future Outlook?
Currently, the marketing industry is on track to grow faster than the average for all professions. The BLS expects around 10% growth for marketing manager positions in the next decade.  Sports marketing is special because the sports marketing industry has such low turnover. The best way to ensure a successful sports marketing career is to gain a specialized degree in sports marketing, rather than a general degree in marketing.
Some of the entry-level positions available in sports marketing include job titles like:
Account Coordinator
Event Coordinator
Marketing Representative
Public Relations Assistant
With experience in the industry, roles in management will become available along with higher income potential. A variety of businesses and organizations hire sports marketing experts including sports teams and the marketing departments of companies that partner with professional sports.
Sports marketing is a terrific specialization for anyone who has self-confidence and superb communication skills and also loves sports. The best sports marketers are enthusiastic and can deal with requests that fly in from everywhere. Fast paced and exciting, sports marketing experts enjoy a busy and fulfilling career with high job satisfaction and earnings potential.
Related Articles:
What is a Sports Massage Therapist?
What Public Relations Jobs in Sports are Available?
How Do You Become a Physical Therapist?
Can I Earn a Specialized Sports Marketing Degree?
What Sports Medicine Classes Do I Need to Take to Get a Job in Sports Medicine?