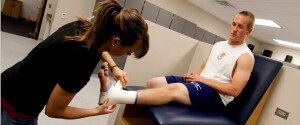 Sports medicine is a growing field and encompasses many occupations. The courses you take will be determined by your career path, and whether you desire an advanced degree in sports medicine.
What Can I Expect to Study in College
Most sports medicine jobs require at least a bachelor's degree with some sort of approved certification. The undergraduate degree starts with general liberal arts courses common to any profession such as math, science and English or composition. Some of these classes are available through augmented high school or dual credit classes which allow you to get credits toward your high school diploma at the same time you earn college credits. The Sports medicine page at Norwich University says you should be taking science classes such as physiology, biology, anatomy and kinesiology. Nutrition is also a great class to take when looking toward a career in sports medicine. Your degree path should also include sports medicine principles and injury evaluation. Other classes in a sports medicine degree curriculum are statistics, chemistry, calculus, psychology and emergency assessment and care. Some programs also offer first responder CPR/first aid.
Related Resource: Sports Management Degrees
Do I Need an Advanced Degree for a Career in Sports Medicine
Most jobs require an undergraduate, or bachelor's, degree plus some kind of certification. A few positions prefer a Master's degree and the top professional positions are open to only those with Doctorates. Lipscomb University lists  partial list of jobs in health medicine and the education they require is below.
• Aerobics and/or Group Exercise Instructor Although any physically fit person can lead exercise classes, there are more stringent requirements for those who work for companies with health and wellness programs or for large fitness corporations. These positions require a bachelor's degree and certification from a recognized group such as the American College of Sports Medicine.
• Athletic Trainer These people work with team doctors, coaches and other personnel to keep an athletic team healthy or to treat injuries and restore players back to health. They need an undergraduate degree from a school that the Commission on Accreditation of Allied Health Education Programs recognizes. They also need to pass an exam for certification by the National Athletic Trainers Association.
• Dietitian/Sports Nutritionist The study of how diet affects sports performance is at the core of this position. These people work with individual athletes and teams to develop food regimens and possibly supplements to improve their physical condition. They need at least an undergraduate degree after which they must serve a nine-month internship approved by the American Dietetic Association. After the internship is completed, applicants may sit for the credentialing exam.
• Physical Therapist This professional works with exercise programs to help athletes recover from injuries. Physical therapists need two-to-three years of education beyond their undergraduate degree before they can sit for the certification exam.
• Researchers In sports medicine, Ph.D researchers study things such as enhanced sports performance and the psychology of sports.
The courses needed to get a job in sports medicine depends upon whether you intend to get an advanced degree. In general most sports curriculum concentrates upon science, math and psychology as they apply to performance and health.