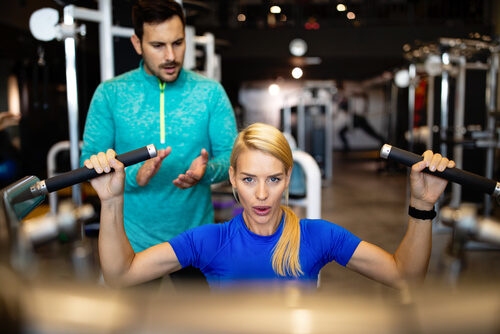 What is an athletic trainer?
Do you want to become a certified athletic trainer? According to the National Athletic Trainers' Association, athletic training encompasses the:
prevention,
examination,
diagnosis,
treatment and
rehabilitation of emergent, acute or chronic injuries and medical conditions.
Athletic training is recognized by the American Medical Association (AMA), Health Resources Services Administration (HRSA) and the Department of Health and Human Services (HHS) as an allied health care profession.
Where does an athletic trainer work?
Athletic training professionals work in a variety of settings including:
professional sports teams,
school athletic departments,
physicians' offices,
rehabilitation centers,
the military.
What degree do you need to be an athletic trainer?
Athletic trainers need a sports training degree from an accredited athletic training program.  There are many colleges and universities that offer sports training degrees.  A sports athletic trainer is an important part of a professional health care team.  Those new to the field will need a master's degree in athletic training to work as an athletic trainer.
Related Resource: 20 Distinguishing Personality Traits of High-Performing Athletes
Job Tasks
Athletic training professionals are needed in almost every level of sport.  Athletic trainers help athletes avoid injury and mitigate aggravating conditions during sports and physical activities. They apply preventive items, such as braces or tape.  Athletic training professionals educate athletes on how to avoid injury and illness. When an injury or condition occurs, an athletic trainer:
helps diagnose the condition,
performs the necessary immediate care,
creates a plan for further treatment.
They fully assess the athlete and develops therapies to alleviate pain and increase mobility. Athletic training professionals with a master's degree establish a rehabilitation program for more serious and long-term injuries. Athletic trainers often provide education to athletes and caregivers regarding treatment. He or she provides recommendations on helpful exercises and special nutrition or diet information. Athletic trainers perform common administrative duties including:
writing reports,
ordering supplies and equipment,
maintaining records.
Related Resource: What is an Athletic Trainer?
What are the education requirements to become an athletic trainer?
Your first step toward a career as an athletic trainer is to complete an accredited athletic training curriculum at a college or university.  You'll typically need a minimum of a bachelor's degree in an area like athletic training or exercise science to be accepted into a master's athletic training program.  Athletic training degrees offer coursework in areas such as:
human anatomy
physiology
kinesiology
sports medicine
Sport trainer programs include clinical experiences.  Athletic training students participate in a variety of hands-on training opportunities.
Most states require athletic trainers to obtain a license in addition to certification. Licensing requirements vary by state, but generally include:
graduation from an accredited program
receiving a passing score on a comprehensive examination.
Continuing education is required to maintain certification and licensure.
Changes are coming!
Beginning in 2022, students will need to complete a master's degree in athletic training to be eligible to sit for the Board of Certification exam to become a sports trainer.  The Commission on Accreditation of Athletic Training Education (CAATE) is the accrediting body for athletic training education at the college level.
Some programs will offer an undergraduate preparatory component for students who want to earn their degree for athletic trainer straight from high school.  Other athletic training programs will only accept students who have already completed their bachelor's degree.  You should contact the school directly to find out their admission requirements.
Students currently in an undergraduate athletic training program will not need to complete a master's degree to be eligible to sit for the Board of Certification exam.
Related Resource: How Do I Become a Sports Trainer?
Valuable Quality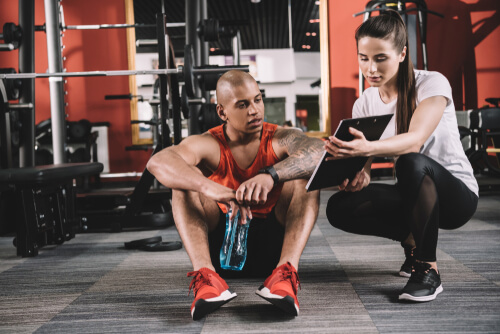 An athletic trainer must have certain qualities to be successful in the field. Compassion is an essential quality because a sports physical trainer works with individuals who may be in a great deal of pain or discomfort. An athletic trainer must be sympathetic to athletes. They must make good clinical decisions that could affect the well-being of athletes. Certified athletic trainers must be detail oriented.  They must maintain accurate records and make sure athletes receive appropriate treatment. Strong communication skills are also necessary for these professionals.
Related Resource: What is the Salary Potential of an Athletic Trainer?
Salary and Job Outlook
The job growth for athletic trainers is expected to rise 23 percent by the year 2030, which is deemed much faster than average for all professions, according to the Bureau of Labor Statistics.  The National Athletic Trainers' Association reports 34 percent of schools have access to a full-time athletic trainer.  That figure is likely to go up as more emphasis is placed on the athletes mental and physical well-being.
The demand for these professionals will rise due to an increased awareness of the long-term effects of sports or exercise related injuries and medical conditions. The median yearly salary for athletic trainers is around $49,860, with the top 10 percent earning more than $75,810 and the lowest 10 percent earning below $32,980. Actual yearly pay for athletic trainers will vary greatly based on factors like:
location
education
experience
employer
bonuses
benefits
Related Resource: How Much Does a Sports Trainer Make?
Conclusion
Physical activity and sports are a major part of many individuals' lives. Working as an athletic trainer is a great choice for those who are interested in professional career helping athletes perform at their best.  A sports trainer degree can give you the tools you'll need to help athletes:
stay healthy
prevent injuries
get the most out of physical activity and conditioning
Earn an athletic training degree and take the next step toward your career in athletic training!
Related Resources: