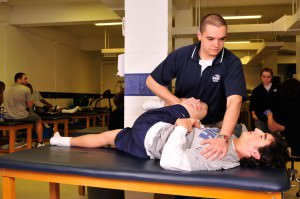 Sports and exercise is a popular field, and an athletic trainer is a health care professional that works with doctors and other medical staff to provide preventative care, emergency procedures, and rehabilitation of injuries and various medical conditions to a variety of athletes. An athletic trainer commonly works for professional sports teams, school athletic departments, and physicians' offices. Some individuals work in rehabilitation centers or in the military.
Job Tasks
An athletic trainer works to prevent athletes from encountering injury and related medical conditions during sports and physical activity. He or she applies preventive items, such as braces or tape and educates athletes on how to avoid injury. When an injury or condition occurs, an athletic trainer diagnoses the condition, performs the necessary immediate care, and creates a plan for further treatment. He fully assesses the athlete and then develops therapies to alleviate pain and increase mobility. He or she also commonly establishes a rehabilitation program for more serious and long-term injuries. An athletic trainer often provides education to athletes and caregivers regarding treatment. He or she provides recommendations on helpful exercises and special nutrition or diet information. An athletic trainer also commonly performs administrative duties, including writing reports, ordering supplies and equipment, and maintaining records.
Required Education
An athletic trainer typically needs a minimum of a bachelor's degree in athletic training, exercise science, or related area. Many individuals obtain a master's degree to remain competitive in the field. Most states require athletic trainers to obtain a license or certification. Licensing requirements vary by state, but generally include graduation from an accredited program and receiving a passing score on a comprehensive examination. A standard certification examination is offered by Board of Certification, Inc. Continuing education is required to maintain both licensure and certification.
Valuable Quality
An athletic trainer should possess certain qualities to remain successful in the field. Compassion is an essential quality because these professionals work with individuals who may be in a great deal of pain or discomfort. An athletic trainer must be sympathetic to athletes. He or she must also have the ability to make good clinical decisions that could affect the well being of athletes. Detail orientation is helpful since athletic trainers must have the ability to maintain accurate records and make sure athletes receive appropriate treatment. Strong communication skills are also necessary for these professionals.
Salary and Job Outlook
The job growth for athletic trainers is expected to rise 21 percent by the year 2022, which is deemed faster than average for all professions, according to the National Athletic Trainers' Association. The demand for these professionals will rise due to more and more people becoming aware of the long-term effects of sports or exercise related injuries and medical conditions. The median yearly salary for athletic trainers is around $41,000, with the top 10 percent earning more than $51,000 and the lowest 10 percent earning below $33,000. Actual yearly pay for athletic trainers will vary greatly on location, education, experience, employer, bonuses, and benefits.
Related Resource: Kinesiology
Physical activity and sports is a major part of many individuals' lives. Working as an athletic trainer is a great choice for those who are interested in exercise and sports and seek to help a wide range of athletes stay healthy, prevent injuries, and get the most out of physical activity.