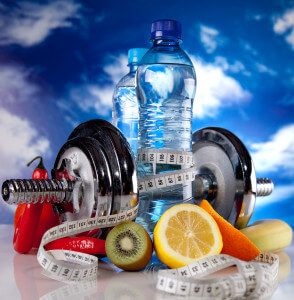 A sports nutritionist advises athletes on nutritional regimes that allow for optimal performance.  They must understand the effects that foods have on the human body. Sports nutrition specialists study the types and quantities of foods and fluids that should be consumed by an athlete.  They also study the particular organic substances that are most important for athletes completing at a given sport. Sports nutritionists must develop eating regimes for athletes.  They know how to properly balance the athlete's intake of substances such as:
carbohydrates
proteins
fats
Nutrition is of vital important for athletes in strength sports and in endurance sports like running and swimming.
Job Tasks
What does a sports nutritionist do?  Those who work as sports nutritionists – or sports dietitians – must advise athletes on what foods should make up their diets given their:
particular body types
training routines
athletic goals
A sports nutritionist might work for colleges and athletic teams on the professional and Olympic level. Each state usually has certification procedures for those working as dietitians or nutritionists. However, the title of nutritionist is often less strictly regulated than the title dietitian.
An athletic nutritionist is a complicated role.  It requires a thorough knowledge of nutrition and sports performance. A sport nutritionist must be able to consult with athletes regarding their ideal diet. They must also be able to work the athlete's desired peak of physical conditioning into the devised dietary regime. Athletes typically need to peak, or reach their highest level of performance, at a given point of time during their season. This peak of performance will to some extent be determined by dietary factors.  The best sports nutritionist will know how to achieve this peak through dietary measures.
How do I become a sports nutritionist?
An aspiring sports nutritionist will need to complete a bachelor's degree program in nutrition or in a related field. Popular degree options are:
sports nutrition
dietetics
nutrition
exercise science
A sports nutritionists will be more competitive on the job market if they have a master's degree.
In addition to the academic requirements, some positions in sports nutrition require certification.  Sports nutrition professionals can become a Board Certified Specialist in Sports Dietetics (CSSD).  This credential is available through the Commission on Dietetic Registration.  A CCSD is a registered dietician with the ability to provide safe and effective nutrition services for athletes.  Initial certification requires 2,000 clock hours of documented experience in sports dietetics as a registered dietician in the last five years.
There are professional associations for sports nutritionists.  Sports nutrition professionals can become more marketable with advanced training and professional development.  Some of the professional associations relevant to those working as sports nutritionists include:
Related Resource: Sports Medicine Jobs
The Academy of Nutrition and Dietetics is a professional organization that provides a number of products and services related to professional development.  Members can access benefits that include:
discounts on products and insurance
scholarships and awards
career and business resources
The International Society of Sports Nutrition (ISSN) is a non-profit academic society.  They provide science-based sports nutrition and supplement information.  The International Society of Sports Nutrition have a peer reviewed journal and host professional conferences.  The ISSN is open to anyone with an interest in sport nutrition.
Conclusion
While we have answered the critical question, "what do sports nutritionists do," there are many attributes a sports nutritionist needs to be good at their job.  Successful sports nutritionists must think creatively and create their own unique solutions to individual problems.
They need to have good people skills so they can clearly explain sometimes complex concepts in simple language. Their ability to build relationships with their clientele will prove decisive in the success of their careers. A thorough knowledge of the subject matter of health and scientific issues pertaining to nutrition is important. Social skills are also of major importance to a sports nutritionist.  They help build credibility while establishing a reputation as an authority in the field.
Related Articles:
What is a Sports Massage Therapist?