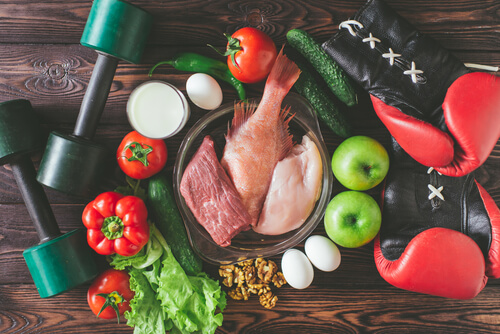 With the sporting industry exhibiting such growth and popularity, there is an excellent salary potential for a sports nutritionist. Athletes and the various sporting events contribute to sports being such a booming industry.  Athletes could not perform as well as they do without the help of a sports nutritionist. Sports nutritionists play an important role in the career of athletes, and they have the potential to earn very good salaries.
The Bureau of Labor Statistics predicts that dietitians and nutritionists should see employment growth of seven percent between 2021 and 2031.  The Bureau projects about 5,600 openings each year for dieticians and nutritionists.  These openings will likely result from the need to replace workers as they transition to other fields or retire. 
What is a Sports Nutritionist?
A sports nutritionist is a professional who advises athletes on a nutritional diet that will promote the best performance based on their bodies and activities. Sports nutritionists research not just the amounts and types of foods and beverages an athlete should consume but also which organic substances will be the most beneficial to the athlete based on the sport. Sports nutritionists have a deep understanding of the effect different foods have on the human body.
They use this knowledge to ensure the athlete eats the right type and amount of food while ensuring they get the correct amounts of carbs, protein and fats.  Other job duties might include counseling athletes about:
weight management
proper hydration
supplementation
nutritional needs for different training phases
To work as a sports nutritionist requires having at least a bachelor's degree in nutrition or a related field.  Sports nutrition majors take courses in areas like:
kinesiology
human anatomy
biochemistry
statistics
nutrition counseling and education
Sports nutritionists can improve their job prospects by becoming a Registered Dietician.  Beginning in 2024, a Registered Dietitian certification will require a master's degree.  The Commission on Dietetic Registration created a specialized certification for Registered Dieticians working specifically with sports nutrition.  The Sports Dietetics Board Certification is an advanced certification to recognize this highly specialized skillset.  Job openings with higher salary ranges typically require an advanced degree.  Depending on the employer and the sport, the sports nutritionist may need to obtain various certifications and be members of sports nutritionist associations.
Why Sports Nutritionists are Important
The saying, "we are what we eat" has never been as true as in the case of athletes. An athlete who eats right and takes care of his or her body is not just going to feel better but will perform better. In recent years, sports organizations have begun to acknowledge the importance of their athletes leading healthy lives, and it all begins with getting the proper nutrition. The Collegiate & Professional Sports Dietitians Association, the National Collegiate Athletic Association, and the Sports, Cardiovascular and Wellness Nutrition have recently collaborated on implementing ways to promote the most nutritious and healthy lifestyles possible for their athletes.
Where do Sports Nutritionists Work?  
Sports nutritionists work with athletes and teams to improve their health and performance.  They may work with healthy athletes trying to get an advantage or they may work with athletes who are recovering from illness or injury.  The Bureau of Labor Statistics provides information on the top industries that employ dieticians and nutritionists.  These include:
General Medical and Surgical Hospitals: 19,240 
Outpatient Care Centers: 7,270
Nursing Care Facilities: 4,500
Special Food Services: 4,280
Local Government: 3,730
How Much Does a Sports Nutritionist Make?
The sports nutritionist salary potential can be determined and affected by various factors. These include:
degree level
training
work experience
employer
sport
athlete
geographic location
The U.S. Bureau of Labor Statistics reports salary data for dietitians and nutritionists.  Their figures show that salary range is wide.  These professionals earn wages that range from $42,530 to $93,640 with the average annual salary at $61,650 and the average hourly rate at $29.64 as of May 2021. A Certified Specialist in Sports Dietetics can expect an above average income.  Their specialized knowledge and training is in demand by elite athletes and sports organizations.  A salary survey conducted in 2018 by the Collegiate and Professional Sports Dieticians Association Sports sported an NFL dietician salary was $123,547/year.  A certified sports nutritionist salary was $82,214 if working for other professional sports organizations.  
How Geographic Location Affects Salary
Although the skill level of the athlete and the sport can affect the salary potential for a sports nutritionist a lot, geographic location also plays a big role in sports nutrition salary amounts. Here are the five top-paying states for dietitians and nutritionists followed by the five lowest-paying states. Comparing the two lists demonstrates how location can affect the salary of a sports nutritionist.
Highest Average Salary 
California – $82,380
District of Columbia – $80,600
Hawaii – $75,020
New Jersey – $74,850
Rhode Island – $74,080
Lowest Average Salary
Missouri – $55,860
South Carolina – $54,820
Tennessee – $53,940
Georgia – $51,480
Mississippi – $43,990
Related Resource: Top 6 Online PhD in Sport Management
Sports nutritionists work with athletes at the collegiate and professional levels, with some positions paying more than others.  An undergraduate degree is the entry point for most jobs.  With additional training and experience, the salary potential for a sports nutritionist can be excellent and well above the national average.
Related Articles:
What is a Sports Massage Therapist?