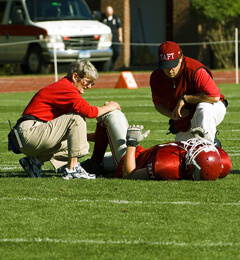 Many people who want to work in athletics might wonder how much a sports trainer makes. If you are asking this question and you have always dreamed of working in some area of athletics, it is important to review not just the salary range professionals in the field make, but also what types of positions you can purse and what job outlook looks like for the future. Believe it or not, a sports trainer is a member of the healthcare field, and healthcare is one of the fastest growing fields in both the public and private sectors of business. If you would like to learn more about the roles, outlook and salaries reported in sports training, read on and learn what you need to know.
What Does a Sports Trainer Do?
Often mistaken with physical training, a sports trainer is actually a healthcare professional who will work directly under the supervision of physicians who are treating professional athletes to treat specific sports-related injuries and to prevent further injury by educating their athlete and giving them access to the right type of medical equipment. As a professional who plays a major role in the rehabilitation of injured athletes, a sports trainer is a very valuable member of sports organizations. If you have a passion for helping people recover for minor and major injuries and you also have a passion for sports, this could be a great career choice.
How Much Can You Make In Athletic Training?
Salaries that are reported for sports trainers can vary dramatically depending on the setting that you work in and your level of experience. This is why it is important to consider the average salary and the salary ranges when you are debating whether or not you would like to study to become a sports trainer. Based on data gathered by the Bureau of Labor Statistics, the average salary of an sports trainer is $42,690 a year.
The top 10 percent of professional in the field have been reported to earn upwards of $50,800, and the bottom 10 percent earn below $32,400 per year. In addition to compensation, a majority of trainers will also receive a medical insurance and benefits package that costs the employer about $3020. Obviously, your salary is dependent upon where you are employed. If you are employed by a major league team, you will make a much higher salary than you would if you are employed by a college or a fitness center.
Job Outlook in Athletic Training
There is positive job outlook in athletic training. Not only is employment in the field projected to grow by as much as 38 percent, there are great opportunities for advancement than many people do not consider. If you work as a sports trainer, you can climb up to higher paying settings with experience. You may also have an opportunity to work in hospital management with experience, which is a very great field to get into.
Related Resource: Sports Medicine Jobs
Are you interested in working in both the healthcare industry and sports industry at the same time? If you are looking for a hybrid career, this could be a great option for you. You will need to study for a bachelor's degree, test for your state certification, and then you can work for a training organization or directly for a team. Consider where you want to work when you are looking for answers to the question, "How much does a sports trainer make?"
Related Articles:
What is a Sports Massage Therapist?