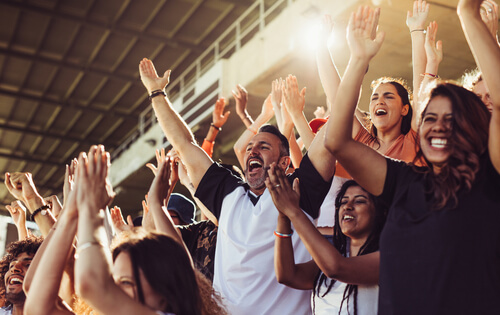 Sports Event Planner
Sporting events play a huge part in generating income. They not only make money for the sports organization, but also for local restaurants, hotels, taverns, and airports near the event. Attending a successful event can be extremely fun. There's plenty of hard work behind the scenes that must be done first. That's where a sports event planner comes into the picture. What is a sports event coordinator job description? A sports event coordinator has the hefty task of planning every detail that goes into preparing the team and facility for game day or for sports tournaments. From college soccer games and professional tennis matches to the Super Bowl and the Olympics, sports event coordinators work at every level to prepare for these exciting events that can range as far as international audiences. Sports coordinators have the mission of making sure the sports event goes off on the big day without a hitch to keep spectators and television audiences engaged by working closely will all involved.
Related Resource: What are the Different Types of Sports Medicine Jobs?
Salary
According to the Bureau of Labor Statistics, the 112,070 event planners currently working in the United States earn an average annual salary of $58,750, which is equivalent to a mean hourly wage of $28.24. In particular, event coordinators who use their expertise in the spectator sports industry to plan sports events bring home a mean wage of $55,520 each year.
Beginning Salary
When first starting out in the sports event management field, coordinators will likely fall into the bottom tenth percentile of earnings with a yearly salary around $32,050. While this may seem low, it's important to know that a sports event manager with years of experience and leadership roles in big games often go on to make more than $92,880 annually.
Key Responsibilities
A sports event manager works under the pressure and responsibility of arranging every detail involved in preparing for an event. A sports event manager coordinates with teams of varying sizes to guarantee that every aspect of the sports event is under control and everyone involved is on the same page. Coordinators are involved in:
preparing lodging for the team
purchasing transportation
distributing team news to the media
creating emergency contingency plans
maintaining social media platforms
maintaining the security of spectators and players
inspecting the facility
engaging fans
marketing ticket sales
setting concession items
delegating preparation tasks to other workers
coordinating media coverage
Sports event planners must plan carefully to keep venues operating efficiently and minimize wasted expenses.
Necessary Skills
In order to be successful as a sports event planner, you must possess superior interpersonal skills for constantly communicating preparation instructions and motivating workers to stick to a tight schedule. Sports events are complex with many moving parts that can malfunction at any given time, so organizational skills are essential. Event planners must have solid critical thinking and problem-solving skills to devise creative solutions whenever emergency strikes. Being detail-oriented, a team player, and equipped with leadership traits is important. Sports event coordinators should have stellar negotiation skills for settling on beneficial contractors and getting the best prices for clients. In the fast-paced environment of sports business, sports event planners must also have composure to stay calm when under pressure.
Degree and Education Requirements
Before you can leap into a dynamic sports event management career, you'll likely need to have further education of at least a bachelor's degree from an accredited four-year higher learning institution. Many aspiring sports planners major in sports management or athletic administration to focus their skill sets in the spectator sports industry. However, event coordinators can create a successful niche in sports with a degree in marketing, public relations, communications, business administration, and more. Take courses related to sports promotion, sports operations, facility management, business law, and sports leadership for best career preparation though. Earning a master's degree in sports management or a related field can also help develop a thriving independent consulting business.
Pros and Cons of the Position
As with any other career, working as a sports event administrator comes with its fair share of rewards and challenges that must be weighed. Firstly, individuals who have a passion for sports without great athletic ability can develop a career in sports event management to get right in on the action. Being a sports event planner is a great fit for the extroverted because the job requires interacting with others nearly 100 percent of the time. It's also possible for event planners to start their own consulting business for the highest level of flexibility. On the flip side, a sports event manager deals with the stress of playing a big role in whether a sports event sinks or swims. Sports events typically are during irregular evening and weekend hours, which means this isn't a traditional 9-to-5 job. Sporting event coordinators have a low starting salary while working long hours and facing tight deadlines.
Getting Started
Students who are earning their degree in this career path should get started building their resume with valuable experiences in sports event management right away. Taking on internships, part-time work, and even volunteer learning with their school's athletic team will be beneficial. Having a degree doesn't guarantee a job, so aspiring sporting event coordinators need to receive hands-on practical experience in arranging events. Going the extra mile to ask professors about seminars related to event management and network with other event planners will pay off. You can even attend the International Sports Event Management Conference to form a professional network in the industry. Although it's not required, earning the Certified Meeting Professional (CMP) credential from the Convention Industry Council can be worth the investment to show your competence in coordinating large events too.
Future Outlook
Are you interested in finding sports event planning jobs? Based on a report from the Bureau of Labor Statistics, the employment of event planners across all industries is expected to grow dramatically by 18 percent, thus creating 22,900 new sports event coordinator jobs before 2031. Job opportunities in event management tend to fluctuate with the economy, so our nation's continued growth after the recent recession will improve prospects. Since spectator sports are a major U.S. industry that generate 485 billion each year in revenue, there likely will continue to be large sports events that draw in thousands of fans. That being said, competition for sports events jobs will likely remain heated, especially in a sport's off-season. The most positive job outlook is available for a sports coordinator with a good education, solid experience, professional credentials, and excellent time management skills.
Conclusion
Overall, sports event management is a unique niche that blends the excitement of sports with the hard work of business and the strategic sports event planning process for a successful event. A sports event coordinator manages every little piece of the puzzle that goes into preparing a facility for big games, matches, or sports tournaments. If you decide to become a sports coordinator, you can turn your sports hobby into a successful career making sport-related organizations as profitable as possible.
Related Resources: