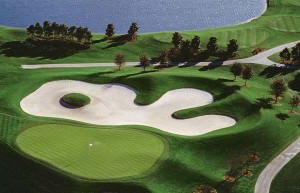 If you love heading out to the links and hitting a few balls every week, you might find yourself looking at the degree needed to manage a golf course. Though a few number of schools offer a specialized golf management degree, you can still learn the skills that you need in a business management program. Many people working in the field today have a bachelor's degree in business or management and a love of the game.
What Does a Golf Course Manager Do?
Golf course managers fall under the category of administrative services managers. They are the ones responsible for ensuring that golfers are happy and that the course runs smoothly. Managers hire new maintenance workers and pros, take inventory of supplies and order new supplies and work with any outside hires, including landscaping crews. When customers have complaints or problems, managers will talk with them more about their problems and try to find ways to make them happy and keep them coming back. They may also create new advertising campaigns to bring new business to the course.
Salary and Job Outlook
According to the Bureau of Labor Statistics, the median salary across all administrative management positions is $81,080 a year, which is equivalent to $38.98 an hour. With an estimated rate of growth of 12 percent, the BLS believes that the management field will increase at the same average rate as found across all industries. This represents an increase of more than 34,000 jobs. While this does refer to all types of administrative management jobs, it's likely that sports management jobs will increase at a similar rate.
Types of Degrees
Those looking for information on the type of degree needed to manage a golf course might find that some positions do not require a college degree. Courses in rural areas and areas without a lot of business often look for those with any type of management experience. Golfers can also operate their own courses without having a degree, but a degree will give you experience relating to leading your workers, using accounting software and creating a budget. A golf management degree is a specialized degree designed specifically for those planning to operate or own a golf course. Unless you have a college nearby offering one of those degree programs, you're better off sticking to a general management degree.
Benefits of a Golf Management Degree
Though the type of degree needed to manage a golf course can include business and management degrees, some students prefer working in a specialized program. A golf management degree program focuses specifically on the tasks associated with running a sports management facility. You'll learn more about hiring workers to clean and maintain the greens, the importance of maintaining a pro shop on-site and how to order supplies for both the pro shop and any restaurants located on the premises. These degree programs may also include an internship that lets you test out the skills you learned in the real world.
Related Resource: Sports Tourism
Managing a golf course lets you enjoy golfing on a daily basis and spend time with others who love golfing as much as you do. Though a golf management degree can prepare you for that job, the type of degree needed to manage a golf course can include a general undergraduate degree in business, management or a similar field.