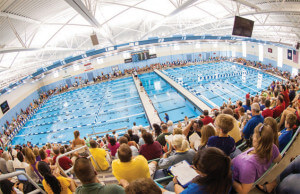 Many people have asked the question, "What is sports tourism?"  Sports tourism is traveling from one region, country, state, etc. to engage or participate in a sports-related activity.  Sports tourism combines the passion for sports with the desire to experience new experiences or destinations.
While sports tourism has not always been extremely popular, it is definitely on the rise.  A recent report estimates the value of the global sports tourism market was $587.87 billion in 2022.  The industry is expected to grow at a rate of 17.5% through 2030.  The popularity of events like the Olympic Games, the NBA, and the FIFA World Cup have contributed to this growth.  While these events have economic short-term benefits for an area, they can be a catalyst for longer-term tourism development opportunities.
In 2004, the World Tourism Organisation (WTO) and the International Olympic Committee issued a joint statement that illustrates the strong dynamic between sport and tourism, "Tourism and sport are interrelated and complementary. Sport – as a professional, amateur or leisure activity – involves a considerable amount of travelling to play and compete in different destinations and countries. Major sporting events, such as the Olympic Games, football and rugby championships and auto racing have become powerful tourism attractions in themselves – making a very positive contribution to the tourism image of the host destination."
What are the Different Types of Sport Tourism?
There are actually four primary types of sport tourism. These include:
Event-based tourism: Sports event tourism involves traveling to another city or country to watch a sport event.  Examples of sports tourism in this category include traveling to watch major sporting events like the Olympics or the Super Bowl.
Active sport tourism:  This form of sports tourism revolves around actually participating in a sport while visiting a destination.  Some travelers choose tourism destinations known for a specific sport or outdoor activity.  Examples of active sports tourism include surfing in Hawaii or skiing in Colorado.
Sports heritage tourism: Sports heritage tourism involves visiting places with historical significance to sports.  Examples might include visiting the Baseball Hall of Fame in New York, Camp Nou in Barcelona, or a sports museum.
Sports-themes cruises or tours:  These organized trips combine travel with a sporting event or activity.  Examples include cruises for people who love to play tennis or tours that take sports fans to different stadiums around the world.
Technology is Key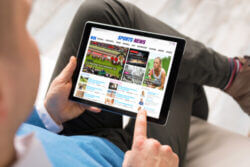 While the technological advances in recent years may not have appeared to make a huge impact on the sport industry, they most certainly have. Sports fans can purchase tickets online through various admissions sites, access which was not available a decade ago.
People are also more aware of when and where the games and competitions will take place in advance.  Fans are able to prepare for the cost and time that is needed to be able to attend mega sport events. Sport tourism has not only managed to find a place in the technological industry, but it has increased because of it.
Tourism Consumers
The types of sports tourism consumers vary from sport to sport. The most generalized statistics are that most sports tourists are males between the ages of 18 and 34, and they are in the middle-class economic groups. Delving deeper into the study will help to get a more accurate statistical rank on class, status and age. For example, cricket and rugby fans are generally older and have more disposable income than basic football and basketball fans. While different sports have different sports tourism consumers, all sports have taken a popularity increase in recent years.
Simplifying the Term
Sports tourism is not difficult to figure out. Sports tourism refers to the act of traveling specially for the purpose of enjoying sports in one way or another.  For example, one who travels from Chicago to Houston with the goal of seeing the Houston Texans play is considered a sports tourist. However long or short the trip is does not define the tourism part. The defining factor is whether or not the person is traveling to see a sports competition or traveling with another agenda. If one travels from Chicago to Houston in order to visit family, but happens upon tickets to the Texans game, said individual is not considered a sports tourist, because the main agenda was to visit family.
Related Resource: Sports Medicine Jobs
While the sports tourism industry has gained popularity in recent years, one must stop and consider what it really is and why it has become so popular among the sports fan crowds. Not only has it managed to steadily increase each year, but it has also taken a spot among the top reasons for traveling and vacationing. It appears as though more and more people are using their well-earned vacations to see their favorite players in action. So, what is sport tourism? Sports tourism refers to an industry that combines a passion for sports with the desire to explore new destinations and experiences.  This creates a memorable and immersive sports related experience.