People who want to turn their passion for sports into careers often investigate the type of coursework that is required to complete a sports management degree. The sports industry has grown rapidly in recent years.  Business professionals with expertise in all business areas, like marketing, accounting and human resources, are needed to support behind the scenes operations.
While the curricula of most sports management bachelor's degree programs include foundational business courses, many of the course requirements for sports management directly relate to the industry.  Here are some examples of sports management courses students can expect to take during their time at school.
Introduction to Sports Management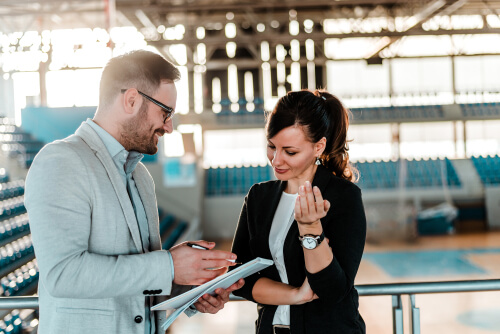 For students new to the field, an introductory course to sports management can provide students with an overview of the sports industry.  Course content typically covers areas like:
public relations
sports management marketing
finances/accounting
legal and ethical issues
These topics aren't addressed in depth.  They provide students with an basic knowledge of their concepts and the role they play in sports.
Sports Media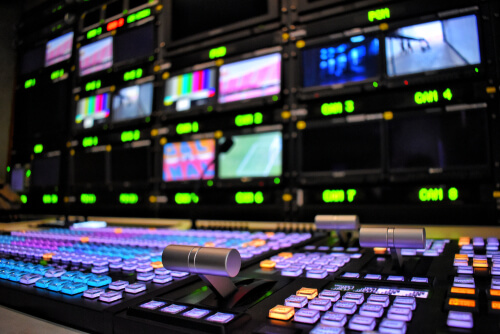 One of the most popular classes for sports management students is sports media.  Sports media courses expose students to various ways that the sports industry promotes sporting events. It used to be that sports journalists and other industry communication figures were limited to:
television
radio
newsprint
Modern professionals who work in sports media now incorporate elements of internet communication like blogs and podcasts into their tool kit of skills. Sports media course topics introduce students to:
sports reporting techniques
production methods for sports programming on television and radio
multimedia internet sports news production
Students who excel in these types of sports courses usually seek internships and employment with sports networks like ESPN or FOX Sports.
Sports Events and Facility Management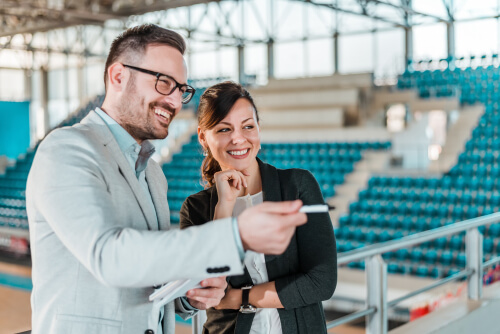 Another popular sports management class is event and facility management.  Most sports events are conducted so seamlessly that one may forget the enormous amount of planning, coordinating and management that is needed to produce them. Future sports events managers need organizational skills that allow them to manage a number of activities that happen simultaneously. They also must hone their verbal communication skills and budgeting prowess to exceed client expectations without experiencing cost over runs.
These types of sports management classes can help students build a foundation in event management including areas like:
project management
staffing
promoting
financing and budgeting
securing
managing
In these types of sport management classes, students learn the process for selecting an appropriate location for an event.  They examine the process of choosing sponsors and finding staff.  Students also learn how to navigate legal considerations and contract negotiations.
Sports Marketing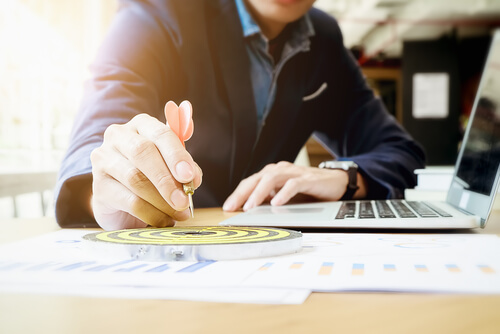 One of the largest specialty areas of sports management is sports marketing. Course topics that focus on this popular niche career field cover areas like:
advertisement of sports brands
the elements of sports licensing
sports product merchandising
sport market segmentation
Students learn how to:
conduct marketing analysis
present recommendations for a marketing department's strategic plan
manage the risks of sports marketing
Sports marketing classes help students to develop the skills that are needed to generate advertising and sponsorship agreements. During sports marketing courses, students also learn how to organize, plan and implement special promotions of events or products that often include appearances by celebrity athletes or coaches. Some sport marketing courses also teach students the elements of sponsorship contracts and how to negotiate them successfully.
Sports Accounting and Finance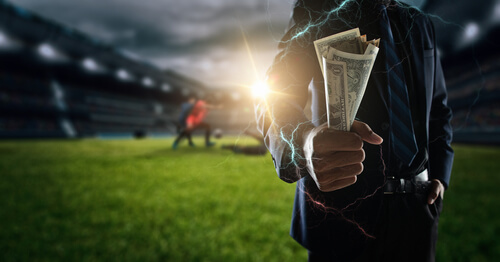 According to Statista, the North American sports market is expected to be worth 83.1 billion by 2023.  There's no doubt that sports are big business.  Besides having a firm grasp of the fundamentals of accounting and finance, students who want to work as accounting professionals in the sports industry must be knowledgeable about the fiscal issues that are common to the industry.
Sports teams employ business professionals to generate creative, new revenue streams.  Sports accounting professionals must keep track of resulting transactions. Sports accounting and finance courses present students with the business models of the major sports organizations to establish the proper context for the application of finance and accounting principles.
This sports management course can teach students how to:
create balance sheets and income statements
understand basic financial concepts and reporting requirements
raising and investing capital
budgeting
forecasting
Ethics in Sports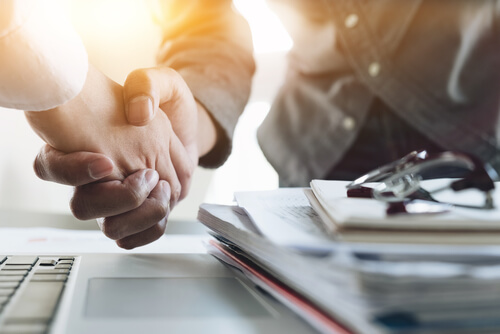 The sport industry has no shortage of controversy.  Many sports management degree requirements include taking a course in sport ethics.  Ethics in sports is comprised of four key virtues including:
fairness
integrity
responsibility
respect
Ethics are essential to good sportsmanship and fair play.  In a sports ethics course, students will learn:
common ethical problems in sports
different types of ethical analysis
how to recognize moral questions as they relate to the sporting industry
Global Sport Business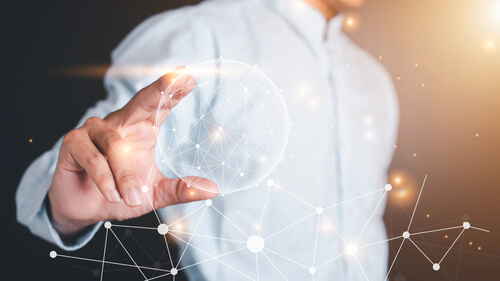 Sports have a powerful way of transcending socioeconomic, geographic, and even political borders.  International sporting events like the Olympics and the World Cup draw athletes and spectators from around the globe.  It's important that sport management professionals understand the international nature of the industry.  These courses help students learn about international sports in the context of:
history
politics
sociology
economy
Some of these courses offered by a master's or bachelor's degree program may offer a study abroad opportunity or another professional development option.  These unique opportunities allow sports management students to gain experience while earning their degree.
Sport Law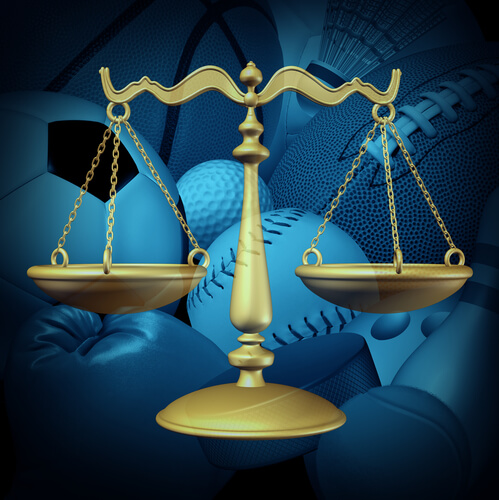 The sports industry has unique business and legal issues that are important to sports management professionals.  Principles of law related to contacts, antitrust and corporate are especially important.  Courses in sports law can give students a working knowledge of:
negotiation techniques
sport marketing contracts
financial importance of media rights
labor law and antitrust
intellectual property issues
Students will study these concepts as they relate to both amateur and professional sports.  Coursework may focus on specific situations like NBA free agency negotiations and coach buyouts.  These real-world scenarios provide students with in-depth knowledge that can help boost a resume.
Sport Management Internship Experience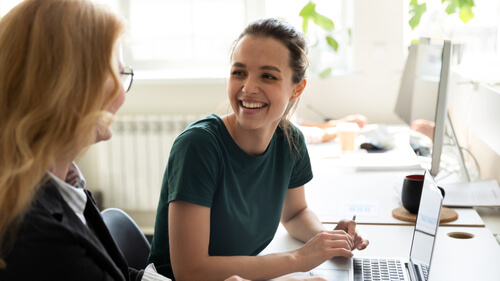 Most sports management programs provide students with the opportunity to complete an internship.  An internship can be incredibly important to an aspiring sports management professional.  They provide students with:
professional work experience
industry connections
hands-on learning opportunities
It's important for students to choose an internship site that relates to their future career goals.  If you are interested in working in collegiate sports, it's important to gain experience in that work setting.
Internships allow students to build their professional portfolio and network with other like-minded professionals.  Whether paid or unpaid, an internship can be a great way to advance your career.
Conclusion
While there are a number of sports management programs from which to choose, a prospective sport management major should do their research on the programs' reputations prior to enrollment. Students should look for sports management programs that include coursework like the topics that are described above, as well as experientially based field work assignments with sports organizations.
Related Resources:
Can I Earn a Specialized Sports Marketing Degree?
Do I Need a Degree in Sports Journalism to Become a Sports Journalist?