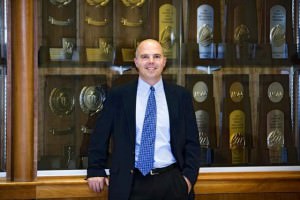 A college athletics administrator is a professional who oversees and coordinates the athletic programs at an institution of higher education. Also known as athletics directors, these leaders manage all aspects that go into college athletics, including promotions, budgets, facility management, hiring coaching staff and scheduling, according to Forbes. A career as an athletics administrator at the college level can be a perfect fit if you are an organized people person who is passionate about sports.
Job Duties
A college athletics administrator handles the program budget and determines where the spending is allotted. This is a very detailed aspect of the job, as the director must determine team travel expenses, pay coaching staff, ensure that facilities are maintained and purchase equipment. While larger universities may employ staff specifically to take on some of these duties, the director of athletics usually oversees these areas.
Along with coaching staff, directors work to determine game schedules and practice times for all teams. Depending on the college's bracket or level, administrators may cooperate with leagues and conferences on scheduling and post-season activities. In addition, athletics directors serve as the leadership for coaching staff. The relationship between athletics director and coaches is an important one, as they collaborate on a number of things like the planning of on-the-road trips, the choosing of umpires and the welfare of players.
Directors also file reports on the performance of every team. They mediate disputes between coaches and players or other key members of the athletics department. It's important to have good communication and conflict management skills in a position such as this. Another component of the responsibilities of athletics administrators is the oversight of player academic eligibility, as there are usually standards that college athletes must maintain in order to participate in their sport.
Career Path
There are a number of additional duties of college athletics administrators, but the above are some of the most relevant. If you're thinking that this kind of a career sounds appealing, you may be wondering how to get into the profession. Athletics directors ordinarily hold at least a bachelor's level education. Often that degree is in physical education or another form of education. A master's degree is typically looked favorably upon in this field, sometimes being required. Master's programs in education administration or sports management are two degrees that can provide a path to becoming an athletics director at the collegiate level.
It is ordinarily the master's level degree that teaches skills needed for college athletics administration. These programs will teach you about budgetary management, legal liability, planning and organizing, staffing issues, hiring practices and public relations.
Work Life and Benefits
There is always something new to learn on the job, as well as new and different experiences. This kind of position is not mundane. Those who enjoy the challenges of a leadership position will thrive in this type of job. College athletics administrators can generally expect to make a good living, with a median salary of approximately $100,000 per year. It is possible for college directors to rise in the ranks to work for a league or conference association, as well.
Related Resource: Become an Aquatics Director
As you can see, there are a number of responsibilities and perks of this job. Becoming a college athletics administrator can be a very fulfilling career.