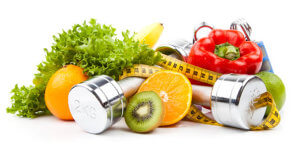 If you have a passion for fitness and nutrition, you may want to consider becoming a professional sports nutritionist. As a sports nutrition professional, you will teach body builders, sports athletes and other fitness enthusiasts how to optimize their performance on the field or the court while they improve their health with nutrition. As more and more of the population is becoming interested in preventative care techniques that helps optimize the quality of life, the demand for sports nutritionists has risen. Read on, and find out about the role of the nutritionist and what settings these highly trained professionals typically work in.
What is the Role of the Sports Nutrition Specialist?
A sports nutrition or fitness nutrition specialist will work with their clients to assess their lifestyle, identify their goals, and create a plan where they will be able to attain their goals. Typically, sports nutritionists will work with professional athletes, school athletes, competition athletes, sports models, and fitness enthusiasts to help provide them with a nutrition plan that will help them increase their endurance and they stamina. The purpose of the nutrition plan will also be to help the client recover as quickly as possible following a game, competition or workout.
In order to create an effective nutrition plan, the professional must first take a look at a typical day in the life of the athlete. They will ask about their lifestyle, watch their eating habits, get familiar with their training schedule, and ask about the supplements or medications that they take before a customized program is created. The athlete may set their own short-term and long-term goals and a respectable nutritionist will let them know which goals are attainable and which are out of reach. It is the nutritionist's job to create a plan that is medically safe.
What is the Difference Between a Sports and a General Nutritionist?
General nutritionists work with the average person who does not spend their day being physically active. A general nutritionist may teach their clients how to eat healthy and to maintain their weight or lose weight in a safe manner. A sports nutrition specialist, on the other hand, will design plans that specifically increase stamina and help repair muscles and tendons following a strenuous workout. To work in this field, you will need a specialized knowledge in physiology.
How Can You Become a Sports or Fitness Nutritionist?
In most states, sports nutritionists must be licensed to offer their professional recommendations. To earn licensure, you must complete a degree program in sports nutrition or something similar like dietetics. You will need a minimum of a bachelor's degree before you can sit for a licensing exam in any state. Once you are licensed, you should consider getting certified through the Academy of Nutrition and Dietetics. You can become a Registered Dietitian with a bachelor's degree and at least 1200 hours of supervised training. This is a voluntary credential, but once that proves you have the knowledge to do nutrition planning for athletes.
Related Resource: Sports Marketer
It is always a great feeling when you can turn something you are passionate about into a career. If you have a passion for nutrition and living a healthy and active life, why not study to become a sports nutritionist and do something that you love everyday of your life.
Related Articles:
What is a Sports Massage Therapist?