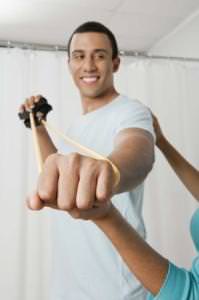 As a fast-growing sub-discipline of the kinesiology field with much to offer society, biomechanics is defined as the application of mechanical principles in the study of movement for all living organisms. In other words, biomechanics is the science that is concerned with analyzing how and why bodies move in the way that they do. Since our nation's aging baby boomers are staying active longer in life and are seeking biomechanical solutions to common health ailments, employment in biomechanics is expected to skyrocket much faster than average by 27% before 2022, according to the Bureau of Labor Statistics. If you are interested in building a scientific career that should translate into very favorable job prospects in analyzing human or animal movement, read on to find an overview of the biomechanics field and how you can get started on studying biomechanics.
Related Resource: How Much Do Kinesiologists Make?
About the Study of Biomechanics
Classified as both a basic and applied science, biomechanics integrates the laws of physics with the working concepts of engineering to describe the internal and external forces acting on the body as well as the effects created with these forces. Although biomechanics is more focused on the mechanical principles of body systems, there are many times when physiological functions and biochemical tissues are taking into consideration when discussing motion. Studies in biomechanics often will address a broad range of topics, including the mechanical function of muscles, connective tissues, cartilage, skin, nerves, joints, bones, and even internal organs. Biomechanics is an increasingly important area of scientific study for addressing problems related to human health and performance. Biomechanics research is often applied by physical education teachers, physical therapists, physicians, personal trainers, and coaches.
Types of Biomechanics Careers Available
Biomechanists are highly trained scientists that can find employment in various different fields of application, including biology, exercise science, sports science, health sciences, ergonomics, human factors psychology, and biomedical engineering. Most professionals in the biomechanics field are involved working in laboratories to conduct essential kinesiology studies on locomotion patterns, osteoporosis, mobility impairment, microgravity, transitional changes, injury reduction, sport performance, occupational health, and more. Therefore, biomechanists can be found working in gait analysis research labs, creating designs in sports companies, completing work related to flexibility testing, designing man-machine interfaces, or testing athletes. Individuals can learn more about specific biomechanics jobs available by becoming a member of the American Society of Biomechanics and networking with other biomechanists.
Related Resource: Sports Nutritionist
How to Prepare for a Job in Biomechanics
To begin on the academic journey towards becoming a biomechanist, it is recommended that undergraduate students obtain a bachelor's degree in kinesiology to take introductory courses related to physics, human anatomy, physiology, functional anatomy, engineering, and exercise science. Gaining more specialized experience will require you to pursue a graduate degree at one of the over 85 universities in North America that offer specializations in biomechanics. Earning a master's degree will provide the background needed to work as junior researchers or laboratory technicians in biomechanics, but the majority of biomechanists decide to pursue a Ph.D degree to unlock more senior responsibilities in research.
Related Articles: