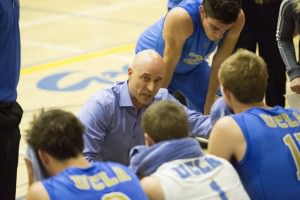 Whether you're a former player or an avid fan, you can turn your passion for sports into a rewarding career and get a job as a collegiate team coach. Coaches are given the leadership responsibility of teaching collegiate athletes the essential skills to succeed both on and off the field. From basketball and hockey to football and swimming, collegiate coaches can be hired to organize teams in any varsity sport. As participation in college sports continues to rise, especially in women's sports, the employment of coaches is expected to grow faster than average by 15 percent to create 36,200 new jobs by 2022, according to the Bureau of Labor Statistics. The following is a step-by-step guide on the pathway you'll likely need to take for successfully becoming a collegiate team coach.
Earn a Bachelor's Degree
Before you can direct college athletes on the sidelines, you'll need to attend an accredited four-year college or university yourself. Collegiate team coaches can earn their undergraduate degree in virtually any subject, but studying exercise science, physiology, kinesiology, fitness, nutrition, physical education, sports management, or sports medicine is most beneficial. While earning your degree, aspiring coaches should acquire plenty of playing time in their chosen sport because colleges typically hire former athletes. Working as the manager for your college's athletic team or interning in the athletic department would also be helpful.
Obtain Coaching Experience
The majority of collegiate team coaches don't automatically become head coach after their graduation without paying their dues first. It's generally required that coaches have years of coaching experience and a winning record before becoming head. You can start getting your feet wet by coaching a youth team, assisting on a high school roster, or working as the assistant coach for a collegiate club. As an assistant coach, you'll gain expertise in organizing practices, developing physical conditioning activities, watching game types, and giving players effective strategies. Working as head coach of a smaller college might be necessary before climbing the ranks to the higher levels of competition too.
Pursue Professional Certification
Finding your spot as the prominent collegiate team coach is all about networking. New coaching jobs open every season, so it's essential that you interact with a network of collegiate coaches who will spread word about your talents. Earning professional certification could be another way to provide your coaching expertise, even though it's wholly voluntary. For instance, you can become a Certified Interscholastic Coach (CIC) through the NFHS or complete the new National Coaching Certification program from the U.S. Sports Academy. Don't forget to also show your commitment to your sport by attending camps, clinics, and scouting trips. Also, be willing to relocate because college coaching jobs are available across the United States.
Related Resource: College Athletics Administrator
Not only do coaches work hard to win games, but they also strive to develop collegiate athletes with good sportsmanship and teamwork. According to the Bureau of Labor Statistics, the average annual salary for coaches at colleges and universities is $53,670. However, coaches working in NCAA Division I sports often see this figure more than tripled. Some of the highest paid coaches in college sports even pass the $1 million mark every year by breeding winning teams. Once you get a job as a collegiate team coach, you'll receive lucrative financial and intrinsic rewards in passing along your love of the game to young college athletes.