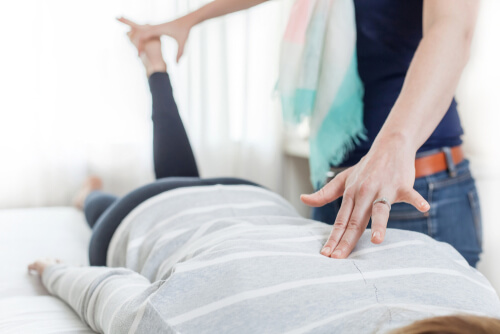 If you're interested in sports, fitness, health, or sports medicine, you may want to know more about the study of kinesiology. This field is the scientific study of human movement, and a degree in this major qualifies graduates for jobs as athletic trainers, physical education teachers, coaches, and physical therapists. To become a physical therapist, you must have a doctoral degree and pass a licensing exam, according to the American Physical Therapy Association. Kinesiologists also perform research, and this field requires a master's degree or Ph.D.
Another occupation available for kinesiology graduates is recreational therapy, and these professionals work in hospitals and clinics to help rehabilitate patients through fun, creative activities such as music, art, and dance. It's necessary to have a kinesiology degree to do this job because recreational therapists need to understand the movements of the human body when working with patients. However, this job has fewer responsibilities than a physical therapist, and there are no license requirements to become a recreational therapist.
Related Resource: What Types of Jobs Are There In Sports Medicine?
Career Options With a Kinesiology Degree
While a bachelor's degree in kinesiology prepares students for careers as PE teachers, athletic trainers, coaches, and recreational therapists, it is a general science degree and doesn't confer the title of kinesiologist on graduates. Kinesiology researchers work on ways to help people prevent injuries and recover more quickly, and they study the movements of muscles and limbs of people with medical conditions and disabilities.
People who study kinesiology as undergraduates and graduate students focus on the ways that exercise affects the body, and the closely related field of exercise science covers most of the same topics. In terms of exercise, students learn about aerobic and anaerobic exercise, including cardiovascular training and weightlifting. The various jobs held by kinesiology majors require this knowledge for different reasons, and all of these occupations come with a fairly large responsibility to guide students, patients, or clients in correct exercise techniques.
Exercise physiologists earn a medan annual salary of $49,270.
Research vs. Real-World Applications
Although there is a difference between research kinesiology and its applications in the real world, the field of applied kinesiology is not considered a credible occupation by scientists and academics. Perhaps the best job to get with a kinesiology degree is as a physical therapist, which requires a three-year professional degree and a licensing exam. The median salary for this job is $81,030, and the projected job growth in this field is an astounding 36 percent over the next ten years, according to the Bureau of Labor Statistics. The main reason that there is such a huge projected growth in demand for therapists is that the population of the U.S. is getting older, and baby boomers who are reaching retirement age will need physical therapy for their joints and muscles.
Kinesiologists also study neuroplasticity, which is the principle that the brain adapts to learning new behavior. This principle is important in sports science because it determines how athletes learn new movements. Jobs for athletic trainers are expected to grow more modestly at 21 percent, which is still much faster than average. PE teachers will have the lowest demand with just 6 percent job growth. The median annual salary for high school teachers is $55,050, and for trainers, it's $42,790.
Specific Educational Accolades
The academic side of kinesiology expertise is a sizable one, encompassing numerous kinds of college degrees, individual certifications, and more. For anyone interested, the following represent some of the most common and weighted accolades to the educational side of kinesiology know-how.
Associate's in Kinesiology: The Associate's in Kinesiology is typically a two-year program. This program encompasses a strong foundation of kinesiology topics including biomechanics, human anatomy, introductions to sports medicine and exercise sciences, and more.
Bachelor's in Kinesiology: The kinesiology bachelor's degree is a two-year step beyond the associate's and provides an even deeper level of expertise with course topics including advanced biomechanics, pathology, rehabilitation, physicality in culture, sports business, and more.
Master's and Doctorate-Level Kinesiology Degrees: The master's in this discipline typically requires a total of about six years of school, while the doctorate can take a bit longer. These are the most advanced college degrees in kinesiology know-how and only focus on advanced topics therein. Such course topics here will include exercise technology, sports scouting, advanced ethics in kinesiology and exercise, healthcare administration, research method, and more.
It can also be important to know exactly which kind of degree focus to take here: the arts or sciences degree program of kinesiology. In art-based degree programs here, such as a Master's of Arts of Kinesiology, the student will learn the key areas of kinesiology but will also take some mixed-in liberal arts and humanities courses. In a science-based degree here, such as a Master's of Science in Kinesiology, the student will typically take on more advanced topics in kinesiology itself rather than branching out into occasional liberal arts and humanities courses such as in the art-based program.
As to the certification of kinesiology knowledge, most kinesiology-related jobs require licensure, and most state's licensure laws require the worker to first gain a kinesiology certification. In order to get a certificate in this discipline, one must present with at least a bachelor's in kinesiology. Applicants are also highly advised to be sure that the institution providing their certification is properly accredited to do so.
Related Organizations
For anyone interested in the professional associations devoted to the kinesiology field, there are a number of highly-respected groups out there today. The following represent some of those organizations.
The American Kinesiology Association is a leading, representative force acting as a virtual "face" for the greater kinesiology community.
The Energy Kinesiology Association is an accredited and leading educational resource throughout the kinesiology industry.
The American College of Sports Medicine is yet another excellent resource for the field, as this organization acts as a sort of vital, professional crossroads for the sports medicine, exercise science, and kinesiology fields all in one place.
The study of body movement is an important field of science that will always have interesting uses. If you're an active person with an interest in exercise and fitness, consider a career in kinesiology.
Related Resources: