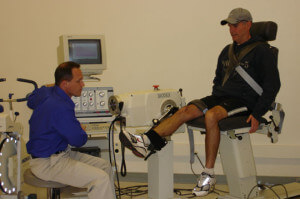 If you're interested in sports, fitness, health or sports medicine, you may want to know more about the study of kinesiology. This field is the scientific study of human movement, and a degree in this major qualifies graduates for jobs as athletic trainers, physical education teachers, coaches and physical therapists. To become a physical therapist, you must have a doctoral degree and pass a licensing exam, according to the American Physical Therapy Association. Kinesiologists also perform research, and this field requires a master's degree or Ph.D.
Another occupation available for kinesiology graduates is recreational therapy, and these professionals work in hospitals and clinics to help rehabilitate patients through fun, creative activities such as music, art and dance. It's necessary to have a kinesiology degree to do this job because recreational therapists need to understand the movements of the human body when working with patients. However, this job has fewer responsibilities than a physical therapist, and there are no license requirements to become a recreational therapist.
Jobs With a Kinesiology Degree
While a bachelor's degree in kinesiology prepares students for careers as P.E. teachers, athletic trainers, coaches and recreational therapists, it is a general science degree and doesn't confer the title of kinesiologist on graduates. Kinesiology researchers work on ways to help people prevent injuries and recover more quickly, and they study the movements of muscles and limbs of people with medical conditions and disabilities.
People who study kinesiology as undergraduates and graduate students focus on the ways that exercise affects the body, and the closely related field of exercise science covers most of the same topics. In terms of exercise, students learn about aerobic and anaerobic exercise, including cardiovascular training and weightlifting. The various jobs held by kinesiology majors require this knowledge for different reasons, and all of these occupations come with a fairly large responsibility to guide students, patients or clients in correct exercise techniques.
Research Vs. Real-World Applications
Although there is a difference between research kinesiology and its applications in the real world, the field of applied kinesiology is not considered a credible occupation by scientists and academics. Perhaps the best job to get with a kinesiology degree is as a physical therapist, which requires a three-year professional degree and a licensing exam. The median salary for this job is $81,030, and the projected job growth in this field is an astounding 36 percent over the next ten years, according o the Bureau of Labor Statistics. The main reason that there is such a huge projected growth in demand for therapists is that the population of the U.S. is getting older, and baby boomers who are reaching retirement age will need physical therapy for their joints and muscles.
Kinesiologists also study neuroplasticity, which is the principle that the brain adapts to learning new behavior. This principle is important in sports science because it determines how athletes learn new movements. Jobs for athletic trainers are expected to grow more modestly at 21 percent, which is still much faster than average. P.E. teachers will have the lowest demand with just 6 percent job growth. The median annual salary for high school teachers is $55,050, and for trainers, it's $42,790.
Related Resource: Exercise Science
The study of body movement is an important field of science that will always have interesting uses. If you're an active person with an interest in exercise and fitness, consider a career in kinesiology.