Individuals interested in careers where they can help patients recover from chronic illnesses and regain mobility and flexibility often wonder what the career outlook in kinesiology is and if it would be a good fit as a career. A kinesiologist is treating many patients who believe they're seeing a physical therapist for treatment. The career outlook in kinesiology is very good because these highly-trained medical professionals are highly in demand. Here is information on both the career outlook and wage potential for kinesiologists.
Related Articles: How Much Do Kinesiologists Make?
Career Outlook for Kinesiologists
The career outlook for kinesiologists is continuously moving in a positive direction. Kinesiologists may hold bachelor's degrees, master's degrees or doctoral degrees. The career outlook for those with graduate degrees is slightly better than for those with a bachelor's degree. Generally, the higher the degree, the better the wage potential and the career outlook is going to be for the kinesiologist.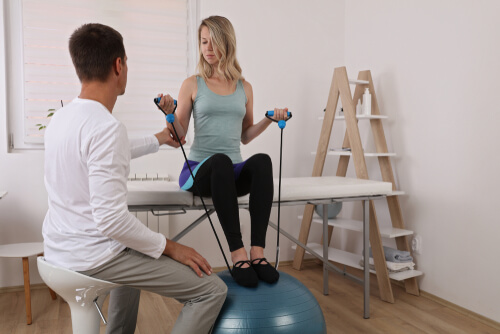 According to a report by HealthGrad.com, the U.S. Bureau of Labor Statistics (BLS) reported that kinesiologists with a master's degree could experience a job growth of 27 percent between 2014 and 2024, while kinesiologists holding a doctoral degree could see a 34 percent job growth during that same period. As of 2014, there were approximately 500 registered kinesiologists in the U.S. according to the American Kinesiotherapy Association.
Related Resource: What is an Exercise Physiologist?
Wage Potential for Kinesiologists
The BLS doesn't offer specific wage information on kinesiologists but does offer it for exercise physiologists, which is a category in which kinesiologists may fall. As of May 2018, exercise physiologists nationwide earned an average annual wage of $54,780 and an average hourly wage of $26.33. Wages for these professionals ranged from $34,410 at the low end and $78,810 at the high end. Factors that can affect wage potential include relevant work experience, degree level, certifications, location and type of employer.
Wages for kinesiologists range from state to state. Here are a few examples of average annual wages in different states according to HeatlhGrad.com:
New Hampshire – $42,000
Alabama – $43,000
Virginia – $45,000
Wisconsin – $52,000
Wyoming – $55,000
Arkansas – 59,000
Washington – $60,000
Potential Jobs in Kinesiology
One of the best things about kinesiology, and there are many good things, is that the degree can lead to various excellent careers. While one kinesiologist may work in a health clinic, another may work as a consultant for the healthcare industry. Other job possibilities may include:
Working as a personal trainer on a one-to-one basis with clients
Providing athletic training on how to treat and prevent athletic injuries
Teaching or coaching students in schools
Providing physical education training to disabled individuals
Related Resource: 20 Best Online Masters in Kinesiology and Exercise Science
Candidates interested in research-based careers may choose to specialize in a certain area of kinesiology, such as motor behavior, biomechanics, sports psychology or exercise physiology. After working in these areas, the option to advance to graduate programs is also available, and advanced degrees can lead to careers in physical therapy, nursing, medicine, sports management or advanced exercise science.
Individuals choose to become kinesiologists for a variety of reasons. Some are interested in the salaries, while others find this to be a very rewarding career because they can help others feel better and recover quicker from chronic illnesses or accidents. The career outlook in kinesiology is probably the biggest driving factor in why so many students choose this field.
Related Resources: