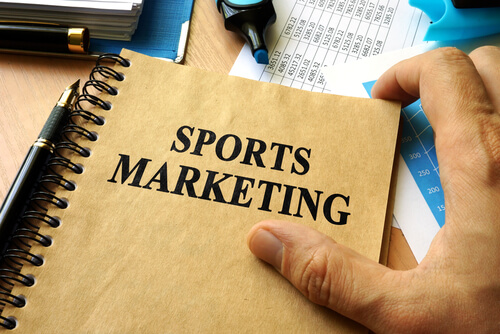 What is sports marketing? Jobs in sports marketing and management helps to promote an athlete, a team, or a particular brand. A successful sports marketer knows how to stir up the public's enthusiasm. This will make them want to purchase a product or buy a ticket to watch an athlete play. Sports marketers have a variety of methods they use to get the word out to the public about an athlete, a sports team, or a product. The following looks at some of the specific responsibilities of a person who works in the business of sports marketing. Can you name one responsibility of the director of marketing in a sport organization?
Related Resource: What Types of Jobs Are There In Sports Medicine?
What Are the Tools of a Sports Marketer?
A sports marketer uses the radio, television, social media, and personal appearances to promote the client. For instance, a popular baseball player in the MLB may form a partnership with a company that sells a new kind of sports drink. In order to promote the partnership, a sports marketer arranges for a few television commercials featuring the baseball player as a spokesperson for the sports drink. While traveling with the sports team, the baseball player wears a jacket and hat bearing the logo of the sports drink company. A sports marketer uses the best method possible to advertise this partnership. Ideally, fans of the baseball player will start to purchase the sports drink because they know their favorite player drinks it too. Young people who aspire to become professional athletes drink the sports drink because of the endorsement of the successful baseball player. Consequently, the increased visibility of the sports drink, as well as the increased sales, are due in large part to the efforts of the sports marketer.
Sports Marketer Characteristics
One of the biggest responsibilities of a sports marketing professional is to be a wealth of ideas. There are a lot of sports teams, products, and players all competing for the public's attention as well as their money. A sports marketer must be ready with fresh promotions that will get the public's attention and persuade them that a specific sports team, player, or product is worth their dollar. A timid sports marketer who only uses well-known methods of promotion is not going to keep their job in this competitive career field.
What Does the Public Want?
A successful sports marketer is able to figure out the sort of promotion that will have an effect on the public. Marketing managers become familiar with the athlete, team, or product. Then marketing managers take that information to come up with the most creative method of promotion. Would it be more effective to start an original promotional campaign on social media or on the radio? What would be the most efficient way to reach this player or team's fans? These are questions that a sports marketer must find the right answers in order to establish a reputation for great results in this field.
Career Titles in the Sports Marketing Field
Do you dream of working for your favorite sports team? Sports marketing is an umbrella term for all careers focused on promoting:
sporting goods
services
sporting events
All sports marketers share the common goal of making their athlete, sports team, or company more profitable. It's all about shining a spotlight on sports merchandise to attract fan attention and sales. Sports marketing is where athletics combine with:
business
advertising
public relations
Sports marketing job positions can wear many hats to help sports franchises become popular and raise revenue. Let's look at a few sample sports marketing careers.
Market Research Analyst – Market research analysts study sports industry trends to forecast how well products and services will sell. Analysts collect hard data via surveys and polls for consumer behavior insights. Market research analysts do statistical work to prepare solid marketing strategies. Thanks to these analysts, sports businesses can target the right people who will likely buy their quality, well-priced merchandise.
Brand Manager – Brand managers work to improve the public perception of individual athletes, sports teams, or sports businesses. Brand managers strive to create a positive professional image that fans will adore. When mishaps or scandals happen, brand managers quickly put out the fire to protect the entity's integrity. Brand managers brainstorm creative marketing tactics to shape public opinion and make the athlete or franchise well-known.
Media Buyer – Media buyers reach out to the targeted audience by purchasing ad space on television, radio, billboards, and the internet. Buyers locate the best platforms for showcasing a sports team or business for maximum fan visibility. Media buyers are skilled negotiators who get the right advertising prices for better ROI. Buyers also develop long-term partnerships with media outlets to keep sports clients in the public eye.
Event Promoter – Event promoters get fans hyped before games, matches, competitions, and media appearances. Promoters use various marketing avenues to raise public awareness about upcoming happenings. Event promoters, such as sporting events, are persuasive writers and talkers who excite people and increase ticket sales. Promoters create online, print, or TV content to inform the public about event logistics, such as time and venue, in advance.
SEO Specialist – SEO specialists have a digital marketing role to get sports websites more clicks and conversions. Search engine optimization strategies improve a company's ranking on Google, Bing, and Yahoo. SEO specialists implement the right content and layout to get websites placed in top search results. Search engine optimization specialists are increasingly needed to drum up e-commerce sales and social media followers.
Account Executive – Account executives help sports marketing firms scout the field for potential new clients. Account executives write and present pitches to get sports clients to sign lucrative contracts. Account executives are outgoing liaisons who recruit and build relationships with athletes or sports businesses. Account executives generate a solid client base by telling prospective accounts of how the firm can fulfill their marketing needs.
Sports marketing is a wide-ranging discipline that goes beyond these six titles. Other great careers include:
ticket sales director
social media manager
advertising coordinator
creative director
e-commerce manager
product development director
blogger
fitness manager
spokesperson
Sports agents even fall into the marketing category to promote the interests of athletes. Sports marketing and media jobs can be in-house or freelance gigs for self-employed consultants. Sports marketing jobs benefit from many upward mobility opportunities. With experience, marketers can be promoted to upper-level jobs like VP of Marketing and Chief Marketing Officer.
Related Resource: Sports Marketing: Salary and Responsibilities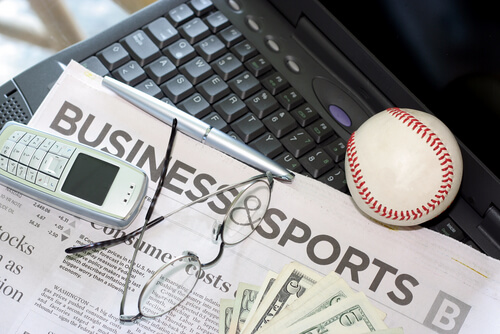 Where Sports Marketing Jobs are Available
A sports marketing position has the freedom to work in any athletic-oriented workplace. Marketers can specialize in any sport and any professional, college, or amateur sports league. Many work for clients of advertising and marketing firms. Others work directly for:
athletes
teams
universities
franchises
Event promoters and facility managers especially work at stadiums or arenas. Marketing professionals can find employment with sports merchandise manufacturers, such as Nike and Under Armour. Some marketers help advertise sporting goods stores. Sports marketers could also work for:
gyms
training camps
broadcasting companies
sports medicine clinics
In May 2019, the Bureau of Labor Statistics counted 678,500 U.S. jobs for marketing specialists. An additional 240,440 marketing sport management jobs were available nationwide. The spectator sports industry had 144,230 professionals in total. Of them, about 3,080 were focused on sports marketing. It's a small, yet fast-growing niche for non-athletes with a passion for sports. The highest employment levels are measured in California, New York, Florida, Illinois, and Texas. International marketing in sports jobs are also expanding in the $614 billion global sports market. People pursuing sports marketing should get ready to compete with many opponents for a few coveted openings.
Related Resource: Can I Earn a Specialized Sports Marketing Degree?
How to Enter a Sports Marketing Career
Marketing jobs for sports teams are much desired. Sports marketers can edge ahead of competitors with accredited business education. Most marketing jobs in sports require at least a four-year college degree. Future sports marketing job professionals often select bachelor's degrees in business administration, marketing, advertising, or sports management. Some transition into sports marketing after a communications or journalism major. A few U.S. schools even provide undergraduate degrees with sports marketing specializations. These include:
Pace University
University of Northwestern Ohio
Indiana University
Full Sail University
Xavier University
Holy Family University
University of Indianapolis
Roberts Wesleyan College
The baccalaureate is the minimum degree requirement for sports markers. However, it's sometimes insufficient for upper-level marketing jobs. Sports marketers often attend graduate school to land promotions. Earning a Master of Business Administration, M.S. in Marketing, or M.S. in Sport Management makes the most sense. Consider dual MBA degrees that sharpen both business and sports acumen too. Most master's programs require 30-60 credits beyond the 120 bachelor's credits. Sports marketers could tackle a master's 100 percent online in 24 months or less. Investing in another degree while working full-time can help get ahead. According to the Financial Times, nearly two-thirds of MBA alumni double their salaries. Top B-schools frequently have job placement rates above 98 percent.
Aspiring sports marketers should fill their electives with marketing-related courses. Search for course titles like:
Sports Selling
Sports Economics
Market Research
Event Management
Digital Marketing
Consumer Behavior
Most bachelor's and master's degrees end with a capstone. Focus the applied project on solving a real-life sports marketing problem. Join a specialized club, such as the Sport Marketing Association. Get tickets to industry-related conferences, including the DECA Sports and Entertainment Marketing Conference, to network. Research paid marketing internships in the spectator sports industry. For instance, Adidas has a 12-week summer marketing internship in Portland. These steps will shape a strong sports marketing resume that employers admire.
Job and Salary Outlook in Sports Marketing
The Bureau of Labor Statistics has forecasted a bright outlook for sports and entertainment marketing careers. The employment of marketing managers is expected to jump by 8 percent for 20,900 new jobs in total. The hiring of market research analysts will soar by 20 percent for 139,200 positions created. Public relations jobs, such as brand management, will expand by 8 percent to 87,600. Growth for sales managers will hit 5 percent this decade for 426,300 professionals overall. In comparison to sales managers, the number of athletes and sports competitors will grow by only 600 before 2028. Demand for sports coaches and scouts is speeding up by 11 percent, or 30,500 jobs, though. Sports marketing job professionals with a relevant bachelor's or higher degree and experience in internet marketing have the best chances.
A career in sport marketing is a profitable career path with potential six-figure benefits. Marketing management have an average salary range from $69,840 to $190,460. Marketing specialists have an average salary range of $34,350 to $122,630 per year. Public relations managers attract an average salary range of $64,250 to $181,020. Sports agents who represent athletes receive an average salary range from $33,440 to $187,600 on average. Sales directors are compensated with an average salary range of $59,810 to $203,480. Advertising and promotions managers reap mean profits of $61,930 to $182,600. Top executives, including Chief Marketing Officers, enjoy a $196,050 average salary. CNBC featured several of the highest-paid marketing executives who earn over $6 million.
Related Resource: Do I Need a Degree in Sports Journalism to Become a Sports Journalist?
Skills Sports Marketers Must Possess
Do you have the skills to promote sporting events? Scoring sports marketing jobs takes more than a degree and good luck. Since its development in the 1960s, sports marketing has become a cutthroat field. Those in sports marketing jobs need a thorough knowledge of effective marketing tactics to be effective in sports marketing jobs. Proficiency with B2B or B2C, content, email, inbound, influencer, and affiliate marketing is imperative. Marketers must be smooth talkers with the speaking skills to affect public opinion. Interpersonal skills are needed to interact successfully with clients and colleagues. Those in sports marketing jobs must possess strong decision-making skills to control the direction of successful marketing campaigns. Analytical skills help conduct in-depth market research and stay abreast of industry trends. Critical thinking skills are important to deduce the right marketing strategy.
Those in sports marketing jobs must be diligent, detail-oriented workers who notice any brand flaw. Problem-solving skills are handy to fix PR issues and keep successful marketing campaigns on track. Time management skills are crucial to properly multi-task and finish client projects by specific deadlines. Marketers in sports marketing jobs need good writing abilities to craft persuasive proposals. Creativity is a must-have for sports marketers to dream up imaginative ideas that work. Organizational skills help sport marketing professionals develop step-by-step ad plans on a budget. Social media skills on Facebook, Twitter, and Instagram are important to keep fans engaged online. Basic math and statistics skills are demanded to run analytics on marketing campaigns. Sports marketers are compelling, confident, captivating, and cunning individuals.
Conclusion
Now that you've explored, "What's sports marketing," you know that an interest in sports is a necessary part of being a sports marketer; but, it is certainly not the only qualification. Imaginative, persuasive ideas and familiarity with sports culture are both useful requirements for someone interested in jobs in sports marketing.
Related Resources: