Anyone who enjoys sports and helping others do their best in athletics might want to know how to become a director of sports performance. This type of occupation typically falls under sports psychology or sports training, depending on the employer. A person who wants to work in this type of job should be prepared to earn a minimum of a master's degree and gain different types of experience before applying for a management, leadership or director's role.
Related Resource: What is an Exercise Physiologist?
Earn a Master's or Doctorate Degree
A master's or doctoral degree is typically required of a person who wants to be a director of sports performance. The sports performance concentration is typically a part of a master's or doctoral degree in psychology. Specifically, it is a part of sports psychology. To complete this concentration, a person will take classes out of multiple departments at a university. Mathematics, sports, business and communications are part of the curriculum.
Take Additional Classes
A person who wants to be a director of sports performance will need to take additional classes beyond what is required for their master's or doctoral degree. Some courses that will be helpful include nutrition, exercise techniques, biology, human anatomy and group fitness. A person who wants to focus on a specific area of sports performance might take classes in those areas, such as dance, team sports or competitive swimming. Business, marketing, conflict management, communications, sports medicine and kinesiology will also be helpful graduate or undergraduate classes.
Gain Experience in Training, Coaching or Physical Education
To become a director of sports performance, a person will need to have some on-the-job experience as a sports trainer, athletic trainer or fitness trainer. When a person first starts in one of these occupations, they usually work under an experienced, licensed trainer before they can train on their own. Another pathway is to be an exercise physiologist or physical therapist specializing in sports injuries or sports performance. A person should also gain experience in physical education, including educating all levels of athletes on health, wellness, injury prevention and related topics. To get to the director position, a person should have some supervisory experience in a relevant job.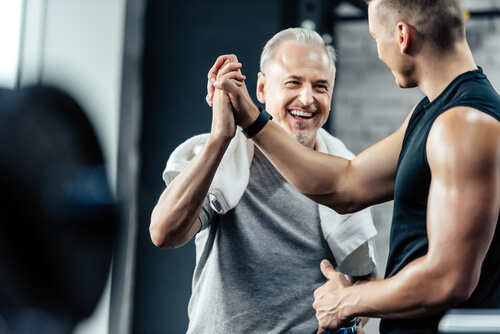 Related Resource: 25 Best Return on Investment Degrees in Sports Management
Achieve and Maintain Certification
According to the Bureau of Labor Statistics, athletic and fitness trainers, directors and related professionals will likely need to be certified, especially if they want to work independently or in a management or director role. The certification that employers typically look for is sports performance, group fitness or something similar. Many organizations offer these certifications, and the National Commission for Certifying Agencies which is part of the Institute for Credentialing Excellence has a list of them. In addition to a sports or fitness certification, most directors of sports performance need to be certified in cardiopulmonary resuscitation and the use of automated external defibrillators.
Working as a sports performance director could be a lucrative and highly satisfying career. A person who is passionate about sports and helping others perform to their fullest potential is likely to have a great deal of personal and professional success in this occupation. Knowing how to become a director of sports performance helps a person make the right choices in their career path for achieving this goal.
Related Articles: