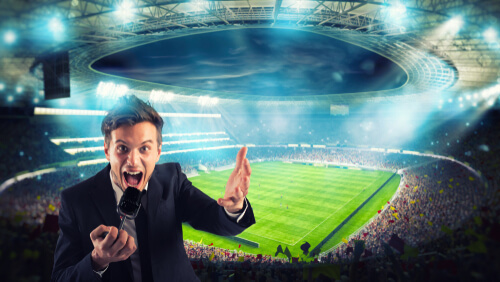 What is a sports broadcaster? If you're an avid sports fan who often flips to ESPN and turns on sports talk radio, then you know that a sports broadcaster can literally make or break a game. Sports broadcasters do more than just give the play-by-play. They provide live on-air coverage of sporting events to capture the feeling of the game for viewers and listeners. After all, who could ever forget Al Michaels exclaiming "Do you believe in miracles?" during the 1980 U.S. Olympic hockey team victory, or Harry Kalas shouting his trademark phrase "It's Outta Here!" when the Phillies score a home run? Whether on television, radio, the Internet, or live in the stadium, a sports broadcaster is responsible for sharing their commentary, game analysis, and personal experiences with viewers. Also referred to as sportscasters or announcers, sports broadcasters keep fans engaged and entertained throughout the entire event. If you want to learn how to become a sports broadcaster, read on to find out more.
Related Resource: What are the Different Types of Sports Medicine Jobs?
Salary
What about sportscasting salaries? According to the Bureau of Labor Statistics, the 40,300 radio and television broadcasters currently working in the United States earn an average annual salary of $37,630, which is equivalent to a mean hourly wage of $18.09. In particular, broadcasters employed in the spectator sports industry earn significantly higher than average at $97,660 each year.
Beginning Salary
When just starting out in the sports broadcasting field, it's common for a new sports broadcaster to land in the bottom 10 percent of the profession with an annual salary around $22,860. However, it's important to note that a sports broadcaster with years of experience who cover the most televised sporting events can often make a six-figure salary over $103,090 annually.
Sports Broadcasting Jobs Description
What is a sports broadcaster job description? Sports broadcasters have the overall responsibility to put actions on the field and stories from inside the locker room into words that viewers or listeners will enjoy. Sportscasters will be involved in preparing, writing, and presenting sports news coverage or analysis on sports events to inform fans of the latest happenings in the sports world. On a typical day, a sports broadcaster may be involved in:
researching game statistics
analyzing sports news stories
learning about sports history
writing scripts or articles
reading from a teleprompter
announcing play-by-plays
offering their game predictions on the air
A sports broadcaster may also be a sports interviewer. They interview coaches, athletes, and other team officials as part of the pre- or post-game sports coverage.
Necessary Skills
In order to be successful, a sports broadcaster must have exceptional public speaking skills with a pleasing voice, good pronunciation, solid timing, and witty personality. Most sportscasters must write their own material for presenting on the air, so writing skills are a must. Research skills are important because sports broadcasters need to find up-to-date information on the latest sports topics for commenting on during the broadcast. A sports broadcaster should have excellent interpersonal skills to make interviewing guests, interacting with other broadcasters, and answering phone calls on air more comfortable. It's also essential that sports broadcasters in radio have the technical skills to operate computers and editing equipment.
Degree and Education Requirements
Although the educational qualifications can vary greatly, most sports broadcasters have earned at least a bachelor's degree from an accredited four-year higher learning institution. Aspiring sportscasters often choose to receive an undergraduate major in communications, broadcasting, journalism, radio and television, media, or mass communications. Although they can be harder to find, it's advised that sportscasters specialize their broadcasting skills by enrolling in a program for sport journalism, sports broadcasting, or sports management. If this isn't offered at your chosen college, make sure you fill up on electives in sports broadcasting, public speaking, sports history, media marketing, sports production, and station operations.
Pros and Cons of the Position
As with any other career, becoming a sports broadcaster will provide its fair share of both pros and cons. Sports broadcasters have a decent salary that outpaces the earning potential for many other broadcasting industries. Sportscasters are given a good amount of autonomy and independence in choosing their own creative material. Since sports teams are playing across the entire world, a sports broadcaster also has flexible options for job locations. With a high number of sports teams, Los Angeles is a top choice among sports broadcasters. On the flip side, a sports broadcaster must be prepared for competition in a sluggish job market that is seeing a decline. Some sports broadcasters may feel pressured to only report accurate facts and garner high ratings for their station. Being a sportscaster also means a significant amount of travel for viewing and providing commentary at live sports events.
Getting Started
Due to the great deal of competition for on-air sports broadcasting positions, you'll need to start making yourself stand out from the crowd if you are interested in a sports broadcaster career. While earning your undergraduate degree, jump on every opportunity to build a resume filled with sports commentary experience. You could apply for an internship at a local news station, work part-time at a sports talk radio station, and announce games for your college's sports teams. After you graduate, you can start applying for full-time sports broadcasting positions at smaller stations to begin developing your on-air confidence level. In your spare time, you might also want to start a podcast or Internet radio station to widen your reach to new listeners. Joining the National Association of Sports Public Address Announcers (NASPAA) could be helpful for taking voice training workshops and networking with stations too.
Future Outlook
Unfortunately, the Bureau of Labor Statistics predicts that there will be a decline in job growth for sports broadcasters with a lost of 1,700 total broadcasters across the United States before 2031. This is mostly due to technological advancements and the consolidation of many radio or television stations. In radio, it's common for stations to use voice tracking now to prerecord segments of broadcasts rather than air them live. Rather than heading right to ESPN, news sportscasters will have the most favorable prospects for finding work at local broadcasts and Internet radio stations. A sports broadcaster should consider the sports broadcasting job description, market themselves with a baccalaureate education in sports journalism and plenty of on-air experience to compete for available openings.
Conclusion
Overall, sports broadcasters are very knowledgeable sports fanatics who provide coverage for games or competitions in a certain sport. While some broadcasters may only provide on-air commentary, others may specialize in conducting research or supervising the production of different sporting events. The road towards becoming a sports broadcaster may be lined with steep competition This career is the ideal path for individuals with superb communications skills who have a passion for helping others enjoy sports.
Related Resources: