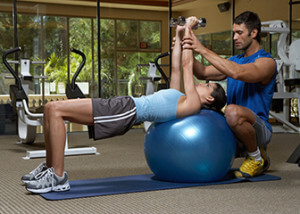 Staying active and healthy have become primary goals for many people, and those who want a career in health and fitness often investigate the degree they'll need to have a successful career in this industry. 
The obesity rates among most Americans are high, and a sedentary lifestyle is a major contributor to the loss of fat burning, lean muscle. Health and fitness professionals motivate people to increase their physical activity by introducing them to new exercises and teaching them how to perform the exercises correctly to avoid injury. These professionals also help their clients to set achievable wellness goals and monitor their progress. Successful wellness professionals have knowledge of:
human anatomy
aerobic and anaerobic training techniques
first aid
sports nutrition
While people who are interested in the fitness career field can gain entrance through certificate programs, they usually opt to develop and hone as many skills as they can through associate's, bachelor's and master's degrees.  We explore popular degrees for health and fitness professionals and highlight some of the most popular jobs in areas like:
personal training
athletic training
fitness instruction
Related Resource: What is an Exercise Physiologist?
Popular Degree Programs for Future Fitness Professionals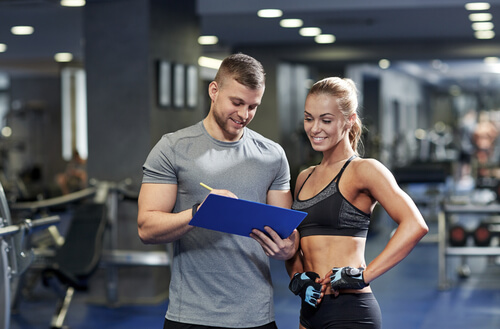 Associate Degree in Applied Exercise and Fitness 
An Associate Degree in Applied Exercise and Fitness is a popular program for students who are planning to become a:
Certified Personal Trainer
Fitness or Wellness Coordinator
Certified Group Fitness Instructor
Fitness Educator
Two-year fitness degrees typically include course topics like:
physiology
biomechanics
fitness analysis
nutrition
The courses taught in an associate level fitness training degree program are similar to those covered in exercise science bachelor's degree programs. The AS or AA in Applied Exercise and Fitness and related programs are usually offered at community colleges.  Many schools allow students to complete their degrees in fitness either online or on site.
Some of the better programs include hands on, supervised internships that allow students to practically apply their skills before they sit for industry fitness certification examinations through prestigious organizations like the National Academy of Sports Medicine. Aspiring fitness instructors should check to see if a program includes valuable career service help before enrollment.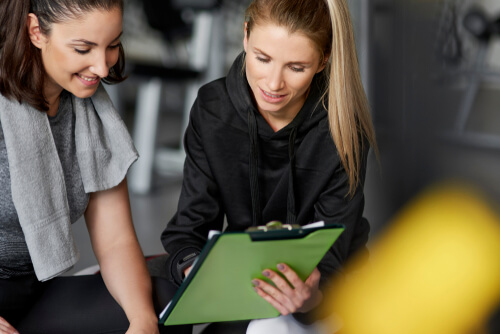 Bachelor of Science in Exercise Science
While an associate level degree in fitness offers a fast track to a career as a personal trainer, students who pursue bachelor's degrees in sport and exercise science usually have broader career options available to them, according to Live Strong. Some of these include:
athletic director
corporate wellness consultant
sports injury rehabilitation coordinator
The course topics that students study in this degree program include:
fitness and nutritional concepts
injury care and prevention
physiology
fitness teaching techniques
Although many schools do not require students to have taken prerequisite courses before beginning their fitness degree, a few schools require successful completion of fundamental math, biology and chemistry courses prior to enrollment.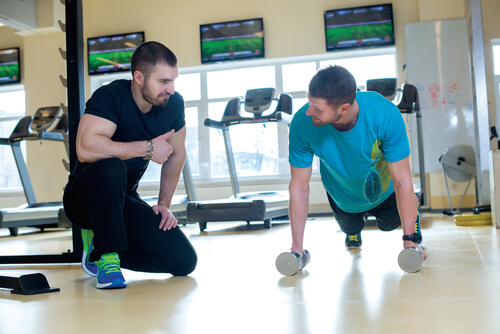 Bachelor of Science in Kinesiology
Kinesiology is the study of human body movement. An undergraduate degree in the subject helps to prepare students for careers as health and wellness professionals for a variety of clients. Courses include the standard subjects of human anatomy, physiology and biomechanics as well as topics relating to motion analysis and physiology for the aging. Many students use this degree to become fitness instructors while they work toward higher level careers in areas like physical therapy.
Bachelor of Science in Physical Education
A bachelor's degree in physical education is a flexible program for students who want to become instructors of PE programs at the elementary, middle, or high school level.  They are also prepared to work as coaches or athletic directors.  
Courses include:
Introduction to Anatomy and Physiology
Effective Communication
Teaching Fitness and Wellness
Physical education degree programs typically lead to initial teacher licensure.  
Related Resource: Municipal Recreation Director
The Best Jobs in the Fitness Industry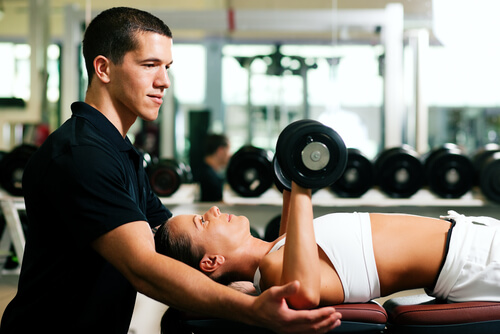 The fitness industry is extremely lucrative.  According to Statista, the global fitness industry is worth over $96 billion.  Fitness professionals with the proper knowledge and training are paid well for their skill set.  The Bureau of Labor Statistics reports the job outlook for fitness trainers and instructors is expected to grow by 19% through 2031.  The demand for exercise physiologists is expected to increase by 9% through the same time period.  Both fields are projected to grow at a rate faster than average across all occupations. 
The salary for health and fitness experts can vary considerably based on a number of factors including education.  According to information provided by payscale.com, the average base salary for a professional with an associate degree in health and fitness is $40,000/year.  An individual with a bachelor's degree can expect to receive a base salary of $51,000/year.  Individuals with their master's degree in this area typically work in a management or leadership role.  Payscale reports the average base salary for an MS in fitness management is $54,000/year.
Personal Trainer or Fitness Instructor
One of the most popular career choices in the health and fitness industry is personal training.  Personal trainers typically work with individuals to achieve their wellness goals.  There isn't a standardized personal trainer degree, making this a great career choice for those just starting out as well as those transitioning from other professions.  It is possible to become a personal trainer with just a high school diploma!  There are several different organizations that offer certifications for personal trainers, and each has their own requirements. 
A fitness instructor, on the other hand, typically works for a gym or health club.  They provide support to members by offering assistance and advice.  They may teach group fitness classes or conduct assessments.  A popular fitness training degree is kinesiology.  Kinesiology graduates have a strong understanding of exercise physiology and biomechanics.  Their advanced training prepares them for leadership roles in the health and fitness sector.
Payscale reports that average base hourly rate for a personal trainer is $19.56/hour.  Salary trends show increased earning potential with experience.  Personal trainers with 10-19 years of experience can expect to earn about $30.89/hour while those with over 20 years of experience can expect to earn $42.50/hour.  To achieve a higher salary, personal trainers should take advantage of professional development and education opportunities to expand their skill set.  
Athletic Trainer
Athletic training is a complex field that involves the treatment and diagnosis of injuries and medical conditions under the direction of a physician.  Athletic trainers are specialized professionals recognized by the American Medical Association and the Department of Health and Human Services as an allied health profession.  
Current athletic trainers need to have a bachelor's degree to meet certification requirements.  Future trainers will need to hold a master's degree.  There are a variety of schools that offer master's degrees that meet certification standards.  
According to payscale.com, the average salary of an athletic trainer is $44,784/year.   Similar to the salary trend of a personal trainer, the salary for athletic trainers tends to increase with experience.  Trainers with over 20 years of experience can expect to bring in about $57,000/year.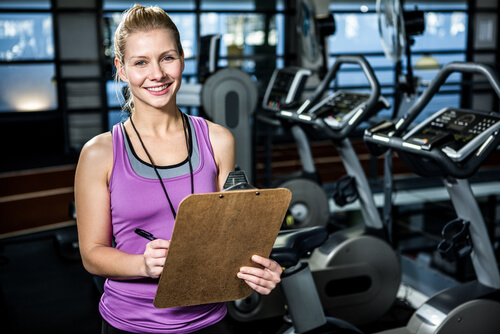 Conclusion
There are not many gifts more precious than good health.  Those who genuinely want a rewarding career of service to others consider pursuing a career in fitness or exercise science.
Related Resources: