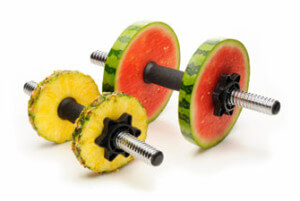 Sports nutrition is a career that is growing at a rapid pace thanks to the fact that people have discovered the importance of proper nutrition. As a sports nutritionist, it's your job to create nutritional plans for athletes that will keep their bodies healthy through vigorous training. Mentoring patients on making the proper food choices, assessing overall health and even prescribing vitamins are a few of the daily responsibilities of people in this field. Becoming a sports nutritionist takes effort, dedication and perseverance, and if you have these qualities, you will surely succeed. Here are the necessary steps you need to take if you want to enter this field.
Related Resource: What Types of Jobs Are There In Sports Medicine?
#1. Decide if this Career is for You
Before you take the path to receiving your degree as a sports nutritionist, it's important to assess whether you see yourself working in this career. People who have a genuine interest in dietetics tend to do better with a career in nutrition than people who aren't passionate about the field. If you like interacting with people and making a difference in their lives, then this career would be a great fit.
Sports nutritionist earn a median salary of $48,000 annually, but the income varies depending on where you work so the total can be higher or lower. The job placement in this career is actually good and it will experience growth in the following years, according to the Academy of Nutrition and Dietetics.
Typically, sports nutritionists can work in a lot of different settings. Some examples include the following:
1. College and universities
2. Gyms
3. Self-employment
4. Hospitals
5. Health care facilities.
#2. Educational Requirements
The educational requirements for becoming a sports nutritionist vary depending on the area where you live. However, if you plan to be a sports nutritionist, you should get a bachelor's degree in Food and Nutrition, Sports Nutrition or Dietetics. It's important to find a program that is accredited by the Accreditation Council for Education in Nutrition and Dietetics.
#3. Licensing and Certification
You cannot get a job as a sports nutritionist without a license. In the United States, it's required that you complete a bachelor's degree, receive supervised training hours and pass an exam to get your certification. Each state has different requirements, however, for receiving certification, so you'll have to inquire about the process beforehand.
#4. Internships and Volunteering
In order to obtain a job in this field, you will need to have completed a minimum of a year-long internship program. The goal of internships are to allow individuals to obtain training and experience in their chosen field. Another thing you can do to improve your chances of obtaining a job is to volunteer.
Related Resource: Courses in Sports Medicine
Choosing to become a sports nutritionist will ensure that you have a successful and happy life. The secret to reaching success is to take the time and effort to do well in your studies.
Related Articles:
What Public Relations Jobs in Sports are Available?
What Does A Sports Nutritionist Do?