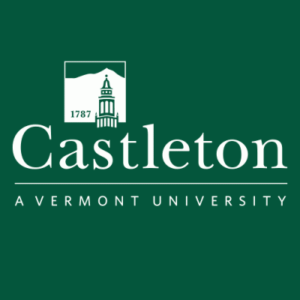 Six Castleton Degrees for Sports Industry Careers
Castleton University appears in our ranking of the 50 Best Bachelor's in Sports Science Degree Programs (Campus).
At Spartan Athletic Complex, the Department of Health, Human Movement & Sport led by Dr. Tom Geisler grants a 121-credit B.S. in Kinesiology for Castleton University undergrads to complete the 3+2 Pre-Athletic Training sequence with hands-on NCAA Division III Little East experience. Directed by Ms. Marybeth Lennox-Levins, the B.S. in Sport Management builds a 120-credit, four-year curriculum with Sport Marketing, Sport Finance, Data Analytics, Broadcast Media, and Sport Communications tracks plus at least 450 internship hours at partners like the Vermont Lake Monsters. The B.S. in Exercise & Sport Science follows a 120-credit, ACSM-approved certification path under Dr. Justin Carlstrom where students can research in the Exercise Physiology Lab, intern at the National Institutes of Health, take the Global Studies Immersion from Iceland to the Bahamas, and minor in Adventure Recreation.
In Fall 2020, the Master of Athletic Training will replace the B.S. with 93 percent Board of Certification exam success for a new 61-credit, CAATE-accredited program headed by Ms. Reese Boucher that integrates 900 clinical hours at Ashcroft Chiropractic, Killington Clinic, Rutland Medical Center, and more. Chaired by Dr. Joan Lehoullier, the M.S. in Athletic Leadership shapes 30-credit, one-year emphases in Coaching Leadership or Athletic Administration with intensive 6000-level courses like Facility Design online on Moodle and a capstone project. Online for $643 per credit, the MBA in Leading Organizational Change also features a 36-credit, 12-month sequence overseen by Dr. Jonathan Spiro where post-grads can intern at The Equinox Resort, pledge Sigma Beta Delta, and take the 4+1 BBA option.
Related Resource: What is an Exercise Physiologist?
About Castleton University
Castleton University originated on October 15, 1787, when the Vermont General Assembly chartered the Rutland County Grammar School for male college-prep education. Five years later, it became Castleton Seminary and the Green Mountain State's first higher learning institution. In 1818, it formed a partnership with Castleton Medical College. In 1823, Castleton started admitting women for coeducational courses. In 1829, Senator Solomon Foot oversaw the completion of its first permanent three-story building for $30,000. By 1867, it was renamed the State Normal School at Castleton. In 1912, the State of Vermont formally acquired Castleton for public control. Five decades after, it became Castleton State College. In 1985, Dr. John Feenick organized the Bachelor of Science in Athletic Training. In 2006, the Department of Health, Human Movement & Sport was founded. On July 23, 2015, the Castleton University name was adopted for expanding master's options.
Endowed for $7.86 million, Castleton University now employs 80 full-time faculty teaching 2,034 undergrad and 157 post-grad Spartans from 36 countries online or at the 21-building, LEED-certified Vermont campus with 40+ organizations like Sports Administration Club. In 2016, Castleton received the Spirit of the ADA Award from the Governor's Committee on Employment of People with Disabilities. In 2018, Castleton University had a VARA Collegiate Skier of the Year Award finalist. Castleton accepted three 2017 Division III New England All-ECAC Baseball Awards too. The U.S. News & World Report ranked Castleton the 30th best Northern college and 13th top public school. On Niche, Castleton has America's 474th most diversity and 559th most liberal academics. College Factual placed Castleton 251st for recreation and fitness studies. Best Value Schools named Castleton University 85th among small institutions. Washington Monthly chose Castleton for the 220th best liberal arts education.
Castleton University Accreditation Details
On January 12, 2017, the New England Association of Schools and Colleges (NEASC) Commission on Institutions of Higher Education (CIHE) informed Castleton University that the Fifth-Year Report was satisfactory to continue Level III accreditation through 2021 under the 21st president, Dr. Karen Scolforo, who earned the Century Link Business Woman of the Year Award. Located 177 miles east via Route 4 in Burlington, Massachusetts, this splendid six-state Northeast Region accreditor is authorized by the U.S. Education Department to review Castleton's 44 baccalaureate and 11 master's degrees. Further, the Commission on Accreditation of Athletic Training Education (CAATE) has accredited Castleton since October 20, 2000. The B.S. in Exercise & Sports Science is also approved by the American College of Sports Medicine (ACSM).
Castleton University Application Requirements
Getting into Castleton University is classified "moderately difficult" by Peterson's because only 1,868 of the 2,397 Fall 2018 applicants were successful for 78 percent acceptance. First-year Spartans seeking the B.S. in Sport Management must culminate a high school, home school, or GED equivalency curriculum. The Class of 2022 presented an average GPA of 84.6/100. Freshmen generally rank in the upper 50th percentile of their schools. Undergrads achieved a median 1040 SAT and 21 ACT score. The B.S. in Exercise & Sport Science uniquely has a 2.5 GPA minimum. Master of Athletic Training cohorts must be finishing the B.S. in Kinesiology or another regionally accredited bachelor's. Prerequisite MAT courses, such as Nutrition and Physics, must be graded C or better. Cumulative post-grad GPAs of 3.0 and higher are mandated. The M.S. in Athletic Leadership seeks two prerequisite classes or five years of industry experience. Online MBA in Leading Organizational Change entrants typically have GMAT scores above 450. International graduates need a minimum 6.5 IELTS or 79 TOEFL internet score.
Castleton University generally has rolling admissions available anytime. Review periods begin in mid-November for Fall and September for Spring enrollment. Matriculated students have final course registration deadlines of August 25th and January 21st. March 31st is the priority date for financial aid consideration. The Master of Athletic Training recommends applying before February 1st. Accordingly, complete the Castleton or Common Application online for $40. Forward official final transcripts to 86 Seminary Street in Castleton, VT 05735. File testing results with SAT/TOEFL code 3765 or ACT code 4314. Attach program-specific necessities, such as the current resume, two reference letters, 500-word objectives statement, CPR certification, background check, and prerequisite evaluation. Contact (800) 639-8521 or info@castleton.edu with questions.
Tuition and Financial Aid
For 2019-20, Castleton University is billing full-time Vermont undergrads $5,652 each term or $11,304 annually. Non-resident B.S. in Sport Management tuition is $13,992 each semester or $27,984 each year. New England residents can lower costs to $17,256 yearly. Bachelor's students pay the $870 resources fee, $296 association fee, and $79 parking fee. Student health insurance is $1,977 per term unless waived. Residing at the Rutland County campus' dorms like Hoff Hall adds $6,604 for yearly housing. Unlimited meal plans for Huden Dining Hall are $4,416 extra. Castleton budgets $1,000 for books and $1,404 for miscellaneous. Annual undergrad attendance equals $25,316 in-state and $41,324 out-of-state. Master's programs charge everyone $643 per credit with a $15 tech fee.
According to the NCES College Navigator, the Financial Aid Office in Woodruff Hall gets 96 percent of new Castleton Spartans enrolled with tuition assistance averaging $8,214 each for $2.66 million combined. Institutional funds include the Dave Perrin Scholarship, Carrie Colvin Perry Memorial Scholarship, Derry Smith Memorial Scholarship, Dorothy Beach Barnouw Scholarship, Hubbardton Forge Scholarship, Ida Wright Memorial Scholarship, Leslie Ann Hosking Scholarship, Martha Alexander Scholarship, New Generation Scholarship, Per Kristiansen Memorial Scholarship, and Ruth Best Scholarship. The Honors Program Scholarship gifts up to $11,000 for freshmen meeting the 1100 SAT or 22 ACT minimum. The $5,000 Citizenship Scholarship supports active community service leaders with GPAs above 2.5. Federal resources, such as the Pell Grant or Direct Unsubsidized Loan, require FAFSA applications coded 003683. Vermonters can also claim the Student Incentive Grant, Part-Time Grant, Hood Sportsmanship Scholarship, Horatio Alger Scholarship, Emily Lester Opportunity Scholarship, and others.
Learn more about Castleton University at the Department of Health, Human Movement & Sport website.
Related Articles: