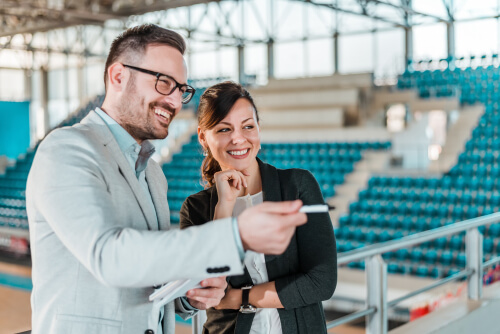 Prospective students interested in a sports-related degree often wonder about sports management degree salaries. Sports management is a field that covers the business functions of sports and recreation. There are a variety of roles available within the field of sports management related to:
finances
management
planning and organizing events
marketing
The salaries for graduates with sports management degrees can be very lucrative. How lucrative largely depends on the role.
Earning a degree in sports management is a great way to launch your career. A sports management degree provides future professionals with a solid foundation in the business aspects of the sports industry. These programs focus on various business areas including:
marketing
finance
economics
Students also learn how these disciplines play a part in sports and physical activity.
There are many top schools that offer sports management degree programs. Some of the most popular are the University of Texas and George Mason University. The University of Texas offers a sports management bachelor's degree that requires students to choose a minor or specialization to complete their degree. Specializations that work well with sports management include:
business
education
communication
psychology
George Mason University offers a bachelor's degree in sports management through their School of Sport, Recreation, and Tourism Management. The program's curriculum is guided by the standards established by the North American Society for Sport Management.
Related Resource: Sports Management Jobs
Details About Sports Management Salaries
How much do sport managers make? While the Bureau of Labor Statistics doesn't specifically mention sports management in their job profile, they do include information about entertainment and sports occupations as overall. They report the median annual wage for this job category is $49,470/year which is higher than average. They project overall employment figures to grow by 13% through 2031, which is much faster than average.
Sports management degree salary ranges vary based on a variety of factors, including location, education, and experience. Location is a major factor because many different aspects come into play, such as the demand in the sports industry and cost of living. For example, sports management positions earn an average of $58,000 in New York, New York and around $37,000 in Des Moines, Iowa.
The average salary of sports management professionals differs according to education. Payscale reports that the average base salary for an individual with a Bachelor of Science in Sports Management is $55,000/year. Indeed reports that the earnings increase from a bachelor's degree to a master's by about 20%. The Bureau of Labor Statistics reports that individuals with an advanced degree have the highest wages and the lowest unemployment rates.
Answering the question, "How much do sports managers make?" largely depends on their experience in the field. A manager with a sports management degree can expect to earn more as they gain experience in the field. Payscale reports that late career professionals and those with at least 20 years of experience make significantly more than those just starting out.
Salary Expectations
Since sports management is a diverse field, there are many different job opportunities with different salary expectations. The Bureau of Labor Statistics provides some insights on what the median annual wages are for some of the top jobs in the industry. These top jobs include:
Athletic Trainer
Coach
Facilities Manager
The median annual wage for an athletic trainer in 2021 was $48,420/year. Trainers who work in educational services or in fitness and recreational sports centers can expect to be paid more, while those working in hospitals or therapy offices may make slightly less. The highest 10% of athletic trainers earns more than $76,000 while the lowest 10% earn less than $37,000.
Some sports management professionals go on to work as coaches. The median annual wage for coaches in May 2021 was $38,970/year. Coaches who work in colleges and universities make considerably more while those in elementary or secondary schools make less. The highest 10% earn over $80,000 while the lowest paid 10% earned under $22,000.
Facilities managers coordinate the operations of a sporting facility. The BLS reports the median annual wage for these professionals is $97,930/year. The highest paid facilities managers work in a corporate setting. Those working for a college or university are paid an annual mean wage of over $100,000/year.
How much does a sports manager make working at the top tier of the profession? The sports management jobs that pay the most are those at the professional level, for example professional sports manager salaries can be over $200,000 per year, while sports agents can make millions per year depending on commission.
Other sports management jobs that are in demand include sports manager, sports marketer, and sports agent.
Related Resource: What are the Different Types of Sports Medicine Jobs?
How to Maximize Your Sports Management Salary
There are a variety of ways for graduates of sports management degrees to maximize their earnings. One crucial way is gaining significant experience in the field, and then applying to upper-level positions. Pursuing advanced education at the graduate degree level may also help sports management professionals boost their salaries.
Another way to market themselves both inside and out of their organizations to gain more leverage in internal negotiations and open up more opportunities at other employers. Also, starting at the low-end with a professional sports team and working their way up could potentially result in a sport professional earning an extremely lucrative Sports Management salary.
Related Articles:
What Public Relations Jobs in Sports are Available?