Today's Sports Communication Degree: Five, Great Job Options Thereafter
Promotions Coordination Manager
Sports Journalist
Sports Media Relations Specialist
Social Media Manager
Communications Teacher
The vast world of sports communications is all about the handling of the various types of communications, internal and external, of sports teams and other sporting organizations. Those with a sports communication degree find themselves uniquely educated to the needs of this particular industry. What are some of the job options that become available to those educated with a degree in sports communication specifically? The following opportunities represent just a sample of the many doors that can open for this grad today.
Related Resource: What Types of Jobs Are There In Sports Medicine?
1. Promotions Coordination Manager
In most sports teams and greater sports organizations today, there exists a regular need to create promotions, or methods by which that entity can promote itself, its image, sales, and so on. In many places, the head of this particular organizational endeavor is the promotions coordination manager. As a promotions coordination manager, one must shoulder the full responsibility of all promotional efforts, the employees, and activities therein.
2. Sports Journalist
Sports communication majors also align very well to work as sports journalists. Sports journalists are reporters who gather info on specific sporting events and then report it to the public via some form of published media. Whether through print newspapers and magazines or via strictly electronic news outlets, these journalists' work is often anticipated by millions across the globe.
Related Resource: Do I Need a Degree in Sports Journalism to Become a Sports Journalist?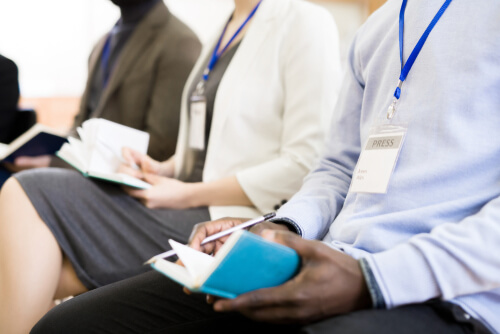 3. Sports Media Relations Specialist
Media relations specialists, also known as public relations specialists, are responsible for handling the key communications between the public and an organization. In the sporting world, these professionals are needed just as much as in virtually any, other industry. Here the media relations specialist may give speeches, write release statements, work with company marketing teams, and more. The Bureau of Labor Statistics also shows this role as having a healthy, 6 percent demand growth rate across the industry, a good sign of times to come for those in this role.
4. Social Media Manager
As this job title's name suggests, the social media manager takes responsibility for the social media activity of an organization. This can be a very busy role, and individual responsibilities here can include strategizing with other management teams, formulating social media strategies, implementing those strategies via social media activity, assessing strategic efficacy after implementation, and more. For those who particularly enjoy spending time working with Facebook, Twitter, and the various, other social media platforms, this job can be a perfect match.
5. Communications Teacher
Finally, sports communication grads often make a great fit in the role of the communications teacher. These teachers, or professors, utilize their communications expertise to teach the next generation of communications experts, and the sports communication grad may be able to choose between teaching basic communications courses or those more specialized such as sports communication. Per the Bureau of Labor Statistics, virtually all, upper-level communications teachers work in either colleges, universities, junior colleges, or vocational/trade schools.
Related Resource: 20 Affordable Bachelor's in Sports Communications
Sports communication is an important yet often forgotten component of the greater professional sporting world. There are plenty of roles here, and these five, above-mentioned opportunities represent just a few of those out there right now. For the sports communications grad, this means a wide-open field of options.
Related Articles: