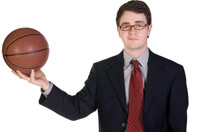 Professional sports presents a unique opportunity for management and leadership, and the numerous types of jobs available with an MBA in Sports Management showcase how graduates can become an integral part of team management, player acquisition, marketing, and more, according to US News and World Report. Though most sports fans perceive their favorite team to be primarily about athletic competition and post-season success, the truth is that these organizations are run like traditional businesses. Great leadership, sound financial guidance, and a fair amount of graduate-level business training, are required of those who help to ensure the team's financial and athletic success over the course of many years. Those who specialize in sports management can use their MBA to keep the team on track and give it the tools it needs for a long winning streak on the field.
Related Resource: What are the Different Types of Sports Medicine Jobs?
A Sports Management MBA Prepares Students for the "Front Office"
It's a term that is used routinely in sports management circles: The best managers are destined for a mythical front office, where they'll lead the team to long-term success. What is this front office, exactly? It's where executive leadership and top managerial talent work throughout the year to ensure the team is managed, financed, and coached properly. Positions in the front office include a team's general manager or chief executive, chief financial manager, talent manager, and more.
The courses included in a good MBA program with a sports management concentration prepare students for these front office roles with very specific coursework. Elective classes in the program teach students how to manage professional sports talent, payment, and recruiting. They learn how the managerial structure is different in a sports team than in a typical business, and they learn how to work in an exceedingly small group of managers and non-managerial staff members. They can advance to the highest level of team management with these skills, which gives them the power to negotiate salaries, stadium deals, team schedules, investments, ticket prices, and even vendor contracts.
Sports Marketing or Sports Licensing Also Stands Out for MBA Grads
While many people will send their resumes to professional sports organizations in pursuit of that front office job, many will end up working in slightly different positions. Some will wind up in a sports marketing position, where they'll focus extensively on how to market a team, sell its goods, and ensure that the stadium is full of ticket holders for every home game. The MBA program will give students the appropriate amount of management and marketing information, while elective courses in sports management will give them the context they need to make sound decisions on behalf of a team's senior managers.
Sports licensing professionals will typically work for outside vendors and those businesses that sell team hats, shirts, and official jerseys. They'll learn how to navigate the red tape of a team's managerial staff, so that they can land lucrative licensing deals and exclusive distribution agreements for team apparel and accessories. The management coursework required of the MBA will give these professionals real advancement opportunities within licensing roles and an apparel company's senior management.
Related Resource: Sports Trainer Salary
Sports Management is a Great Field for Unconventional Managerial Work
Managing a sports organization is quite different, as MBA coursework will reveal over time. The types of jobs available with an MBA in sports management are, perhaps appropriately, a very different way to utilize management knowledge, secure an advantageous position in the marketplace, and conduct business deals of all kinds.
Related Resources: