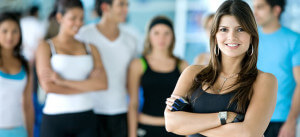 For those who have an interest and passion in the fitness industry, many may be wondering what a fitness instructor does. With the rising prevalence of obesity and associated chronic illnesses, there is a increasing demand for fitness instructors who are qualified to lead and teach group fitness classes, design exercise programs for individuals as well as coach people on how to live healthy lifestyles. If you have ever considered a career as a fitness instructor, here is a comprehensive overview of this booming career.
Related Resource: What is an Exercise Physiologist?
What Type of Education Do You Need?
In order to be a fitness instructor, individuals will need to complete at least an associate's degree or higher from an accredited college or university. At the associate's level, students will generally take around a year to a year and a half of general education courses and in their final year will take courses related to exercise physiology, nutrition and dietetics. These courses generally will prepare people to become certified personal trainers and group fitness instructors. For those looking for a four year degree, individuals typically study exercise physiology, kinesiology, or exercise science. Most colleges and universities should often students the ability to obtain professional certifications.
What Type of Certifications are Necessary For Fitness Instructors?
Most gyms, hospitals and other places that offer fitness classes and services usually require their fitness instructors and personal trainers to obtain a number of professional certifications. Some of these certifications include:
What is the Typical Day of a Fitness Instructor?
Most fitness instructors typically spend the majority of their day teaching and leading a variety of fitness classes for different populations of people. Fitness instructors, depending on their specialty can teach classes like:
Zumba
Cardio Kickboxing
Dance
Boot Camp
Step Aerobics
Yoga
Fitness instructors also spend a considerable amount of time doing personal training sessions with individuals. They will design individualized exercise plans and regimens for individuals who might have certain disabilities, health conditions or ailments. Also, fitness instructors will provide health coaching and nutrition counseling to help patients and clients improve certain health outcomes such as blood pressure, blood glucose and muscular range of motion. Fitness instructors can work with all populations of people and can teach classes with children, adults and senior citizens.
What are the Salaries for Fitness Instructors?
According to the United States Department of Labor's Bureau of Labor Statistics, fitness instructors made an average of $32,000 in 2010. Salary will vary greatly depending on geographic location, company or organization, experience and education. Fitness instructors who own their own training businesses typically have higher salaries. Also, fitness instructors who have master's degrees in exercise physiology also have higher salaries as well. Experienced and education fitness instructors can make over $50,000 a year. Salaries will also be bigger in cities like New York, Chicago and Los Angeles where there is a larger demand for high-end personal training and fitness services.
Related Resource: Physical Therapist
Launching a career in the fitness industry is worthwhile for those who have a passion for exercise, especially if you would like to help others become more physically active and have healthier lifestyles. With this information, hopefully all will understand what a fitness instructor does.
Related Resources: