A person who is passionate about sports and interested in a career related to sports may wonder how sports communications differs from sports management. The Bureau of Labor Statistics (BLS) tracks all occupations in the United States, defining and classifying them into particular groups and sub-groups. Sports communications jobs are defined as a type of journalism, while sports management jobs are defined in a different category that includes agents and business managers.
Related Resource: What are the Different Types of Sports Medicine Jobs?
What Sports Managers Do
Sports management professionals represent athletes or teams. They handle the business aspect of the sports or athletic activities of the individual or team. For example, a sports manager for an individual athlete might negotiate the paid appearances, sponsorships and volunteer appearances of the athlete. A sports management professional for a team might coordinate team sponsorships or public events, handle media contacts and look for ways to increase the team's revenue. They differ from coaches because they do not try to boost the athlete's physical performance or change the team's strategy.
What Sports Communicators or Reporters Do
Sports communications specialists are like marketing professionals for an athlete or team. They might also work for a news or media outlet and report on general sports news and other sports stories. For example, a sports communications specialist might be the media contact for a professional basketball team or the marketing specialist for a college football team. Some professional athletes might have their own communications specialist. A sports communications professional might work for a radio, cable or television news station, reporting on local sporting events or traveling to professional events, such as the Stanley Cup finals for the National Hockey League or the summer Olympic games every four years. They may present sports news in writing or prepare scripts and deliver the news in broadcasts.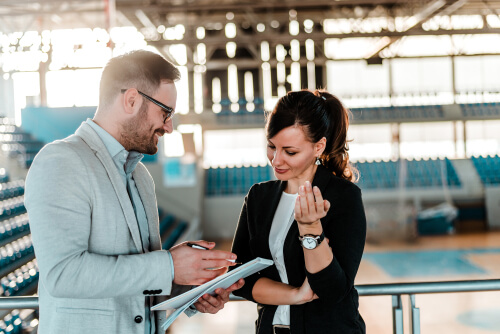 How to Become a Sports Management Professional
A person who wants to work in sports management would need a degree in business. They would also benefit from taking classes in contract negotiations, finance, marketing, human resources, organizational psychology and interpersonal relations. According to the BLS, there were about 800 people employed as sports managers in the United States as of May 2018. The field is highly competitive, and people with related experience will have a better chance of gaining employment in this field. A law degree may also be helpful.
How to Become a Sports Communication Specialist
Sports communications professionals deliver the messaging and information related to sports. A person who wants to work in this field would need to earn a degree in communications or marketing. Courses in business, psychology and technical writing could also be helpful. Another important consideration is knowledge of many types of sports. A sports communications specialist would also need to stay up-to-date on athletes, teams and their performance.
Related Resource: 20 Affordable Bachelor's in Sports Communications
A person who likes writing, doing research, reporting and investigating might do well in a sports communications job in the media. A person who prefers contract negotiations, business management, marketing and labor organization issues would be better-suited to a career in sports management. Understanding the answer to, "How does sports communications differ from sports management?" could help a person choose a college major, select the right courses and gain the necessary experience through internships, volunteering or work experience for one of these lucrative careers.
Related Articles: