Directors of sports medicine play an important role in directing, coordinating and running the medical and health services of an athlete or a sports team. They may work with just one or two athletes but typically work with an entire department, facility or even alongside doctors in medical practice. Sports medicine directors, also known as healthcare administrators or healthcare executives, must have professional education and training. Here is an overview of what it takes to become a director of sports medicine, what they do and what they can expect in terms of career outlook.
Related Resource: What Types of Jobs Are There In Sports Medicine?
What Director of Sports Medicine Do
Sports medicine doctors work with athletes during sporting events performing duties such as diagnosing, treating and reducing the chance of sports-related injuries. The director of sports medicine oversees the work of the sports medicine doctors and ensures the athletes are treated correctly. They also work with musculoskeletal system disorders. If diagnostic imaging or laboratory testing is required, they oversee that as well. They take part in all aspects of the treatment process not just during sporting events but also during routine physical activities and athletic training.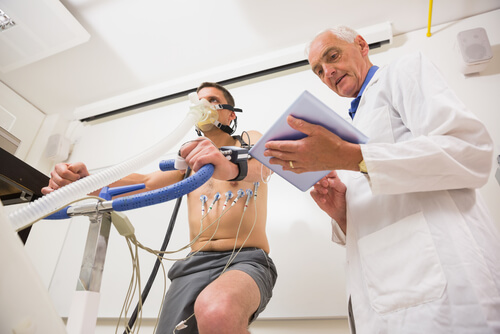 The director of sports medicine also ensures the facility complies with all regulations and laws. They set up objectives and goals for the department and determine the best ways for the facility to meet these goals. The director is also in charge of hiring, training and supervising the staff. Developing and monitoring the expenses and budget are also part of the director's job duties. The director of sports medicine represents the company at meetings and activities as well as communicating with medical personnel.
How to Become a Director of Sports Medicine
A director of sports medicine typically must have at least a bachelor's degree, but many choose to pursue a master's degree. Some employees may require their directors to have master's degrees. In addition to completing the coursework required for the degree, the student is also required to complete an internship or similar supervised work experience in a healthcare facility. The major may be in nursing, health management, sports medicine or health administration, among others.
Directors of sports medicine may also choose a degree program that focuses on both healthcare and business management. Sports medicine directors may also be required to be licensed depending on the state. Obtaining licensure generally requires passing a certification exam. In addition to having the right training and work experience, directors of sports medicine should also possess good communication, analytical, interpersonal, leadership and technical skills.
Related Resource: 25 Best Return on Investment Degrees in Sports Management
Career Outlook
The U.S. Bureau of Labor Statistics places directors of sports medicine in the category of medical and health service managers and predicts that these professionals should see job growth of 18 percent during the 2018-2028 decade. As sports and sporting events continue to grow in popularity, the need for directors of sports medicine will continue to grow. As of May 2018, medical and health service managers earned an average annual wage of $113,730 with wages going as high as $182,600 or more. Typically, the more athletes a director works with, the higher the wage potential.
Working as a sports medicine director can become a very lucrative and rewarding position, especially if the candidate is working with big-name athletes. An individual who chooses to work as a director of sports medicine is generally someone who is very interested not just in treating patients but also working with athletes.
Related Articles:
What is a Sports Massage Therapist?