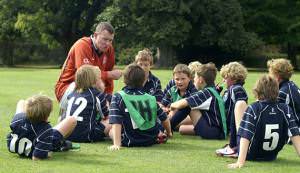 Sports is more than just a hobby or a passion for some, and earning a degree in sports management can help you as a coach so that you can earn money loving what you do. The sports industry is growing in both the professional arena and the recreational arena. If you decided not to pursue a career as a player but you are a talented motivator and a talented coach, earning a specialized business degree majoring in sports management can give you leverage to land paid positions in coaching the sport of your choice and to become a more skilled professional in the process. Read on, and learn what sports management students will learn that they can use as a coach.
---
Featured Sports Management Degree Programs Rankings
---
Sports Management Programs Will Offer You Courses on How to Take Your Coaching to the Next Level
There is a wide variety of coursework that you can take when you are enrolled in a sports management program. While some of the courses are standard, others can be added based on what you plan on doing with your degree. If you are currently a coach, or you want to be the best entry-level coach possible, there are courses that will teach you how to be a championship-caliber professional.
Th coaching courses will give you practical skills that will catapult your career as a coach no matter what level or sport you want to coach. You will learn some of the issues that exist for head coaches, the skill set you will need to push and motivate a team, and how to be a professional that is respected by athletes. The course will cover skill development, marketing, handling media, funding, player evaluation, recruiting, retaining talent, sports medicine, sports law, leadership, building a title winning program, and coaching strategies.
Learn How the Sports Industry Works as a Whole
You need to know more than just the sport you are coaching, you also need to know how the athletic world works if you want to be a good candidate for coaching. Sports management degrees can be tailored to prepare you for a specific career, but you will gain a general understanding for the operations in the sports sector. The curriculum that you are required to take will vary from school to school, but some of the general courses are similar if not the same. Here are some of the courses you can expect to take:
Introduction to management theory and practice
Public Relations Practice
Promotional Writing
Sociology of Sports
Operations Management
Sports and Recreation Administration
Contemporary Issues in Sports Management
Sports Marketing
Case Research in Sports Management
All of these courses will cover theories, practice, or principles that are relevant to your profession. With a well-rounded education, you can work as a team to build your team and help the athletes achieve their full potential.
Related Resource: Sports Management Internships
The sports industry brings in at least $440 billion in revenue each year. If you want to work in a thriving sector where there is room for growth, becoming a coach could be an option. It can be difficult to coach professional sports, but with experience and an educational background you can improve your skills and make yourself a marketable choice for a professional head coaching spot. If you are curious if a degree in sports management help you as a coach, the answer is yes.
Related Resources: