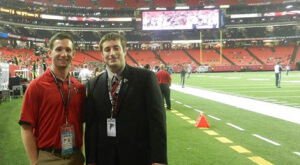 Participating in internships available for a sports management degree enhances job opportunities for those starting careers in this versatile field of the sports industry. Such experiences provide opportunities for candidates to apply their learned knowledge and hands-on skill sets in practical training situations under the pressure of real world conditions. Furthermore, internships prepare aspiring sports managers for understanding the function and scope of sports organizations and the best, trending methods to employ for working with staff and programs. According to the North American Society for Sports Management, completing an internship from an accredited sports management program also benefits participants by helping to determine which job settings appeal most to them as they start their careers in the field.
Related Resource: What are the Different Types of Sports Medicine Jobs?
Qualifying for a Sports Management Internship
College programs provide sports management internships through cooperative partnerships with international organizations, corporations, athletic associations and media outlets such as ESPN. Internships are competitive, so students must be actively enrolled in accredited programs and have good grade point averages and faculty recommendations to obtain approval for internship participation. Almost all internship opportunities occur in the last year of undergraduate or graduate studies for those earning degrees in areas such as:
Health and Kinesiology
Sports Management
Athletic Training
Sports Broadcasting
Hospitality and Recreation
Business Law with specialization in Sports Management
Business Management with an emphasis in Sports Management
Expectations for Internships in Sports Management
The value of a sports management internship lies in its ability to give interns a chance to integrate their knowledge and skills in on-the-job settings while being supervised and mentored by industry professionals. Through job shadowing experiences, interns can obtain an understanding for how different organizations and personnel handle staff, programs and administrative responsibilities. They are also afforded opportunities to hone networking and communication skills that are vital to acquiring the contacts necessary to being successful in the sports management field.
Scope of Internships Available for a Sports Management Degree
Sports management degrees offer a broad background in both business and sports principles, and sports internships reflect this by the scope of their career settings. Interns may find placement in such diverse fields as:
Athletic administration or coaching at all levels of play
Sports marketing and promotion
Sports broadcasting
Media publicity and relations
Sports medicine or athletic training
Sports law
Event planning
Internships are available year-round with many internships taking place over the summer months to accommodate student schedules. Length of time usually spans at least one semester of study or about 12-15 weeks of full-time work. In general, participants will take minimal, additional coursework while interning with the exception of a seminar or other type of supervisory class where degree advisers review an intern's progress in the program.
Related Resource: Sports Marketer
Finally, interns may be paid a stipend for their services. However, even a non-paid internship has its rewards. Successfully completing any type of sports management internship can lead to future employment within the industry. Many interns receive job offers from their sponsoring organization or find hiring advantages through networking contacts they met while interning. As a result, it is worthwhile for those interested in the sports management field to pursue internships available for a sports management degree.
Related Articles: