This program appears in our ranking of Top 30 Bachelor's in Sport Management Degree Programs.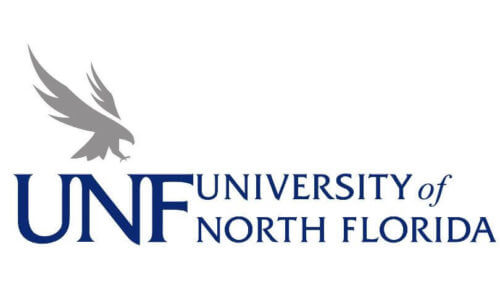 Since 2014, the College of Education & Human Services has awarded a COSMA-accredited Bachelor of Science in Sport Management for University of North Florida Ospreys soaring into the $500 billion competitive recreation industry. Directed by Dr. Kristi Sweeney, the 48-credit, upper-level major helps secure valuable employment running sports operations. Required courses like Diversity in Sport, Facility Management, and Business Statistics primarily meet in Building 57 at an 18:1 student-faculty ratio. The Coggin College advances 21st-century corporate skills with the Master of Business Administration's Sport Management Concentration. Headed by Dr. Dawn Russell, the 36-credit, two-year degree bridges Jacksonville courses from Economic Analysis to Sport Finance before the capstone. Note that the 36-credit Master of Education in Educational Leadership confers the Athletic Administration Concentration for managing interscholastic teams with NIAAA certification, too.
Located in Forbes' 16th fastest-growing metropolitan, the University of North Florida has strong athletic connections for applying B.S. or master's study in 16-week internships. Possible sites include the Jacksonville Jaguars, Orlando Magic, Tampa Bay Buccaneers, Daytona Speedway, Jacksonville Armada, NBC Sports Network, Amway Center, PGA Tour, Atlanta Hawks, and Florida Panthers. On campus, Sport Management majors work with 15 NCAA Division I teams in the Atlantic Sun Conference. Students engage in cutting-edge facilities like Dusty Rhodes Field, Hodges Stadium, UNF Arena, and Harmon Stadium. Specifically, the Hayt Golf Learning Center has coached five conference title winners since 2008. Residents pick from 200+ organizations, such as the Bass Fishing Club, Deadbird Rugby Club, Sport Management Alliance, E-Sports Club, and Fellowship of Christian Athletes. Some also minor in Community Sport & Tourism, volunteer with CAMP Osprey, tour Valencia, and attend the Taylor Leadership Institute.
About the University of North Florida
The University of North Florida was initially planned in 1965 by State Senator John Mathews Jr. for two-year, upper-division higher education. Passed by the Board of Regents in 1967, North Florida finally received $225,000 for construction atop the Skinner Family's donated acres. By 1972, the University of North Florida was welcoming its inaugural class of 2,207 with 117 professors. Accredited in 1974, UNF and Governor Bob Graham defeated an agenda to merge with the University of Florida in 1980. Though intercollegiate sports began in 1983, North Florida didn't rise to Division I until 2009. For four straight years, UNF captured the Jesse C. Fletcher All-Sports Trophy. Endowed for $107 million, the University of North Florida now enrolls 16,491 Ospreys, including Sport Management majors. Sports stars Felipe Aguilar, Drayton Florence, Todd Haley, and Sara Walsh have trained at its 34-building, LEED-certified "River City" campus.
The U.S. News & World Report ranked North Florida the 42nd best Southern college, 58th top value, and 29th best for vets university. On Niche, UNF boasts America's 149th best campus, 303rd top business education, and 409th best athletics. Forbes named the University of North Florida 461st overall with the 158th top public schooling. WalletHub noticed UNF for the 191st lowest cost, 341st most selectivity, and 411th best career outcomes. In 2017, Insight Into Diversity gave North Florida the Higher Education Excellence Award. SR Education Group crowned UNF the #1 most affordable LGBTQ-friendly college. Kiplinger's declared the University of North Florida the 71st best public buy. College Factual also honored UNF for the 297th best fitness studies programs and 253rd top-paid grads.
University of North Florida Accreditation Details
In September 2016, the University of North Florida established a team to oversee its Quality Enhancement Plan ahead of the 2019 reaffirmation review by the Southern Association of Colleges and Schools (SACS) for Level VI accreditation. This 11-state Lower Atlantic accreditor is recognized by the U.S. Education Department for checking the academic authority of UNF's 53 undergrad and 28 graduate majors. The Coggin College is accredited by the Association to Advance Collegiate Schools of Business (AACSB). The Master of Education was approved by the Council for Accreditation of Educator Preparation (CAEP). Plus, the B.S. in Sport Management holds Commission on Sport Management Accreditation (COSMA) approval through September 2021.
University of North Florida Application Requirements
Trying out for the University of North Florida is considered "moderately difficult" by Peterson's because 8,399 of the 14,305 Fall 2017 applicants were victorious for 58 percent acceptance. First-year Ospreys working toward the B.S. in Sport Management must finish 18 college-prep credits during high school. Scoring at least 150 on all four GED subtests also qualifies. Freshmen need a minimum recalculated GPA of 2.5. Admitted undergrads typically fall into the mid-range of 21 to 28 (ACT) or 1000 to 1250 (SAT). Bachelor's transfers can apply 12 to 90 credits from other accredited institutions graded "C" or greater. The MBA in Sport Management mandates four-year baccalaureate completion with a minimum 3.0 GPA. Admission index formulas require scoring at least 300 on the GRE or 470 on the GMAT. Additionally, the M.Ed. in Athletic Administration has the Foundations of Sport Management prerequisite.
The University of North Florida has rolling freshman admission starting on June 1st, but the priority deadline is October 31st. Transfers must file before December 15th for Spring, June 1st for Summer, or August 15th for Fall. Coggin entrants to the MBA in Sport Management apply until December 1st, March 15th, and August 1st yearly. Create a MyWings Portal account to submit the UNF Application or Common Application online for $30. Supplemental items include the self-reported academic record, test scores, current résumé, three references, repertoire list, and letter of intent. Official documents are mailed to Hicks Hall Suite 1700 at One UNF Drive in Jacksonville, FL 32224. Please inquire further at (904) 620-5555 or admissions@unf.edu.
Tuition and Financial Aid
For 2018-19, the University of North Florida is billing in-state B.S. in Sport Management majors $105 per credit. Non-resident undergrad tuition adds $457 for $562 per credit. Budgets include the $19 athletic fee, $10 activity fee, $28 financial aid fee, and $6 capital improvement fee per credit. Health insurance costs $908 by semester. Living at the Jacksonville campus' dorms like Osprey Cove costs $2,500 to $5,300 each term. All-access meal plans for Student Union are $2,050 every semester. Annual bachelor's attendance equals around $21,210 in-state and $35,614 out-of-state. The Graduate School currently charges Floridians $493 and non-residents $1,044 per credit. Master of Education or MBA courses taken online add $30 by credit.
According to the NCES College Navigator, the One-Stop Student Services Office in Hicks Hall gets 54 percent of full-time UNF Ospreys matched with aid averaging $5,603 for $41.57 million total. Institutional funds include the Presidential Scholarship, Coggin Pathways to Success Scholarship, DuBow Family Scholarship, Gray Scholarship, Katherine Lovett Scholarship, Herman Terry Scholarship, and Sam Mousa Merit Scholarship. The Jacksonville Commitment gifts $24,000 over four years to Duval County public high school graduates. Master of Education or MBA students of color could claim the $5,000 Delores Auzenne Graduate Fellowship. Florida residents pursue the Bright Futures Scholarship, Farmworker Student Scholarship, Benacquisto Scholarship, and more. Federal Pell and FSEOG Grant amounts are calculated based on FAFSA applications coded 009841. Federal Work-Study jobs provide tuition help for up to 40 hours per biweekly pay period. Money magazine also reported that University of North Florida students have median debt of $16,000 from Direct and Grad Plus loans.
Learn more about the University of North Florida at the Department of Leadership, School Counseling, and Sport Management Department website.
Related Articles: