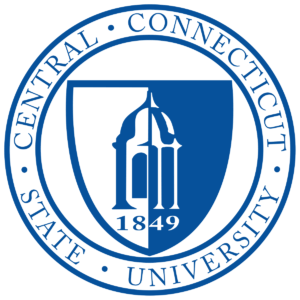 Four CCSU Options for Sports Management Careers
Central Connecticut State University appears in our ranking of the 50 Best Bachelor's in Sports Science Degree Programs (Campus).
In Harrison J. Kaiser Hall, the Department of Physical Education & Human Performance grants the Exercise Science B.S. for Central Connecticut State University undergrads seeking a stepping stone to fitness industry leadership. Chaired by Dr. Jason Melnyk, the 120-credit, CAAHEP-accredited curriculum teaches the biological processes of physical activities. Traditional 16-week New Britain courses explore topics from Nutrition to Stress Management and Strength Conditioning at a 15:1 student-professor ratio. After EXS 450, upper-classmen complete six credits of internships, such as the Hartford Wolf Pack, Big Sky Fitness, Wheeler YMCA, Sudor Taino, and Central Area Health Education Center. In 2016, majors achieved an average 562 score on the American College of Sports Medicine EP-C exam for 72 percent certification. Students could also take the Pre-Health Studies Track to graduate school.
Since 1966, CCSU's School of Education & Professional Studies has awarded 300+ Athletic Training B.S. degrees for students called to treating and preventing sports injuries. Headed by Dr. Peter Morano, the 120-credit, CAATE-accredited plan meets the milestones for a 100 percent Board Certification pass rate. Expect four years of Kaiser Hall courses like Biomechanics, Therapeutic Exercise, and Sport Performance requiring minimum 2.7 GPAs. Pre-clinical sophomores complete 50-80 observation hours before four 320-hour, off-campus practicum semesters. Additional experience is gained right in the 3,000-square-foot Carl F. Krein Facility with Central's 16 NCAA Division I NEC teams. Majors might also take the EMT Certification Course, join Athletic Training Club, earn the Maynette Reid Crothers Scholarship, attend the Sports Medicine Symposium, utilize Beecher Fitness Center, and minor in Dance.
Ranked 258th on College Factual, the School of Business in Robert C. Vance Center retains 78 percent of Central Connecticut State University freshmen with the Management B.S. that's developing mid-level skills for organizing all enterprises, including in the $73.5 billion sports industry. Led by Dr. Gregory Berry, the 120-credit sequence follows four custom tracks: General Management, Human Resources, Entrepreneurship, or International Business. Blackboard adds online access to some AACSB-accredited courses, such as Organizational Behavior, Managerial Finance, and Fundamentals of Marketing. Located in Forbes' 157th best metro for careers, CCSU prepares for the strategic capstone with internships like the New England Revolution, NFP Sports, New Britain Bees, Hartford Yard Goats, and Special Olympics. Other opportunities are joining Beta Gamma Sigma, becoming Academic Allies, entering the Stanley Black & Decker Competition, traveling to Norway, and managing Stock Trak portfolios.
Presently priced at $654 per credit, the Part-Time MBA Program in CCSU's School of Graduate Studies helps mid-career managers advance into executive administration with socially responsible practices. Directed by Dr. Mark Cistulli, the 30-54 credit degree features three AACSB-accredited concentrations in Accounting, Business Analytics, Finance, and Supply Chain Management with median salary potential of $87,851. The Central Track pairs students achieving an average 600 GMAT score with one-on-one advisers for custom courses. Starting each September, the 24-month option mixes evening and online sessions from Strategic IT Alignment to Taxation Issues and Decision Modeling. Known for its Incubator Program, the Institute for Technology & Business Development is helpful during a requisite applied research project. Note there's a 30-credit Accounting M.S.A for sports finance careers too.
About Central Connecticut State University
Located in New Britain, Connecticut, Central Connecticut State University was established in 1849 as the State Normal School. Its original mission was to train teachers in Connecticut. It is the oldest university in the state, and was holding classes since its inception until 1867 when the school had to close due to budget disputes in the state government. The school was only closed for two years before it reopened its doors, at which point it reopened as the Teachers College of Connecticut, the school now authorized to confer bachelors degrees.
By 1983, the college had made a complete transition to a University. Today, Central Connecticut State University is made up of four colleges: the Ammon College of Liberal Arts and Social Sciences, the School of Education and Professional Studies, the School of Business, and the School of Engineering, Science, and Technology. More than 12,000 students attend Central Connecticut State University, nearly ten thousand of whom are undergraduates. The university is part of the Connecticut State Colleges and Universities system. More than half of students at Central Connecticut State University commute or study online, and ninety percent are in-state students.
Central Connecticut State University Accreditation
In addition to being accredited by the New England Association of Schools and Colleges (NEASC) Commission on Institutions of Higher Education (CIHE), several of its schools have acquired additional accreditation. The bachelor of science degree program is accredited by the Council on Technology Teacher Education, the B.S. in Construction Management is accredited by the American Council for Construction Education (ACCE), and the school of business is additionally accredited through the AACSB, the Association to Advance Collegiate Schools of Business.
Central Connecticut State University Application Requirements
Central Connecticut State University welcomes applicants of all interests, abilities, and backgrounds. Applicants with demonstrated excellence in academic performance and active involvement in community service will be considered particularly eligible. Those interested in applying to Central Connecticut State University must have had completed an accredited preparatory school or high school or have successfully achieved a General Equivalency Diploma.
The following documents are required for first-year applicants:
Completed Application
$50 application fee
Official High School Transcripts or GED transcripts
Class Rank where applicable
SAT or ACT scores
Two letters of recommendation
Personal Statement
University staff will review the completed application and typically respond within two weeks. Several aspects of high school performance are considered when reviewing an application. While grades, standardized test scores, and coursework are important considerations, other considerations such as involvement in clubs or community service projects are also important.
To be considered a very qualified candidate for admission to Central Connecticut State University, a student must have achieved a minimum cumulative GPA of 2.0, a class rank in the 50th percentile or higher, and an SAT score of no less than 1,000.
Students are also recommended to have the following coursework completed at the high school level before applying:
Four years English
Three years mathematics at Algebra level and higher
Three years of social science courses
Two years of science courses with at least one course including a lab
Three years of foreign language study
Central Connecticut State University Tuition and Financial Aid
Currently, the cost of attending Central Connecticut State University is $9,300 per year for students who live in Connecticut, and $21,570 for students who maintain residence outside of Connecticut. Central Connecticut State University awards over $3 million each year in scholarship funds. These funds are a combination of public scholarship programs and the CCSU Foundation through private donations.
Scholarships can help reduce the out-of-pocket cost of attendance for students. The Office of Undergraduate Admissions is offering more and more scholarships every year to incoming students. A few of the scholarships available through the university include Scholarships for First-Year Undergraduate Students and Newly Admitted Transfer Students, Scholarships for Continuing Undergraduate Students beyond the first year, Scholarships for New Graduate Students, and Scholarships for Graduate Students. Central Connecticut State University students can apply through the online portal here.
Related Articles: