5 Well-Paying Careers in Sports Management
Sporting Event Planner
Sports Public Relations Managers
Sports Psychologist
Sport Agent
Sports Lawyer
Sports is a huge industry worldwide, and there are many lucrative careers in sports management. The annual profit from sports in America is estimated to be more than $500 million. It is also an industry that allows a lot of "vicarious participation," which is just a fancy way of saying people who enjoy sports can feel they are part of the sport through their various professional contributions. Although management degrees are often thought of as business-oriented programs, they can serve as foundations for several satisfying jobs. Additionally, salaries for these careers may be affected by the level of the team with which the professional works. Here are five lucrative careers in sports management.
Related Resource: Sports Management Salary
1. Event Planner
This profession has the same requirements as an event coordinator position, but planning for a sports event adds another dimension. Event planners must understand the intensity of response sports fans have to sport events. Some of their responsibilities include business activities such as managing event ticket sales and working with vendors but also include arranging for security for both the participants and the spectators. Event planners also must often match teams of equal abilities and size. They arrange for lodging for the teams, coaches and other people involved in team performance as well as planning for emergencies. Event coordinators work with vendors and other workers at a venue as well. The Bureau of Labor Statistics (BLS) says that event coordinators earn a median salary of $49,370.
2. Sports Public Relations Managers
Working closely with the events planner is the public relations manager. This career involves many facets of a management and business career including marketing. The public relations manager for a sports team is responsible for managing news and media releases, for making certain that the statistics and player profiles are represented fairly and positively, and for creating publicity opportunities such as "meet-and-greets" that grow fan loyalty. The BLS-listed salary for a public relations manager is $60,000.
3. Sports Psychologist
Psychologists must have a minimum of a graduate degree to be licensed counselors, but the American Psychological Association identifies sports psychologists as professionals who acquire proficiency in sports beyond the doctoral level. Sports psychologists should have an understanding of the demands and stresses of sport participation at a professional level to work in this specialty. Sports management degrees are good foundational degrees for that requisite. Sports psychologists work with players to enhance their performance through psychological skills training, self-evaluation and other interventions. They must have a basic understanding of biometrics and understand how physical and psychological factors interact. The median salary for a psychologist according to the BLS is $79,010.
Related Resource: Sports Management Salary
4. Sport Agent
Jonathan Barnett, Scott Boras and Tom Condon are people identified by Forbes as some of the highest-paid sports agents today. Working on commission in sports like soccer, baseball and football, these top-rated agents earn more than $50 million annually. Today's top athletes rise to the level of superstars, and many require the services of agents. Even beginning or mid-level athletes can benefit from having an agent, however. Agents understand contracts and can negotiate terms on behalf of the athlete they represent. Additionally, top athletes are sought-after for product endorsements, and those have specific limitations and requisites as well. Agents also work for beginning athletes to help them develop their careers and their potentials. The BLS-quoted median salary for these professionals is $90,930.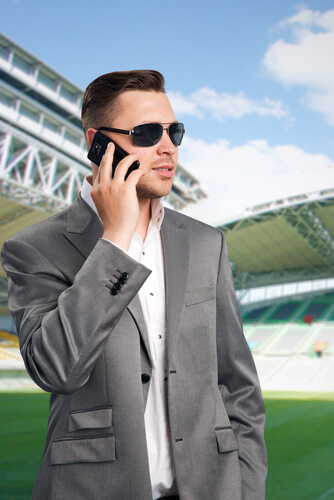 5. Sports Lawyer
Topping this list of careers with foundations in sports management are sports lawyers. They represent sports persons in legal areas such as interpreting contracts, settling contract disputes and disagreements over endorsements and other issues. Applicants to law school must have an undergraduate degree, and for this specialty a sports management degree is valuable. Sports lawyers often are employed by teams to manage high-profile disputes, but they function at all levels of sports. The salary listed by the BLS for these professionals is a median of $120,910.
Related Resource: 25 Best Return on Investment Degrees in Sports Management
There is a worldwide enthusiasm for sports, and Americans are especially passionate about their teams. This huge industry offers a plethora of satisfying careers at all levels from pee-wee sports coaches to national team employees. Lucrative careers are in abundance in the field of sports management.
Related Articles: