Careers You Can Get with a Master's in Sports Coaching
Athletic Coach
Individual Sports Coach
Gym Teacher
Scout
Recreation and Wellness Directors
For people who are interested in athletics, career opportunities with a Master's in Sports Coaching are thrilling. Jobs in this field go far beyond traditional coaching programs. With a little creativity, graduates can start their own businesses or use their skills to build an internet empire. With a better idea of what's out there, it's easier to choose classes that inform a future career.
1. Athletic Team Coach
The most obvious career path with a Master's in Sports Coaching is to become an athletic coach. Coaching jobs exist at all levels of education, from elementary school soccer coaches to college-level football coaches. Then, there are the recreational coaches for community leagues, travel teams, and competitive junior-level athletes. For people who prefer to work with older athletes, it's possible to work for professional sports teams. From MLB farm teams to Olympic-level coaches, there are opportunities for every skill level. In many cases, new master's graduates must start at a low level and work up. Someone who wants to become a Big 10 college coach might start out as an assistant-coaching position at a community college, for example.
2. Individual Sports Coach
Prefer to work one-on-one? Use a master's to build a career in sports coaching for individual athletes. This type of coach helps athletes reach their highest potential using a combination of training methods and modalities. They create training plans that integrate strength training, sport-specific workouts, rest, cross-training, and more. One-on-one coaches work in a wide range of settings — they might operate within a specialized training facility or operate a fitness studio working with professional athletes. Thanks to the internet, it's even possible to start an online coaching business and deliver training plans from anywhere in the world. In many cases, these coaches are paid per session or training season. Coaches that work with sponsored athletes such as marathoners or triathletes might also get a percentage of their clients' winnings.
3. Gym Teacher
For people who prefer a more relaxed setting, one of the jobs with a Master's in Sports Coaching is a gym teacher. These teachers, who might also be called P.E. teachers, are responsible for designing and running the physical education programs at elementary, middle, and high schools. They come up with creative fitness initiatives to engage students, teach about the importance of physical activity, and help kids feel more comfortable getting involved in sports. In many cases, gym teachers also fill other roles in the school. With a master's, that might include teaching biology classes or serving as a coach.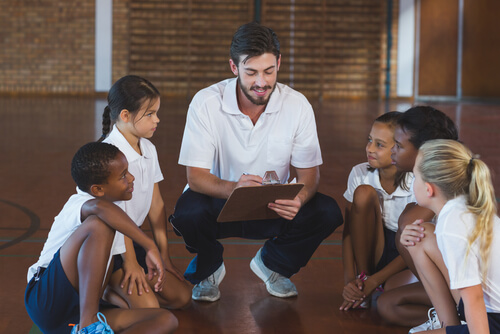 4. Scouts
A scout is a person who hunts down recruits for high school, college, or professional sports teams. According to the Bureau of Labor Statistics, scouts must also have a high level of knowledge and experience in the sport. Some scouts have worked as coaches, while others have played at the college or professional level. Most importantly, they must be able to recognize the qualities that make an excellent recruit. Usually, scouts work for a specific team or organization.
5. Recreation and Wellness Directors
Graduates with a Master's in Sports Coaching come out of school with a high level of knowledge about organizing and motivating teams. That expertise is useful in landing a job as a wellness or recreation director. Some graduates direct recreation programs for communities; they might organize sports teams, create opportunities for residents to get active, or design fitness classes. At the corporate level, graduates might design programs to boost employee wellness. This can include organizing company sports leagues, motivating workers to get involved in wellness initiatives, or setting up in-office fitness options.
Related Resource: 20 Best Online Master's in Sports Coaching
When you get a master's degree, career prospects are an important consideration. The better and more varied the options, the easier it is to find a fulfilling job after graduation. These Master's in Sports Coaching careers are just a few of the possibilities.
Related Resources: