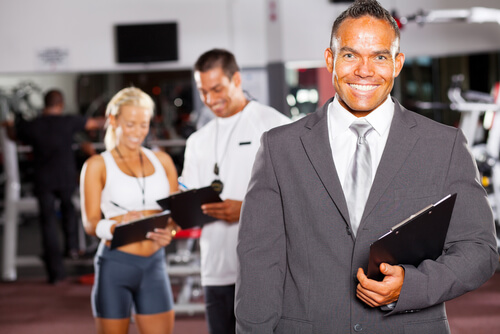 While you've probably attended many sporting events in your lifetime, you may not have stopped to think about the hard work that goes into keeping these games running smoothly. That's precisely where the sport facility manager comes in. Also known as athletic facilities managers, a sports facility manager is focused on overseeing the daily operations of sports facilities including:
football fields
basketball arenas
baseball stadiums
tennis courts
ice rinks
boxing rings
swimming pools
golf courses
all other playing surfaces
Sports facility managers work hard behind the scenes to ensure the quality of play and safety of athletic teams. In this service-oriented and often thankless position, sport managers make sure that sporting events go off without a hitch so that spectators can sit comfortably to enjoy the game.
Related Resource: What are the Different Types of Sports Medicine Jobs?
Salary
What is a sports facility manager salary? According to Payscale, the median annual salary in the United States is $86,401. On top of this salary, a sports facility manager can make up to $44.18 per hour of overtime, $22,931 in bonuses, and $20,273 in profit sharing too.
Beginning Salary
A facility director salary can vary widely. When just starting as a sports facility director, individuals can expect to fall within the bottom 10 percent of the profession with a yearly salary around $53,000. However, it's important to note that highly experienced sports facility managers in large stadiums or on university campuses often report breaking the six-figure salary mark for $137,000 or more each year.
Key Responsibilities
In general, sports facility managers are given the sole responsibility of coordinating, planning, and supervising the operation of various sporting facilities. On a typical workday, sports facility managers may be involved in:
scheduling practice sessions
keeping inventory of supplies
preparing a budgeting plan
setting up property security systems
organizing evacuation routes
arranging for equipment repairs
ordering new equipment if needed
overseeing necessary preparation for a scheduled competition
Some sports facility managers may also:
hire new employees
determine salaries
establish facility fees
set membership or ticket costs
Sports facility managers spend time building cooperative relationships and connections with the directors at other facilities too.
Necessary Skills
What are the necessary skills of sports facility management jobs? A sport facility director must be a jack-of-all trades with a slew of different skills to maintain smooth operations for their arena or stadium. To be successful, sports facility managers must possess strong interpersonal and public relations skills for communicating details about events properly. Leadership abilities are essential because many times sports facility management manage at least 10 or more employees. Crucial skills include having managerial, critical thinking, problem solving, decision-making, strategic planning, and other related business skills is crucial.  A sports facility manager should also be equipped with the technical skills in turf management, HVAC, sound systems, and First Aid to handle any emergency situations confidently.
Degree and Education Requirements
Having a post-secondary education, such as a bachelor's degree, isn't always required for sports facility management, but it's often required to stand out against competition in this niche field. Many aspiring sport managers head to an accredited university to earn a bachelor's degree in:
sports management
athletic facility management
turf management
business administration
management
physical education
recreational management
If possible, earning a sports management degree is advised for building essential knowledge specifically in:
sport management
sport marketing
sport law
sport facilities management
sport revenue
sport sales
fitness management
event management
sport licensing
and more
Pursuing a master's degree in sports management or MBA may also be helpful for those looking to advance as executive sports directors in sports facilities management.
Pros and Cons of the Position
For avid sports fans with a passion for their team of choice, becoming a sports facility director can be a rewarding option with the benefit of attending every home game. Sports facility directors receive rather competitive salaries and good benefits without the need for strict post-secondary education requirements. Sports facility directors get the chance to interact with coaches, athletes, team owners, fans, and many different employees on a daily basis. On the flip side, working as a sports facility director will require hard work with a heavy dose of high-profile responsibility to keep sports events running smoothly. Since games tend to occur on weekends and during evening hours, a sports facility director will almost always work outside the normal 9-to-5 work schedule.
Getting Started
If you're dreaming of becoming a sports facility director in sports facility management, then you'll simply need to start getting into the stadium. Build your resume by interning at a sports complex, working part-time in sports maintenance, grabbing a temporary job in the ticket sales office, or even hopping behind the counter at the concession stands. Begin by gaining experience in sports facility operations and learning the skills needed to take care of the facility. You should also receive First Aid and CPR certification to quickly react to any health-related emergencies. With time, you'll be prepared to confidently begin applying for positions like stadium operations manager or sports facility manager before working up to director. Aspiring sports facility directors can also set themselves apart by receiving professional certification from the International Facility Management Association (IFMA) as a Certified Facility Manager (CFM).
Future Outlook
Statistics show that the sports industry in the United States is thriving with an annual revenue of over $485 billion dollars! As sports continue to grow in popularity as our nation's favorite pastime, it's expected that job prospects in sport facility management should remain relatively steady for the next few decades. According to the Bureau of Labor Statistics, the employment of administrative services facility managers, including facility director, is expected to as fast as average at 7 percent before 2031. Due to the fact that many graduates wish to enter the spectator sports industry, competition for jobs will be fierce. Sport managers are more likely to succeed with a strong academic background, solid facility work experience, and a burning passion for sports.
Conclusion
Much like an innkeeper or apartment superintendent, a sports facility director serves the role of taking care of the physical day-to-day operations for sporting event venues. Not only do sport managers have the task of overseeing any maintenance or repair projects that must be completed before a big competition, but they also need to keep the teams and fans happy while sticking to a budget plan. Even if you don't have an athletic bone in your body, it's possible to be heavily involved within what happens on the field and in the stadium seats as a sports facility director.
Related Resources: