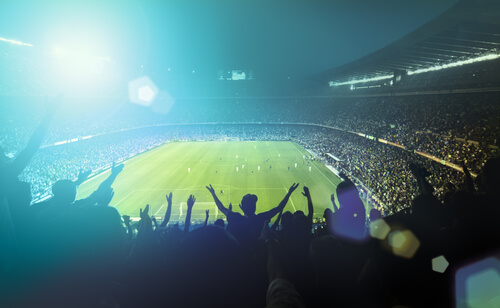 Sports fans know how exciting it is to attend a game live in the stadium or arena, but very few actually think of the hard work that goes on behind the scenes to make these games possible. There are many sports operations jobs. That's where sports and recreation operation comes in. Games or sports operations is a unique sports management specialty area in which professionals are hired to manage the happenings of a sporting event from the time doors open until the final buzzer sounds. A game operation job means handling virtually every aspect of the game, including the:
music
videos
mascots
sponsorships
cheerleaders
parking
security
special events
Across all sports, organizations will hire:
coordinators
sports managers
assistant directors
directors
These roles are in operation sport management. Their role is to ensure games go off without a hitch. Below we've created a detailed job profile to show what sports management graduates can expect from building a career in game and event operations.
Related Resource: What Types of Jobs Are There In Sports Medicine?
Salary
According to the Bureau of Labor Statistics (BLS), operations managers currently employed in the United States earn an average annual salary of $115,250, which is equivalent to a mean hourly wage of $55.41. In particular, game operations managers who work in the spectator sports industry bring home slightly less than average.
Beginning Salary
What is a sports operations manager salary? Those with an operations management degree salary who are just starting out, can expect to land in the bottom tenth percentile of the profession with a yearly salary around $45,130. However, it's important to note that a game operations coordinator who builds years of experience and advances into a director role with senior-level responsibilities can eventually make upwards of $150,000 each year. Those who hire a sports manager need to make sure that they consider the annual operating budget to be able to hire this important position. 
Job Alert: Job Profile: Competition Coordinator
Key Responsibilities
Game operations is a broad field that comes with responsibilities in planning, setting up for, and managing all game day events in a sporting facility under facility management. A game operations coordinator is involved in creating operational publications, such as inclement weather policies, emergency response plans, heat management plans, and visiting team guides. Many will also be responsible for:
establishing game day budgets
managing parking passes
coordinating staffing needs
assisting facility managers in upkeep
training interns
developing production sheets
timing special events
directing music selection
booking half-time entertainment
In today's digital world, game operations often includes maintaining a team's websites, photo archives, and social media pages after games too.
Latest Job Alert: Job Profile: Sports Promoter
Necessary Skills
In order to be successful, those with athletic operations jobs need to have good:
people skills
communication skills
management skills
These skills are needed to effectively communicate game day plans and supervise lower-level technical staff. Being creative is important for game operation managers to coordinate events that will keep fans engaged and excited. Working in game operations requires that professionals have good:
teamwork
critical thinking
decision-making
problem-solving
analytical skills
time management
These skills are needed for producing under tight deadlines. Having a certain level of technical competency is a must for game operation managers to help coordinate lighting, video editing, and other tasks. Leadership skills are also important in game operations to coordinate policies, resources, and personnel appropriately.
Degree and Education Requirements
Before you can leap into the dynamic field of game operations, you'll first likely need to hold at least a bachelor's degree from a regionally accredited four-year college or university. Most aspiring game operation managers will earn a degree in sports management to fully understand the details that go into planning sporting events behind the scenes. Some may also find it helpful to earn a major in:
business administration
communications
sports marketing
management
finance
event management
Earning a sports-based Master of Business Administration (MBA) or a master's degree in sports management can also be valuable for gaining momentum towards more senior positions in game operations.
Pros and Cons of the Position
As with any other profession, having a career in game operations will have its fair share of rewards and challenges. First of all, a game sports manager has a high salary potential that only rises with advancement into the role of director or general manager. Game operations provides a fast-paced work environment where boredom never has a chance to set in. Most game operations managers report feeling satisfied due to their involvement in a game they love. Always having a front row seat to watch your favorite team tackle opponents also is an upside. On the other hand, game operations can be a stressful job that comes with quick turnaround times and tight deadlines to put on great shows. Most games take place in evenings or on weekends. There's no such thing as a 9-to-5 work day in game operations.
Getting Started
While earning your degree, it's essential that you immediately begin bulking up your resume with relevant sport management experience in game operations to have an edge after graduation. Even if they're unpaid, internships are often the best route because they give you the chance to get your foot in the door with a team and put your learned skills to the test. You should then begin looking for entry-level game operations jobs as a coordinator. Some jobs may only be part-time, but they will help showcase your abilities, which will pay dividends later on. While you may want to work in major league baseball or the NBA, starting a job in the soccer industry or the  NHL with league operations can still help you with reach your goals. There aren't any special licenses or certifications that can put you on the path to promotion, so you may want to consider returning to school for your master's for advancement.
Future Outlook
It's predicted that the global sports market will reach a total revenue of over $700 billion in 2026. Since a big portion of this revenue comes from game day ticket sales and corporate sponsorships, there willl continue to be a big demand in game operations to hire qualified sports managers who can coordinate their games. That being said, there's a number of sports management schools that are becoming stronger and producing more graduates. This will likely lead to some heated competition for available opportunities in game operations. Newbies can start standing out with successful completion of a degree and gaining intern experience. Job openings in game operations will be found in amateur, collegiate, and professional sporting facilities and operations department.
Conclusion
If you can no longer live out the dream of being a professional athlete, you may want to consider a career in game operations to still be involved in the game you love. Working in game operations will give you the rewarding opportunity to provide much-needed assistance in coordinating the excitement of game day. Even when you're sidelined, game operations is a dynamic career path available to keep helping the big game turn into a win.
Related Resources: